Latest Information about the 5th Annual KHQ / Worksource JOB FAIR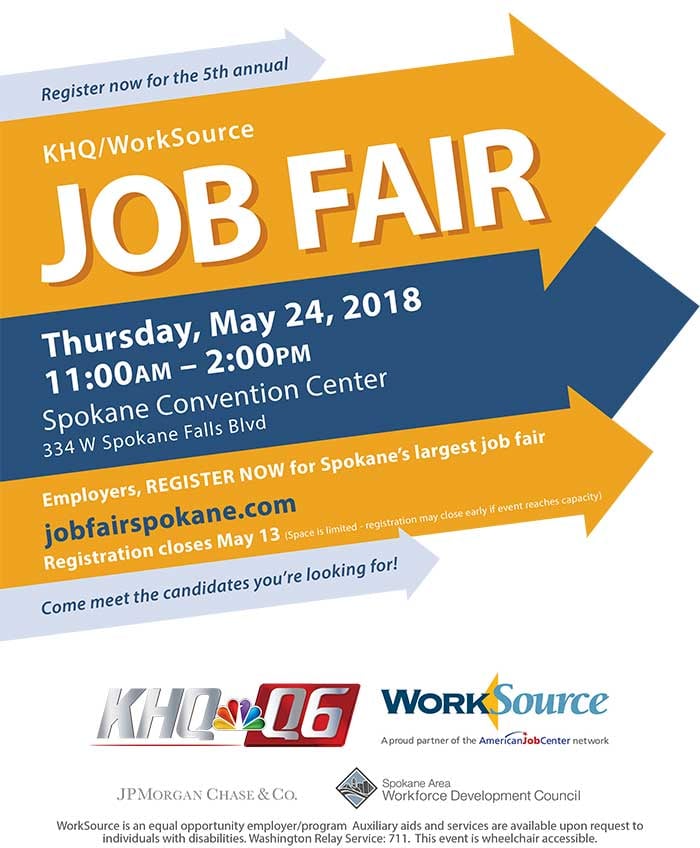 Now in its fifth year, the annual KHQ Job Fair is the largest hiring event in the Spokane area. Held in the Convention Center ballrooms directly across from the INB Performing Arts Center, we maxed out at 113 employers with five on the waiting list. But don't worry, we still have space for thousands of job seekers! Join us on Thursday, May 24th.

Job seekers you now have the opportunity to pre-register for the job fair! Use this link to pre-register and get a pre-printed name badge to wear at the fair - CLICK HERE>
EMPLOYERS:
Spokane Employers, get ready to find workers. All industries welcome.
Employer registration: CLICK HERE
JOB SEEKERS:
Dress your best and bring your resume!
Come meet employers with current openings and visit the WorkSource table for additional employment information.
Free admission for job seekers
For more information, please go to www.jobfairspokane.com
---
LOCATION:
---
The SAWDC is an equal opportunity employer and provider of employment and training services. Auxiliary aids and services are available upon request to persons with disabilities. Washington Relay Service: 711 - This event is wheelchair accessible.
Watch this space for job opportunities at KHQ-TV. Current employment opportunities at KHQ-TV: KHQ Inc. has an immediate full time Payroll/Billing opening in the accounting department in Spokane, WA primarily

>>

SPOKANE, WA – Today, U.S. Senators Maria Cantwell (D-WA) and Patty Murray (D-WA) joined Gov. Jay Inslee and local business leaders to call for Congressional reauthorization of the Export-Import Bank, the nation's official export credit agency and a key export tool that helps Washington companies sell their products overseas.

>>

SPOKANE, WA – Today, U.S. Senators Maria Cantwell (D-WA) and Patty Murray (D-WA) joined Gov. Jay Inslee and local business leaders to call for Congressional reauthorization of the Export-Import Bank, the nation's official export credit agency and a key export tool that helps Washington companies sell their products overseas.

>>

SPOKANE COUNTY, Wash.- State lawmakers are trying to find a way to bring the veteran unemployment numbers down. According to the Washington Employment Security Department, as of 2013, the unemployment rate for veterans in Spokane County is 7.9% with a 3.3% margin of error. In Washington state overall, the unemployment rate for veterans is 7.1%

>>

SPOKANE COUNTY, Wash.- State lawmakers are trying to find a way to bring the veteran unemployment numbers down. According to the Washington Employment Security Department, as of 2013, the unemployment rate for veterans in Spokane County is 7.9% with a 3.3% margin of error. In Washington state overall, the unemployment rate for veterans is 7.1%

>>

KHQ.COM - Career Builder polled over 3,000 professional workers around the nation to find out what the scariest jobs in America were. To see the full list on our Facebook page, click here: http://tinyurl.com/mrb4rwv

>>

KHQ.COM - Career Builder polled over 3,000 professional workers around the nation to find out what the scariest jobs in America were. To see the full list on our Facebook page, click here: http://tinyurl.com/mrb4rwv


>>

Job Fairs are great opportunities to meet a number of potential employers in a short period of time. There is no better opportunity to personally meet and speak with representatives from area employers.


>>

Job Fairs are great opportunities to meet a number of potential employers in a short period of time. There is no better opportunity to personally meet representatives from area employers and to talk to them about your skills & abilities.

There are some important preparations that you need to make in order to make the best possible use of this opportunity. Read this document and learn some techniques & strategies to help you make those important job fair contacts.

>>