Latest Information about the 4th Annual KHQ / Worksource JOB FAIR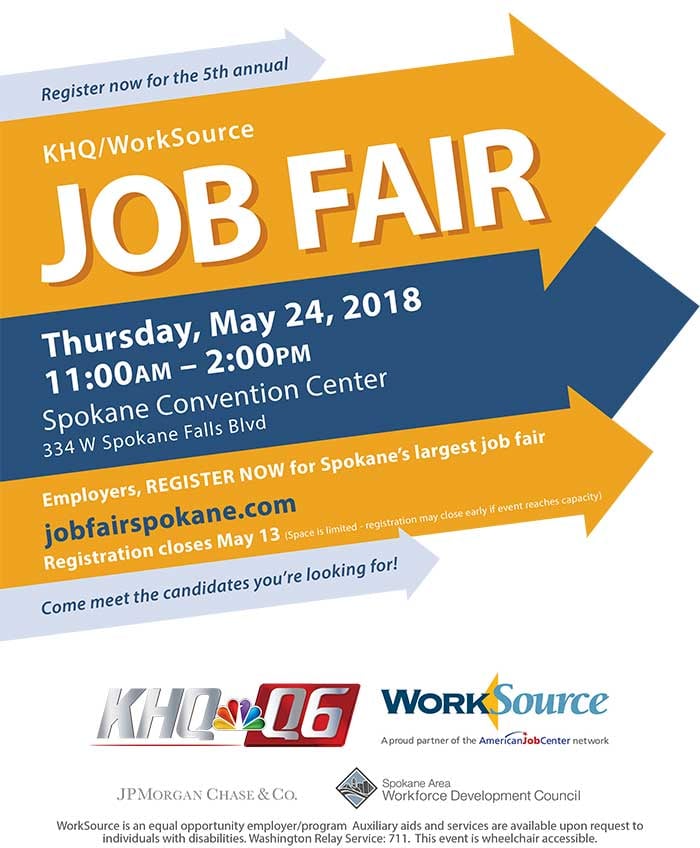 Now in its fourth year, the annual KHQ Job Fair is the largest hiring event in the Spokane area. Held in the Convention Center ballrooms directly across from the INB Performing Arts Center, we have space for 120 employers and thousands of job seekers. Join us on Wednesday, May 17th.
EMPLOYERS:
JOB SEEKERS:
Dress your best and bring your resume!
Come meet employers with current openings and visit the WorkSource table for additional employment information.
Free admission for job seekers
ENSURE YOUR SUCCESS:
Resume and cover letter templates and career advice are available online at career-advice.worksourcewa.com
Attend a free prep session and become a WorkSource Certified Candidate! (All positions are currently full but call to be placed on the waiting list.)

Learn how to work a job fair
Develop your 60-second commercial
Get one-on-one resume assistance
Gift cards for haircut or business clothing available for the first 50 attendees! Call today: 509-532-3120
Three sessions to choose from:

May 8th 9:30 - 11:30am
May 10th 1:00 - 3:00pm
May 12th 9:30 - 11:30am

All sessions will be offered at WorkSource Spokane, 120 S Arthur Street
To view a complete description of each business registered for this event, click here!

EMPLOYERS ATTENDING INCLUDE:
ACI Coatings
Addus Home Care
Aerotek
Alorica
Ambitions of WA
Apprenticeship Center, SCC
Assisted Residential Services
Associated Builders and Contractors
Atlas Staffing
Avista Corp
Bank of America Merchant Services
Banner Bank
BECU
Beneficial In-Home Care, Inc.
Berg Companies
Boilermakers Local 242
Budget Arbor & Logging, LLC
Caterpillar Inc.
CHAS Health
City of Spokane Civil Service
City of Spokane Fire Department
Coeur d'Alene Police Department
Community Colleges of Spokane
Costa Vida
COUNTRY Financial
Customs and Border Protection
Division of Vocational Rehabilitation
>li>DoTerra
Ecova
Excelsior Youth Center
Express Employment Professionals
Family Home Care
Faneuil, Inc.
Farmers Insurance
Fastenel Company
Food Services of America
Franz Family Bakery
Frito Lay
Frontline Housekeeping Plus
Gold Seal Mechanical, Inc.
H&R Block
Haven Homes, Inc.
HoneyWell Electronic Materials
Horizon Credit Union
Humanix
Inland Imaging/Nuvodia
Interim Healthcare of Spokane, Inc.
Johanna Beverage Company
Kalispel Tribe - Northern Quest
Kelly Services
Kodiak Security Services, Inc.
Kootenai Health
LITE-CHECK LLC
Loves Travel Stops and Country Stores
Lowe's
MacKay Manufacturing Inc.
Manpower
Maxim Healthcare Services
Modern Woodmen of America
My Fresh Basket
New Horizons Computer Learning Center
Northwest Specialty Hospital
Numerica Credit Union
Nuverra Environmental Solutions
Pearson Packaging Systems
Personnel Source
Phoenix Protective Corp
Pinnacle Investigations Corp
Pioneer Human Services
PITNEY BOWES, INC.
Provisional Recruiting & Staffing
Qualfon Data Services
ResCare HomeCare of Washington
Referral Registry
Rockwood Retirement Communities
Royal Park Health and Rehabilitation
Sage Technical Services/Schneider National
Securitas Security Services
Senior Helpers
Silverwood
Skils'kin
SL Start & Aacres of Washington
Spherion Staffing
Spokane County
Spokane County 911
Spokane County Detention Services
Spokane County Library District
Spokane County Sheriff's Office
Spokane Police Department
Spokane Produce, Inc.
Spokane Regional Health District
Spokane Transit Authority
STCU
Staff Pro
Sysco Spokane
Tedder Industries
The Healing Lodge of the Seven Nations
The Home Depot
The Salvation Army Spokane
Tradesmen International
US Tech Solutions
VA Medical Center Spokane
Wagstaff Inc.
Washington Army National Guard
Washington State Patrol
Washington State University - Spokane
Wenspok Resources LLC (dba Wendy's)
West Coast Training
Western States Equipment Company
Zerorez of Spokane, LLC.
---
LOCATION:
---
The SAWDC is an equal opportunity employer and provider of employment and training services. Auxiliary aids and services are available upon request to persons with disabilities. Washington Relay Service: 711 - This event is wheelchair accessible.
Watch this space for job opportunities at KHQ-TV. Current employment opportunities at KHQ-TV: KHQ Inc. has an immediate full time Payroll/Billing opening in the accounting department in Spokane, WA primarily

>>

SPOKANE, WA – Today, U.S. Senators Maria Cantwell (D-WA) and Patty Murray (D-WA) joined Gov. Jay Inslee and local business leaders to call for Congressional reauthorization of the Export-Import Bank, the nation's official export credit agency and a key export tool that helps Washington companies sell their products overseas.

>>

SPOKANE, WA – Today, U.S. Senators Maria Cantwell (D-WA) and Patty Murray (D-WA) joined Gov. Jay Inslee and local business leaders to call for Congressional reauthorization of the Export-Import Bank, the nation's official export credit agency and a key export tool that helps Washington companies sell their products overseas.

>>

SPOKANE COUNTY, Wash.- State lawmakers are trying to find a way to bring the veteran unemployment numbers down. According to the Washington Employment Security Department, as of 2013, the unemployment rate for veterans in Spokane County is 7.9% with a 3.3% margin of error. In Washington state overall, the unemployment rate for veterans is 7.1%

>>

SPOKANE COUNTY, Wash.- State lawmakers are trying to find a way to bring the veteran unemployment numbers down. According to the Washington Employment Security Department, as of 2013, the unemployment rate for veterans in Spokane County is 7.9% with a 3.3% margin of error. In Washington state overall, the unemployment rate for veterans is 7.1%

>>

KHQ.COM - Career Builder polled over 3,000 professional workers around the nation to find out what the scariest jobs in America were. To see the full list on our Facebook page, click here: http://tinyurl.com/mrb4rwv

>>

KHQ.COM - Career Builder polled over 3,000 professional workers around the nation to find out what the scariest jobs in America were. To see the full list on our Facebook page, click here: http://tinyurl.com/mrb4rwv


>>

Job Fairs are great opportunities to meet a number of potential employers in a short period of time. There is no better opportunity to personally meet and speak with representatives from area employers.


>>

Job Fairs are great opportunities to meet a number of potential employers in a short period of time. There is no better opportunity to personally meet representatives from area employers and to talk to them about your skills & abilities.

There are some important preparations that you need to make in order to make the best possible use of this opportunity. Read this document and learn some techniques & strategies to help you make those important job fair contacts.

>>