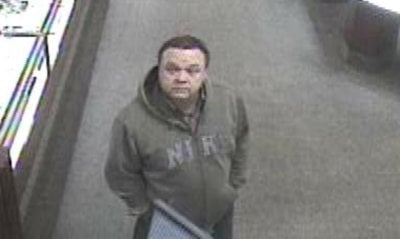 (Male forgery suspect looking directly at security camera)
SPOKANE COUNTY, Wash. - Crime Stoppers is offering a cash reward for information that leads to the solution of a series of crimes committed at several local stores in early February involving forged checks. It all started after a Spokane resident living in the 3700 block of North Audubon had his 1997 Dodge Dakota pickup broken into.
The truck had been parked on the street in front of the home, but there were no witnesses. The suspect stole a Garmin GPS unit and a checkbook containing checks drawn on Wells Fargo Bank.
In the days following the break-in, the suspect forged and cashed checks at Fred Meyer's stores, Huckleberry's groceries and other businesses. Total loss in forged checks was more than $1,200.
The male depicted in the security photos forged the checks, but was accompanied by one or both female companions during each event.
Crime Stoppers has offered a cash reward for information that leads to the solution of the crime. The male suspect's identity would be great, but police might be able to identify him if someone provides the identities of his female companions.
Anyone with information is encouraged to call the Crime Stoppers Tip Line at 1-800-222-TIPS. Your identity can remain confidential and you still qualify for the cash reward.