Shellye Stark found guilty of 1st degree murder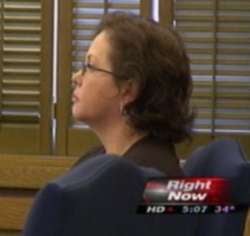 SPOKANE, Wash. - The Jury has handed down a guilty verdict in case of Shellye Stark, the woman accused in the shooting death of her estranged husband. The jury resumed deliberating Tuesday morning and presented the guilty verdict to the judge around 1:30 p.m.
Dale Stark, 48, was shot just before 2 a.m. on December 9, 2007 in the 1600 block of South Maple on Spokane's South Hill. Police responded to the scene after receiving a 911 call from a woman claiming to have just shot her husband. Authorities recovered a handgun at the scene and transported Dale Stark to Deaconess Medical Center where he was pronounced dead.
According to a police spokesperson the now 47-year-old Shellye Stark and her husband had been separated and were living in different parts of the country while maintaining a house here in Spokane.
Shellye told police Dale Stark refused to leave the premises and begin looking for a knife when She Stark shot him 5 times, 3 of which were in the back.
From Spokesman-Review
Meghann M. Cuniff
The Spokesman-Review
Stark witness says abuse led to killing
When Shellye L. Stark gunned down her husband in an early-morning confrontation, she was reacting to a marriage so rife with abuse that she suffered from a clinical disorder called battered women's syndrome, the disorder's leading researcher said Thursday.
"The pattern of abuse was very severe," said Dr. Lenore Walker, a national expert on domestic violence. "...Her plan might have been naive, but I think the learned helplessness may not have allowed her to think it through."
Walker, a self-described feminist psychologist who's testified at hundreds of trials, interviewed Stark in fall 2008, more than nine months after the Dec. 9, 2007, death of Dale Robert Stark, 48, in the South Hill home he shared with the couple's teenage son. Read the rest at Spokesman.
More information from