Spokane defeats Twisters in preseason game, Shock win 35-28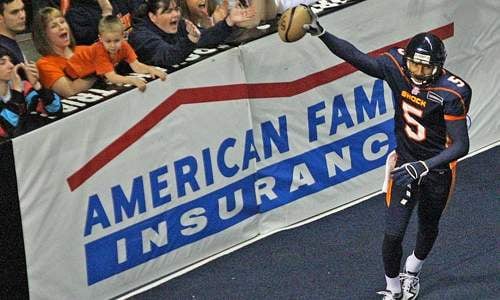 Picture by Brandon Hansen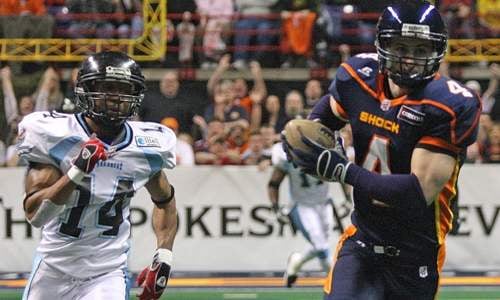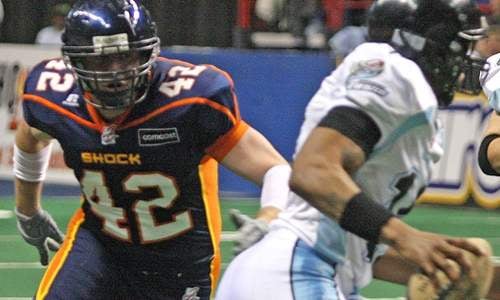 SPOKANE, Wash. - The Spokane Shock defeated the Arkansas Twisters 35-28 tonight in their first game of the 2009 season. For most Shock fans, it was a chance to see old friends like former QB Kyle Rowley and Chris Siegfried while meeting some new ones like the Shock's WR Charles Dillon, and DB Stanley Franks.
For both Rowley and Siegfried, it was their first trip back to Spokane since the 2006 ArenaCup Championship season. For Dillon and Franks it was their first time playing for Spokane in front of the home town fans. It was an opportunity to impress not only the fans, but also the Coaching staff in hopes of making the final roster.
Dillon made an immediate impact scoring the first touchdown of the game with 8:46 left in the first quarter on a nine-yard reception from starting QB Nick Davila. In addition to tying Bugg with the team-led in receptions (4), Dillon also added two more touchdowns for a total of three touchdowns in his af2 debut.
"He was good - he had a great week of practice," Head Coach Adam Shackleford said. "I think he is going to be a guy who's going to get on the field for us this year."
For Dillon, who finished his collegiate career in 2007 at Washington State University, he was just "excited to get back on the field."
"It was exciting to get back out there and have some fun," Dillon explained. "We have been playing against each other for the past two weeks so it was nice to see some fresh faces who didn't know what we were going to do. It was just fun to get back out there and score touchdowns."
On defense, the Shock shut-out last year's Offensive Player of the Year Rowley not allowing a single point in his three series of play.
On Arkansas' first drive of the game, Rowley was picked off by last year's Rookie of the Year, DB Sergio Gilliam.
Rookie Stanley Franks also made a name for himself in the secondary leading the team in pass break-ups with three and added 3.5 tackles.
Although Shackleford admitted it was nice to get a win tonight, that's not what tonight's game was about for him.
"You are always happy when you win," Shackleford said. "Our goal was to get out of here without any injuries and to get some good game film. We accomplished that tonight."