Zags return to Spokane after loss to North Carolina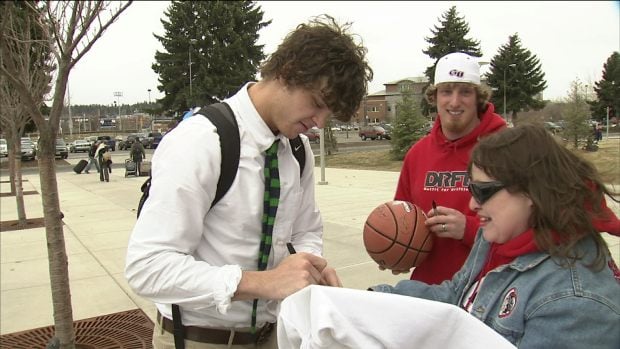 Matt Bouldin signs a fan's shirt after returning from the NCAA Tournament
SPOKANE, Wash. - The Gonzaga Men's Basketball team arrived at the Spokane International Airport just after 1:00 p.m Saturday.
On the tarmac the Zags boarded three buses that took them to campus. They arrived on campus just after 1:30 p.m. where they were welcomed by about a dozen fans some who had been waiting for them since 10:30 Saturday morning.
The Bulldogs return after loosing to North Carolina 98-77 in Memphis Friday night. North Carolina advances to the Elite 8 round of the tournament. They'll play Oklahoma on Sunday
Previous coverage on March 27, 2009 at 09:45 PM PDT:
Gonzaga's season ends with loss to North Carolina
The good? Gonzaga held North Carolina to just a handful of points at the end of the first half. The bad? The Zags couldn't score enough to catch up in either half. The result? North Carolina advances to the Elite 8, and Gonzaga returns to Spokane to watch the rest of the tournament from home.
Ty Lawson, sore foot and all, led North Carolina through the first half. He scored inside. He scored outside. He dished the ball off to the open man. He was in complete control of the game, while Gonzaga couldn't ever find a rhythm for more than a couple of minutes.
"We ran into a great basketball team tonight," said Gonzaga coach Mark Few. "They played great. When they are shooting the ball like that I think it's going to be tough for anybody to beat them."
Gonzaga guard Matt Bouldin, who wasn't as effective as he normally is for the Zags, might have been sick. Few didn't offer up any comments regarding his performance however, and reporters didn't ask. The possibility Bouldin could have been sick was brought up by UNC coach Roy Williams after the game.


"It looked like Matt Bouldin wasn't feeling well," said Williams. "I recognized during warm-ups he wasn't participating and looked like he wasn't feeling well."
When Gonzaga went on a 12-2 run in the second half and looked like they were going somewhere, Bobby Frasor was there to put the Zags back in their place, scoring two-straight treys. Wayne Ellington followed up with a drive that resulted in a three-point play at the free throw line to cap a 9-0 run. North Carolina's largest lead, 28 points, came at 3:28 in the second half.
Tyler Hansbrough dominated inside, scoring 24 and grabbing a game-high 10 rebounds. Ty Lawson scored 19 points, notched five rebounds and dished out a game-high nine assists. As a team, the Tar Heels shot a more-than-respectful 52 percent from the field, including 55 percent from the three-point line. The boys in light blue shot 11-of-19 from beyond the arc.
"We always have to take care of the basketball," said Ellington. "Ty law did a great job. Our guards did a great job of taking care of the ball and putting it where it needed to be."
Jeremy Pargo, playing in his final game as a Zag, led his team in scoring with 16 points, three rebounds and 2 assists. Josh Heytvelt, also playing his final game ended with 14 points, but not a single rebound, a fact not lost on the media after the game. Heytvelt said he didn't recall a game in his career where he didn't have at least one rebound.
Austin Daye finished with 10 points, nine rebounds and 2 assists. Micha Downs provided the Zags with a spurt of offense, scoring 12 points. As a team, Gonzaga shot just 30 percent from three-point range.
Perhaps the most obvious statistic Friday night in Memphis was the rebounding column. The Tar Heels outrebounded the Zags 40 to 28.
North Carolina advances to the Elite 8 round of the tournament. They'll play Oklahoma on Sunday.