Chiefs win, advance to 2nd round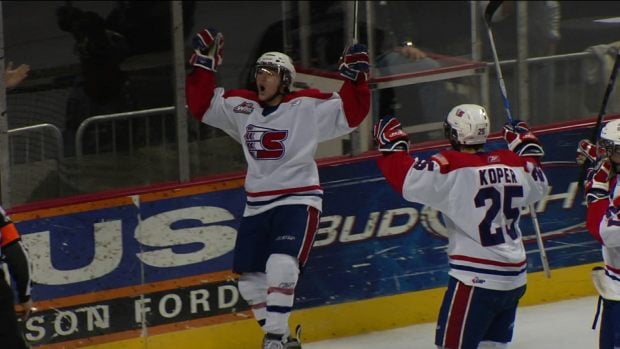 SPOKANE, Wash. - The Spokane Chiefs earned a 5-3 win over Seattle on Saturday night and advanced to the second round of the playoffs with a five game series victory over the Thunderbirds. Spokane won the last three games of the series and will now face the Vancouver Giants in the second round.
Games one and two of the series will be played in Vancouver on Friday, April 3rd and Saturday, April 4th. Friday night will start at 7:30. Saturday will begin at 7:00. Games three and four will be played in Spokane. The dates have yet to be determined.
Drayson Bowman scored twice for the Chiefs in Saturday night's win in front of 5,810 fans. His first came at 6:29 of the second on Jared Spurgeon and Mitch Wahl assists. Justin McCrae backhanded a shot net-front on the power play and gave Spokane a 2-0 lead at 13:30. Seattle pulled within one at 15:50 on a goal by Colin Jacobs.
Brady Calla extended the lead to 3-1 with a mini-breakaway from the blue-line where he went backhand for his first of the playoffs.
Seattle took advantage of a pair of Chiefs penalties and scored a five-on-three power play goal at 12:49 to pull within one. The Chiefs answered with a power play goal of their own at 14:31 by Mitch Wahl to go back on top by two.
Seattle scored again on the power play, with their net empty in favor of another attacker, to make it a one goal game again. Bowman outraced a Seattle defender at 19:18 for the empty net, insurance goal.
Bowman had five goals and seven points in the five game series and Levko Koper had a pair of goals and five assists.
Dustin Tokarski stopped 31 shots, including 16 in the third period, and was named the game's first star.
Spokane was 1-6 on the power play and 5-7 on the penalty kill.