SwapMamas - Moms Helping Moms in a Troubled Economy
Posted:
Updated: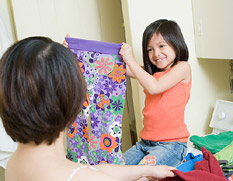 (BOZEMAN, Mont.) April 2, 2009 - Like so many other Americans, single mom Darcy Cruwys recently found herself jobless and facing a dark financial future after the company she'd worked for for three years eliminated her position. Refusing to let the bad economy get her down, and rather than bemoaning her situation, she decided to launch an online community based on a simple exchange premise: reusing mom/kid-related items.
Launched the last week of January 2009, Swap Mamas (www.swapmamas.com) already has close to 500 members and is growing at a current rate of 100 members a week. Moms are receiving packages in the mail, finding ways to fill their economic needs while simultaneously helping other moms.
With its strict "No Transfer of Funds" policy, the site revolves around the Swap it Forward philosophy. This boils down to a single idea: The more you give, the more you get, whether that be actual goods, or the simple satisfaction that comes from helping someone out.
"Perhaps someone desperately needs size 6M for their newborn, but has very little to trade," says Cruwys. "They can connect with a mom who has size 6M clothes to give, who wants nothing in return but the promise to Swap it Forward once their child outgrows the gift."
A growing number of groups have formed, some of which include Baby/Kids Clothes groups broken down by size; Toys for Swap; Books for Mama; Kids Shoes; Baby Bedding; Housewares; Coupon Swap; Clothes for Mama; Sports Gear; and Costumes and Dress Up. Recently, regional groups have gained popularity as mamas find value in connecting locally with regular face-to-face 'meetups.'
According to Cruwys, "The age-old practice of bartering and trading is inherently intimate. It's completely natural that it be centered around community. Swap Mamas provides a safe environment for moms to connect and get to know one another in a way that just wouldn't be possible on a traditional online auction site."
**Follow SwapMamas on twitter! www.twitter.com/SwapMamas While you're there, follow For Women Only www.twitter.com/ForWomenOnly