Here we go again: snow keeps falling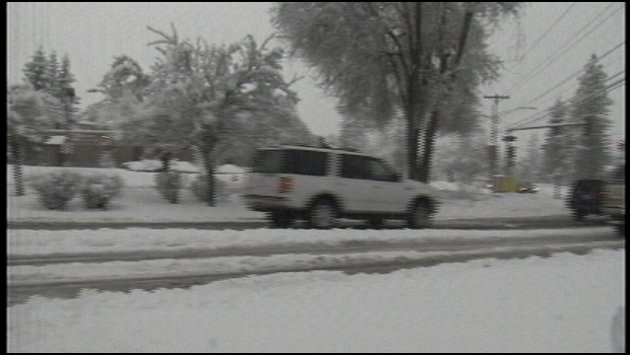 SPOKANE, Wash. - An unusually strong late snowstorm has closed roads and snarled traffic in the Spokane area Tuesday morning.
Icy conditions prompted closure of state Highway 291 near Suncrest.
Spokane already has received the most snow in its history this winter, and the total will increase after the blanket of snow that started falling.
Relief is on the horizon. Temperatures are forecast into the 70s by the weekend.
Here's what the National Weather Service has to say about today's snowfall moving into tomorrow:
Today: A slight chance of snow showers before 11am, then a chance of rain showers. Snow level 1800 feet rising to 3100 feet. Mostly cloudy, with a high near 51. South wind around 7 mph becoming northwest. Chance of precipitation is 30%. Total daytime snow accumulation of less than a half inch possible.

Tonight: Mostly cloudy, with a low around 34. North wind around 5 mph becoming calm.

Wednesday: Mostly sunny, with a high near 58. Calm wind becoming north between 4 and 7 mph.

Wednesday Night: Mostly clear, with a low around 32. Northeast wind between 5 and 8 mph.
Keep watching KHQ throughout the day for updates on the snowfall and watch SWX for weather updates four times every hour. (SWX can be viewed on Comcast channel 115, Digital 6-2, Time Warner 306 and Wenatchee Charter 287)
The Washington State Patrol has been reporting some traffic collisions in and around the Spokane area. To see live streaming video of the Department of Transportation's camera click above.