Washington State - Football
Business leaders warn WSU about moving Apple Cup game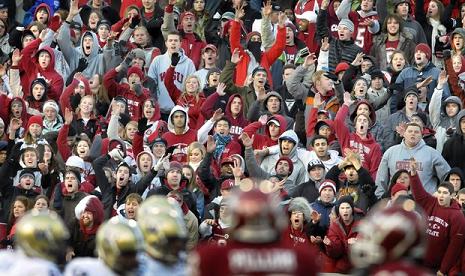 Also on KHQ.com

More>>

Find more sports news, photos, videos and games from the Northwest on SWXRightNnow.com!

>>

Find more sports news, photos, videos and games from the Northwest on SWXRightNnow.com!

>>

Viewers are encouraged to particiapte in this discussion; however, all comments will be moderated before being published. Please keep comments civil and void of any foul language. NOTE: Due to high volume,

>>
PULLMAN, Wash. - The Pullman Chamber of Commerce calls the possibility of moving the Apple Cup football game to Seattle "astounding".
Both Washington State and the University of Washington are considering moving the annual rivalry game because playing at Qwest Field could generate millions of dollars to shore up shrinking budgets. Playing the game on the west side of the Cascades might fill coffers at the universities, but it might take money out of the cash registers on the Palouse.
In response to the proposal to move the game the Chamber sent a letter to WSU Athletic Director Jim Sterk, saying local businesses stand to lose as much as $2 million dollars if fans are forced to travel - or stay - in Seattle. But the Chamber also said it's not all about the almighty dollar.
The letter states, "Don't neglect to weigh the overall perception of this as a shift in alliance from the community that supports you year round."
For viewers on SWXRightNow.com: To comment on this story, click HERE
---
Text of Letter from the Pullman Chamber of Commerce:
Dear Director Sterk,
The Pullman Chamber of Commerce, a 448-member organization of businesses from Pullman and across the Palouse, is astounded at the idea of moving the Apple Cup game to Seattle for the next 6 years. While we understand your financial need for this decision, we don't think you realize the cost it will have to you, in reputation, support of the local community, or the economic impact to the City and the businesses in our area.
Over the course of time this game has become the biggest rivalry game in the state, and widely anticipated as a home game, by students and the Pullman community alike. There is nothing like playing the Huskies at home in the snow. The rivalry game is a part of the college experience present day students and tomorrow's boosters will take with them as they leave campus. Do you think they will be saying "Do you remember that great game in '10 when we beat the Huskies in the fog in Safeco?" I don't think so. The historic game which lives on in memory is the '92 Apple Cup in snowy Martin Stadium when we crushed the Huskies after the game was halted so that the stadium crew could plow the field. It is that type of campus experience - the nostalgia - that causes alumni to donate. In Seattle, it becomes just another game-- no home turf. Martin Stadium was just renovated at a very high cost. If you move Apple Cup, our team will not be playing the biggest game of the year in this facility.
From the business community perspective, not only does moving the game have an emotional impact, it also has a financial one. While we understand that we would be trading three cup games for the return of six other games, the size and impact of the Apple Cup is far reaching. During Apple Cup week, some businesses double or triple the revenues they reap from a regular home game weekend. From that perspective, we might break even if everyone of those six games was a sell-out. That is unlikely especially since it is played on a holiday weekend against a less known team. Moving Apple Cup has other impacts as well. Spokane, or other area season ticket holders, may choose not to purchase season tickets if Apple Cup is no longer in Pullman, which means they might not attend any Cougar games. These impacts will leave significant emotional and financial wounds in the business community.
The business community has been very supportive of Cougar athletics. Pullman Businesses support all teams, not just football. Some are major sponsors. Others provide services and donations for fundraising activities for the many other events at WSU. The Chamber, the City and WSU work together on promotional events and the businesses are the teams' biggest "cheerleaders". Local fans support the teams in good times and bad, and provide a broad alumni base in town. By taking Apple Cup to Seattle your relationship with the Pullman Community is being sold to the highest bidder. We are hoping that Cougar Athletics is something more than just money.
In closing, we urge you to not underestimate the broader economic and psychological impacts of moving this game out of town. Don't neglect to weigh the overall perception of this as a shift in alliance from the community that supports you year round. The University and the Athletics program get a $2M guarantee for the game, if played in Seattle, but think about what you lose, both in local support and goodwill at home.
Tom Handy, President
Pullman Chamber of Commerce

Tammy Lewis, Executive Director
Pullman Chamber of Commerce
Estimated economic Impact to local businesses should Apple Cup leave compiled by the Pullman Chamber of Commerce
Restaurants:
Old Post Office - Fireside- Pizza Perfection surveyed
All three said they estimate Apple Cup sales are triple that of a regular game weekend.
Grocers:
Safeway: Sales double from other home game weekends and triple that of non-game weekend.
Dissmore's: Sales usually increase by $70,000-$100,000 that week. Expect to lose twenty percent of sales for that week.
Hotels:
Hotel rooms (Pullman): 362 Hotel rooms (Moscow): 341 Hotel rooms (Colfax): 67
Total hotel rooms: 770 at an average of $200 per night (for two nights) = $308,000
Some of this will be replaced by bringing back the other game currently played in Seattle. However, hoteliers don't believe they will fill up due to the fact that game usually falls on the Labor Day weekend. Also, during Apple Cup people come to Pullman earlier and spend more nights in area hotels verses a regular home game which usually only has a one or two night stay.
Hilltop estimated loss: $22,500
Holiday Inn estimated loss: $55,000
Quality Inn estimated loss: 10,000
Gas Stations:
That weekend Chevron sells 7-8000 extra gallons of gas at a value of $15,000, plus sales of $2,400 inside
Comments from Retailers on the loss of Apple Cup:
Crimson & Gray: "This is absolutely devastating. Apple Cup increases sales 2000%. I've already called ISP. Why should we continue that relationship?"
Wild Ivy: "This is equivalent to losing Moms Weekend"
Neill's Flowers: "It's easily 30% higher than a regular football weekend."
Old Post Office: "Most retailers count on Christmas. In Pullman we count on home football games."
Daily Grind/Licks: "This weekend keeps us going for the rest of the year. Easily 40% higher than a normal football weekend."
Pullman Radio Shack: "I did some checking on our weekend figures for the Apple Cup last year - we did twice the business we do on an average Saturday - mostly for small FM radios and other such things for people to enjoy the game with."
Zeppoz: "We make about 35% more on Apple Cup weekend."
Other comments heard at the Chamber:
"We spent all that money on Martin Stadium. Now we won't even play our biggest game of the year there."
"Those kids will never have home field advantage"
"Wait until they come around asking for money locally."
"It is like they are saying that we don't matter. The fan base doesn't matter."
"Many people buy season tickets just for the Husky game. They will lose season ticket holders."
"The relationship with the local population is being sold for $2 million."