"Heyyyyy, from the racks and stacks it's the best on wax"
Posted:
Updated: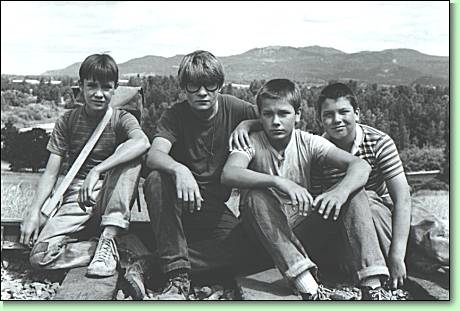 So I've had this pet peeve eating away at me for a while. It's music-related so I thought I'd jot it down. I'll give anyone who can explain it to me an official Photographer Don Clossin-autographed drink cup from the convenience store of Don's Choice...maybe.
The movie "Stand by Me" starts out with the narration of the lead character, Gordie Lachance, saying he grew up in the town Castle Rock in 1959. This is when the movie is presumed to take place. We'll all have to agree on that for this rant to hold water. In one of the first scenes we hear the radio being played while the camera sweeps in to a shot of the tree house the boys are playing in and the DJ on the radio is heard, "Hey, it's the Bossman, Bob Cormier here. It's a beautiful Friday morning in Portland! It's 90 K-L-A-M degrees and gettin' hotter! Up the ladder with another platter, it's Bobby Day with "Rockin' Robin." It's BOSS!"
Now That song, Rockin Robin, was released in 1958. One can assume the station, KLAM, at the time the movie is set, playing current R&B hits.
My gripe comes from a scene later in the movie. It's the famous "barfing" scene when Gordie tells the story of young Davie Hogan. In his story the same DJ is introduced to the crowed at the contest and given the Microphone. His speech is flashy, using his radio voice he says, "Heyyyyy, from the racks and stacks it's the best on wax. How about another double golden oldie twin-spin sound sandwich from K-L-A-M in Portland!"
O.K. If old Bobby is a celebrity D.J. at a hot current hits station, why does he use the phrase "Golden Oldie"? Was that even a phrase back then?
Here's a list of the songs I played today.
April 28th
Always Something there to Remind Me Naked Eyes
Sweet Jane Mott the Hoople
Runnin' on Empty Jackson Brown
Vehicle Ides of March
Let It all Hang Out Hombres
You've Got a Friend James Taylor
Movie it on Over George Thorogood
Sympathy for the Devil Rolling Stones
Vacation The Go Go's
Bourbon St. Parade Al Hirt
Heart Break Hotel Willie Nelson
April 29th
Sittin' On the Dock of the Bay Aaron Neville
The Glow Willie Hutch
When You're Hot You're Hot Jerry Reed
Baby I Love Your Way Will to Power
To Hot to Stop The Bar-Keys
You're the Best Around Joe Esposito
Woolly Bully Sam the Sham
Weight The Band
Me and Julio Paul Simon
Some Like it Hot Power Station
The Glamorous Life Sheila E.
Celebration Kool and the Gang
Aint Misbehavin Allen Tousaint
Lets Dance