Spokane officials still seek flu man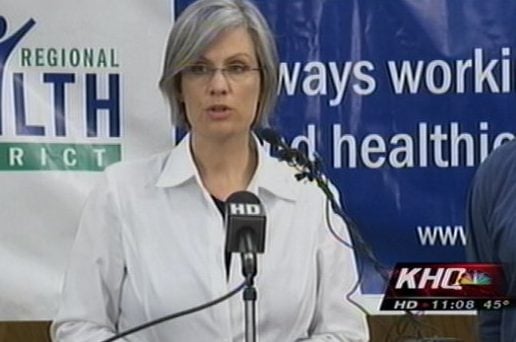 Spokane Regional Health District spokeswoman Julie Graham
SPOKANE, Wash. - Health officials in Spokane are still trying to make contact with a man suspected of having the swine flu.
The man is described as in his 40s who recently returned from California and went to his doctor when he felt sick. His medical samples were sent to a state lab, and the results were inconclusive. Those samples have been sent to the Centers for Disease Control.
Spokane health district spokesman Pat Humphreys said Thursday that authorities have not yet been able to make contact with the man, and don't know where he works or if he has kids in school.
At this time, all schools and other public facilities in Spokane remain open. No decision has been made on whether to cancel this weekend's Bloomsday road race, which typically draws more than 40,000 people from all over the world.

US swine flu total tops 100

The Centers for Disease Control and Prevention reports that the number of swine flu cases in the United States has topped 100, with confirmed infections in 11 states.
The CDC's count for the first time Thursday adds South Carolina, with 10 confirmed cases.
The CDC update said there have been 109 cases including 50 in New York, 26 in Texas and 14 in California.
Scores of schools have been closed around the country as precautions against the spread of swine flu. In Alabama, officials have canceled classes for about 31,000 students in one county due to two probable flu cases. Many private schools and day-care centers also are shutting down temporarily. Athletic events have been postponed throughout the state.
With 51 confirmed cases in New York City, most schools remain open. The city health chief says all those with confirmed cases are recovering.
Around the country, people are being extra careful. Health officials in Yuma, Ariz. say about 300 worried patients have been streaming into a local emergency room on recent nights -- far more than normal. That's even though there have been no confirmed cases in the area.