H1N1 update: What you can expect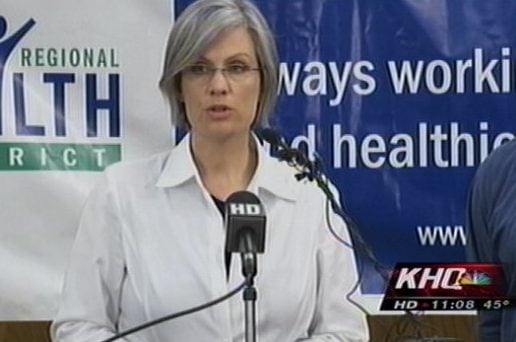 Julie Graham, Health District
SPOKANE, Wash. - Thursday, the Spokane Regional Health District released what is currently known about the Swine Flu and what to expect in the coming weeks.
The following is information sent to KHQ:
As we continue to learn more about the spread and severity of the H1N1 swine flu virus, we are better able to match activity and planning to the situation at hand. In this note you will find an overview of expected upcoming activities, with one big caveat - if the situation changes dramatically, our activities will also change. Here is what we know now and can expect:
Two weeks ago when the United States had our first few cases of H1N1, reports from Mexico indicated the potential for a very serious, widespread outbreak of a new strain of influenza virus being called the "swine flu".
As the virus spread to more than 42 states and over 1,800 Americans during the past two weeks, we were better able to identify how the virus affects people and how best to match our actions to the virus's behavior.
We expect that more cases, more hospitalizations and possibly more deaths in the U.S. from this outbreak will occur over the coming days and weeks.
We continue to take aggressive action to respond to the expanding outbreak. Public health's response goals are to reduce spread and illness severity, and provide information to help health care providers, and the public address the challenges posed by this situation.
At the beginning of a new influenza virus outbreak, public health officials cannot accurately predict the severity or the spread of the illness, so prompt protective measures must be instituted in case the outbreak is severe. Once the virus has circulated for a while, public health officials can scale back warnings and activity if the clinical findings indicate the virus does not appear be as serious as some viruses from past outbreaks have been.
It is public health's responsibility to begin our outbreak response in a way that is very proactive and protective; rather than wait and hope that the outbreak is mild and then try to ramp up if the virus is deadlier than we hoped.
As of today, it appears that this virus is behaving in a similar way as the seasonal flu (geographically widespread, easily transmitted, mild to moderate symptoms for most, serious symptoms and complications for less than 2% of those affected).
It is important to remember that this situation (virus severity and spread) could change any time. Influenza viruses undergo random mutations frequently, the results of which cannot be anticipated.
Based on previous global outbreaks (called pandemics), some influenza scientists believe that this virus may slow down over the summer months and return in the fall along with the return of our typical seasonal influenza.
Because the H1N1 swine flu virus is new, scientists have to work harder to develop a vaccine to this new strain. We will keep you informed as we get more information about a vaccine to H1N1. Seasonal flu vaccine manufacturing is already underway, and a typical supply is expected.
As the virus is spreading across the world quickly, we can expect the World Health Organization to raise its "pandemic alert level" to 6. This means that human-to-human transmission of a new influenza virus is geographically widespread.
What you can expect from the Health District and our public health partners:
All public health entities (international, national, state, local) will continue monitoring and responding to this outbreak as it unfolds.
We will keep you updated as the situation changes.
We will be doing robust planning for the fall influenza season in case the new virus returns in the fall or continues its spread over the next months.
We have been planning with many of you over the past 4 years in preparation for an influenza pandemic (schools, healthcare system, emergency responders, government services, etc).
Over the past year or so, our cooperative planning has slowed down and now we must revitalize our efforts together.
We will be asking many of you to reengage with us in anticipation of a difficult fall influenza season, and because we know that preparing for a health threat helps us be ready for other disasters.
We will also focus on general emergency preparedness for families, worksites and schools. This will help us handle almost all types of crises.
Here is why we must continue our communities' planning and preparedness work:
This flu incident is teaching us that as a community we can always improve on our preparedness. We have work to do together. Even a moderate influenza pandemic would likely have major impact on all sectors in our community.
We believe that this mild beginning of this new virus has given us a chance to do a better job collectively preparing to respond to health crises. We also know that we cannot allow this experience to lull us into believing that this situation will remain mild, or that future influenza outbreaks will be similar. To do so would be shirking our responsibility to protecting the public's health.
Here are some H1N1 updates (this information is current as of 5/7/09)
The World Health Organization reports 2,099 confirmed cases from 23 countries.
The CDC is reporting 896 laboratory confirmed human infections and over 845 probable cases awaiting confirmation from 44 states in the United States.
The Washington State Department of Health reports 69 cases of H1N1 (23 confirmed, 46 probable) as of today, the majority of cases are in King and Snohomish counties.
Spokane has 1 confirmed, 1 probable and additional lab tests waiting for testing by the state lab.