Tri-Cities Fever Get First Win Against Stockton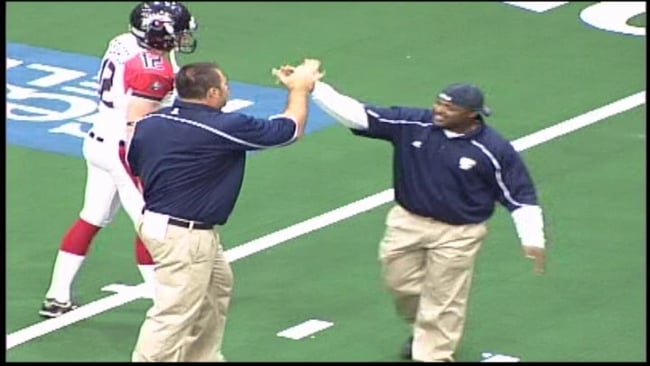 KENNEWICK, Wash. - Chris Hemphill's 13-yard touchdown reception with 47.4 seconds left in regulation capped off a 20-0 rally by the Tri-Cities Fever, who garnered their first victory of the 2009 season and sent the Stockton Lightning (1-5) to a 43-42 defeat before a crowd of 3,066 at Toyota on Saturday, in Week 7 of arenafootball2 play.
The Lightning, who dropped their fifth consecutive loss, fell to 3-3 in the lifetime series against the Fever despite posting 312 yards of total offense to 199 for the Fever and were led by QB Chad Cavender's 27-for-40 performance, throwing for 318 yards and five touchdowns. Cavender was named Russell Athletic Offensive Player of the Game. The Lightning were flagged for 12 penalties in the game for 81 yards.
His counterpart, Ryan Porter, who threw the game-winning score to Hemphill, completed 21-of-45 passes for 200 yards, six touchdowns and one interception. Making his return to the Lightning lineup, former AFL all-Ironman selection Etu Molden caught a game-high 12 passes for 131 receiving yards and two touchdown receptions.
The Lightning raced out to a 21-16 halftime lead, beginning with Molden's 20-yard snare from Cavender with 11:05 left in the first quarter which put Stockton ahead 7-3. Porter found WR Tremayne Kirkland for a 22-yard strike with 7:33 left for a 9-7 Tri-Cities lead but Molden put the Lightning ahead again on a 10-yard touchdown catch as time expired in the first quarter for a 14-9 Lightning advantage, kick-starting a 21-7 Stockton run.
WR David Sutton hiked the Lightning lead to 21-9 with 3:15 left in the second quarter when he hauled in a 38-yard bomb down the left sideline from Cavender, juking two defenders before reaching the end zone. The Fever closed the Lightning lead to 21-16 on a six-yard touchdown reception by Chase Reed.
McBroom's 24-yard touchdown reception with 12:37 left in the third quarter finished the Lightning run with a 28-16 lead. Porter then found Kirkland for a 24-yard missile with 9:51 left, closing the Tri-Cities gap to 28-23.
Cavender then connected with Sutton on a 15-yard touchdown pass in the right corner of the end zone, who averted a tackle while spilling over the boards to give the Lightning a 35-23 lead with six minutes remaining in the third quarter. FB Peter Tuialuuluu's one-yard blast up the middle gave the Lightning a 42-23 edge with 14:07 left in the game.
Tri-Cities then embarked on their run with two consecutive Porter touchdown passes to Kirkland, cutting the Lightning lead to 42-36 with 5:15 left in the game on Porter's five-yard heave to Kirkland, the fourth touchdown reception of the game for the Tri-Cities receiver.
Kicker Derek Pearson, making his Lightning debut, then missed a 32-yard field goal with 2:07 remaining to set-up Tri-Cities' final rally. The Fever moved the ball for four plays and 40 yards, finishing the drive on Hemphill's wide-open, game-winning catch on a 13 yard heave from Porter in the left corner of the end zone with 47.4 seconds left.
Pearson missed a 48-yard field goal as time expired in attempts to give the Lightning a buzzer-beating victory, which gave Tri-Cities head coach Pat O'Hara his first victory since being named new head coach two weeks ago.