May 2009 Diabetes Notes from Stephanie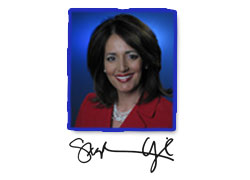 Hello, everyone!
It's so nice to see people out and about now that it's finally Spring! If you haven't already, take a walk around one of our beautiful neighborhoods one of these days - trees are starting to bud and I've seen many a tulip smiling out of flowerbeds around the area - we live in an amazing place is so inviting when it comes to staying healthy! Get out there and take a walk today - every little bit counts!
Keeping your weight in check is important for all of us, but especially those affected by Diabetes. Craig Hudkins, a trainer with Fitness Together sent me this advice and information about weight management:
Hi Stephanie! Here is some information about the importance of weight management in Type II Diabetes. Pass it on! - Craig
Obesity is a major risk for development of diabetes and excessive energy intake is a major contributor to poor glycemic control in Type II Diabetes. Obesity of weight gain can increase the risk for developing diabetes by greater than ninetyfold. Achieving and maintaining your desirable weight will help with the management of your diabetes and further complications of uncontrolled blood glucose such as heart disease. You can achieve your desirable weight by following a meal plan designed specifically for you by a registered dietitian. Monitoring your weight may help to control blood sugar, reduce blood cholesterol, and triglyceride levels. Research states that weight loss of 10% of initial body weight dramatically improves glycemic control and reduces lipid and blood pressure risks.
If you are struggling with your weight here are a few guidelines to help you get on the right track to maintaining your weight:
Decrease sugar & "simple" carbohydrates
Decrease fat
Decrease portion sizes
Decrease alcohol intake
Weight management appears to be the most important therapeutic task for most Type II diabetic individuals. Optimal diets for improvements of blood glucose, triglycerides and weight management are higher in complex carbohydrates, fiber, and lower in fat.
May 29th, from 6pm-8pm, it's Family Fun Night at Mobius Kids! Free for children with diabetes and their families - it's a great opportunity for families who have children with diabetes to get together and share information. Learn about diabetes programs available to your child while the whole family has fun! Food and beverages will be provided - RSVP to 624-7478 or tduncan@diabetes.org. (Mobius Kids is a Children's Museum located in River Park Square, Lower Level at W. 808 Main, Downtown Spokane.)
From the National Diabetes Education Program, I heard that The award-winning band The Jonas Brothers has teamed up with NDEP to appeal to young people with diabetes and their families to promote diabetes control in a new radio public service announcement (PSA). Brothers Nick (who has Type I Diabetes), Kevin, and Joe share tips for coping with Diabetes and encourage people to help loved ones manage the disease. Listen for the PSAs airing on radio stations right now!
Last month, the National Diabetes Education Program promoted "Be Sweet to Your Feet if You Have Diabetes". It's so important that you take good care of your feet if you have diabetes. Click here, to Take Care of Your Feet for a Lifetime and read NDEP's brochure.
You can also check out NDEP's articles about how shopping right can help you eat right : "Grade-A Grocery List: Tips to Prevent Type 2 Diabetes"* "Grade-A Grocery List: Tips to Prevent Type 2 Diabetes in Asian Americans"*
Each article highlights grocery-shopping tips for people at risk for Type II Diabetes and includes special audience-specific, healthy foods. For more tips on making healthy food choices to prevent or delay the onset of Type II Diabetes, read NDEP's Get Real! You Don't Have to Knock Yourself Out to Prevent Diabetes or Two Reasons I Find Time to Prevent Diabetes: My Future and Theirs* tip sheets.
That's an awful lot to "digest" this month - make sure you take some time to get outside for that walk between all of these links! Maybe I'll see you out there!
Yours truly,
Stephanie.