June 2009 Diabetes Notes from Stephanie
Posted:
Updated: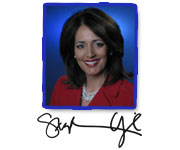 Stephanie's Diabetes Notes, June 2009
Hi everyone!
This month, I'm really excited to share some great news for kids & families of children with diabetes in the Inland Northwest - Camp Fun in the Sun is set to receive a grant for scholarships!
More kids in the Inland Northwest will have the ability for a summer adventure at Camp Fun in the Sun this year, thanks to a generous grant donation from Climb4ACure. As seven climbers from Climb4ACure re-attempt to summit Mt. Rainier this June, they will also be raising funds to assist underprivileged kids with diabetes who want to attend Camp.
Climb4ACure, a 501(c)3 non-profit corporation headquartered in Menlo Park, California, was founded in 2007 to raise funds to deliver supplies and treatment to underprivileged people with diabetes, to increase awareness that the underprivileged are disproportionately affected by the disease, and to increase awareness that physical fitness and proper diet are important in fighting the disease. This year's grant to Camp Fun in the Sun will be used for scholarships to help kids who would not otherwise be financially able attend Camp.
Camp Fun in the Sun, a service of Inland Northwest Health Services (INHS), has provided a safe, fun atmosphere for children with diabetes for more than 20 years. Accredited by the American Camping Association, Camp Fun in the Sun provides campers an opportunity to meet other kids with diabetes in a fun camp atmosphere where they are just like all the other campers.
"At Camp Fun in the Sun, campers have the opportunity to spend time with other kids who also have diabetes while learning how to balance their daily lives--all in a fun camp atmosphere. We are excited for another great year of education and fun for kids with diabetes," said camp director Lisa Randall, "We want all children and teens with diabetes who want to attend the camp to be able to do so, and with this help from Climb4ACure it looks like this year we'll be able to do exactly that."
"From sun up to sun down, our days are jam-packed with games and activities," said camper Rylee Johnson who has attended Camp Fun in the Sun since she was 7 years old. "Sprinkled between the numerous activities are nutritious snacks and meals. We also do regular blood sugar tests to ensure we are staying healthy."
Registration forms, scholarship forms and more information about Camp Fun in the Sun can be found at www.CampFunInTheSun.org or (509) 232-8135. Those interested in learning how to sponsor Climb4ACure's attempt to summit Mt. Rainier can visit the "donations" page of www.climb4acure.org.
So that's great news, everyone! Enjoy the great weather and get outside - even you adults should get out and play every now and then! Have a great month!
Yours truly,
Stephanie.
Camp Fun in the Sun is a service of Inland Northwest Health Services (INHS). INHS is a non-profit corporation in Spokane, Washington providing collaboration in health care services on behalf of its member hospitals Deaconess Medical Center, Providence Holy Family Hospital, Providence Sacred Heart Medical Center & Children's Hospital and Valley Hospital & Medical Center and the community. For more information, visit www.inhs.org.