Technical rescue performed under the Post St. Bridge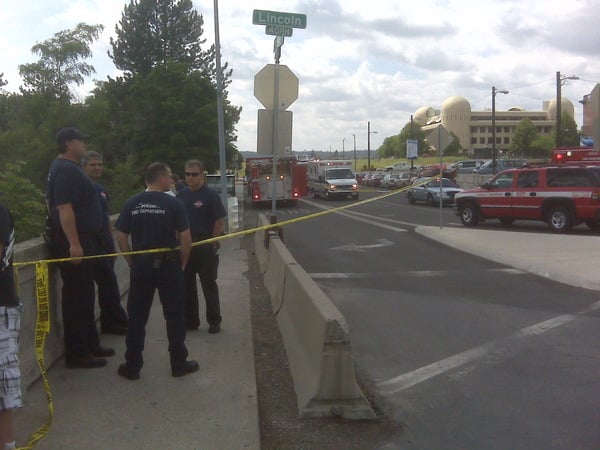 SPOKANE, Wash. - Emergency crews are have successfully performed a technical rescue at the north end of the Post St. Bridge in downtown Spokane. Crews responded to the scene just after 2:00 Sunday after receiving a report of a man in the river.
The Spokane Fire Departments Water Rescue Team and Technical Rope Rescue Team arrived on scene and found an adult male patient on the north side of the river who had fallen 30 to 40 feet from a ledge below the Post Street bridge landing on the concrete bridge supports at the river's edge. The High Angle Rope Team established a rope haul system and raised the man to safety after he had been stabilized by Fire Department Paramedics.
After crews retrieved the man from underneath the bridge he was transported to a local hospital to be treated for his injuries
Officer Tim Moses with the Spokane Police Department said after investigating, police believe the man was accessing a camp under the bridge when he fell. Officer Moses described the man's injuries as serious, but said he was conscious and alert when rescuers arrived on the scene.
While fire crews were staging at this Post St.Bridge incident they responded to a second person trapped on the south side of the river near the Monroe Street Bridge. The stuck man had climbed down a concrete embankment to view the river and could not get back up the wall. Fire crews utilized a rope to secure the individual and lifted him up the wall. He was not injured.