Stephanie's October 2009 Diabetes Notes
Posted:
Updated: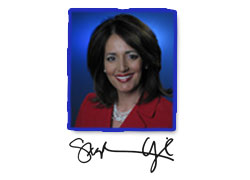 Hi everyone! I'm sending out this month's Diabetes notes a little early, because there are some events I wanted to make sure you were aware of in time to get involved!
First up is the "Step Out Walk to Fight Diabetes". The walk is being held Sunday, October 4th & starts at 10am (but the program will take place at about 9:30am). It's at Riverfront Park again this year at the North Bank Shelter near the Flour Mill. There is a 1-mile and a 5-mile route through the park and out on the Centennial Trail. After the walk, the participants will be treated to lunch!
Also, The University of Idaho Extension Nutrition Program (ENP), a community based education program is offering free weekly classes to teach individuals how to manage their diabetes through healthy eating habits. The class is open to people with diabetes, family members of those with diabetes and those who are interested in learning more about the disease. Classes will be from 1pm to 4:30pm on Oct. 9th, 16th, 23rd and 30th, 2009 at the Lake City Senior Center, located at 1916 N. Lakewood Drive, Coeur d'Alene. The last class also includes a mini health clinic. All classes are free, but space is limited - so you'll want to call to enroll. Contact the Kootenai County Extension Office at (208) 446-1680.
I was surfing the American Diabetes Association's website and found a great "tip of the day" I wanted to share. If you're like me, you put in a lot of hours during the day and it can be hard to find the time for exercise! There seems to be so much that goes into it - changing clothes, minding the weather if you choose to exercise outside, finding time at all - it can seem quite daunting. But just remember - exercise really just means activity! There are lots of things that you probably wouldn't consider to be exercise, but they actually are! Just as important, you don't have to be active for large blocks of time to reap the benefits. Several short "bursts" of activity in your day can be just as good for you. Try to make the most of opportunities to be active during the normal course of your day.
Take the stairs instead of the elevator.
Park at the far end of the parking lot & walk to the store.
Set aside 10 minutes of your lunchtime for a brisk walk.

You may be pleasantly surprised with your total daily activity level if you take advantage of opportunities like these.
This tip came from the ADA's 101 Tips Series.
That's all for this month - I hope these notes find you well and I hope you are able to take advantage of the events I mentioned at the beginning of these notes!
Take care,
Stephanie Vigil