Stephanie's November 2009 Diabetes Notes
Posted:
Updated: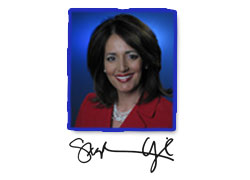 Hi everyone!
I hope this month's newsletter finds you well, and WARM! There's lots to cover this month, especially with such major changes in the seasons, so let's get to it.
On the KHQ.com diabetes prevention and control page, we covered Podcasts that can help people to lose weight (that's right, listening to a podcast might help you reach your goals!), ways to deal with deviations from your diet routine, and how food choices affect diabetes. Plus, WSU extended the invitation for Type 2 Diabetics to join in a current no-cost research study.
November marks American Diabetes Month 2009. Now is the time to join the American Diabetes Association in a national movement to Stop Diabetes. You can do your part to help confront, fight and most importatnly stop Diabetes in America in multiple ways:
One last thing for you - like I said, we're experienceing some seasonal changes right now (there were tiny snowflakes in front of my headlights the other morning!), and I can't tell you how important it is to keep up with an exercise regimen and healthy diet. It can be so easy to hunker down inside and hit the comfort food with the Winter months looming - but you can avoid that by getting up and creative with exercise and food. Here are a couple of links to get you started:
First, from ehow.com, an article with an easy 6-step plan for keeping active indoors. Click here to read this article.
Secondly, here is a warm, healthy recipe from the American Diabetes Association. Jambalaya is a great cold-weather comfort food that you can really personalize to your liking and keep within those healthy-diet boundaries! Click here for the recipe. There's a link to the American Diabetes website on the KHQ.com Diabetes Prevention & Control page - click on it often to find the "Recipe of the Day" & keep on cooking!
So stay warm, stay active, and stay healthy!
Yours truly,
Stephanie Vigil