Suspect in Seattle cop killing charged
SEATTLE, Wash. - A man accused of shooting a Seattle police officer to death on Halloween has been charged with aggravated first-degree murder, a charge that could carry the death penalty.
King County Prosecutor Dan Satterberg announced the charge against 41-year-old Christopher Monfort on Thursday. Satterberg has 30 days to decide whether to seek the death penalty.
Monfort is accused of shooting Officer Timothy Brenton and wounding another officer as they sat in a parked patrol car. Police also allege he firebombed four police vehicles in a maintenance yard nine days earlier.
Previous coverage below...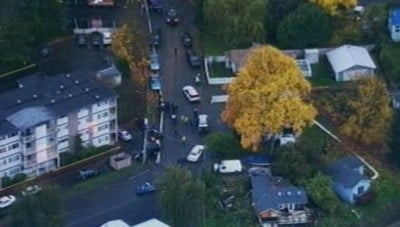 Seattle Police shot and wounded Monfort Friday at a Seattle suburb apartment complex
Previous Coverage
Police: DNA, bullets link suspect to officer death

Investigators say DNA and ballistics tests conclusively link a suspect shot by detectives last week to the Halloween night slaying of a Seattle police officer as well as what they are now describing as an attempted hit on law enforcement nine days earlier.
Seattle Assistant Chief Jim Pugel told a news conference that DNA belonging to Christopher Monfort, 41, was found on a small American-flag-style bandanna discovered on the ground where Officer Timothy Brenton was shot and killed and officer-trainee Britt Sweeney was wounded.
In addition, Pugel said Monfort's DNA was discovered on a small flag found at a city maintenance yard where four police vehicles were firebombed. Pugel says investigators are now characterizing that attack as an attempted assassination - a fire in a mobile command post was set first, apparently to attract officers and after they arrived, the cruisers exploded.
Most Popular Stories

Most Popular Stories

More>>

SPOKANE, Wash. - A problem within a solution – it's a phrase so oxymoronic that it almost doesn't make sense, but it's crystal clear for a specific group of students at Lewis and Clark High School.

>>

SPOKANE, Wash. - A problem within a solution – it's a phrase so oxymoronic that it almost doesn't make sense, but it's crystal clear for a specific group of students at Lewis and Clark High School.

>>

COEUR D'ALENE, Idaho - Multiple crews responded to a report of a cougar in a tree in Coeur d'Alene Monday. "I think time is on our side," Coeur d'Alene Police Detective, Jay Wilhelm, said. Indeed, it was. Coeur d'Alene Police, Fire and members of the Idaho Fish and Game cornered the male mountain lion, which was nested up in a tree near Qualfon on Ironwood Drive.

>>

COEUR D'ALENE, Idaho - Multiple crews responded to a report of a cougar in a tree in Coeur d'Alene Monday. "I think time is on our side," Coeur d'Alene Police Detective, Jay Wilhelm, said. Indeed, it was. Coeur d'Alene Police, Fire and members of the Idaho Fish and Game cornered the male mountain lion, which was nested up in a tree near Qualfon on Ironwood Drive.

>>

SANDPOINT, Idaho. First - it was a robocall, now a threat, targetting a Sandpoint newspaper and one of its writers, has surfaced on YouTube. "Ben Olson is a cancer on wholesome North Idaho," the video states. "And cancers must be burned out." The 56-second video clip shows a picture of Co-owner and Publisher of the Sandpoint Reader, Ben Olson, next to a stack of the newspaper he writes for. The papers are doused in a clear liquid then lit on fire.

>>

SANDPOINT, Idaho. First - it was a robocall, now a threat, targetting a Sandpoint newspaper and one of its writers, has surfaced on YouTube. "Ben Olson is a cancer on wholesome North Idaho," the video states. "And cancers must be burned out." The 56-second video clip shows a picture of Co-owner and Publisher of the Sandpoint Reader, Ben Olson, next to a stack of the newspaper he writes for. The papers are doused in a clear liquid then lit on fire.

>>

PULLMAN, Wash. - A man accused of hitting his ex-girlfriend on a rural Whitman County road in his truck and leaving her for dead has been sentenced to 9 months in jail.

>>

COLFAX, Wash. – Richard Pasma, the man accused of leaving his former girlfriend for dead along the Pullman-Albion Road last November, has been sentenced to nine months in jail after entering an Alford plea earlier this month.

>>

SPOKANE, Wash. - Multiple fire crews from Spokane County and the Department of Natural Resources are working to mop up a series of fires that broke out along Interstate 90 west of Spokane. Crews on scene tell us that while they don't have an exact count, there were at least 3 different fires burning, all about 5-acres in size, along I-90 between exit 272 and 277.

>>

SPOKANE, Wash. - Multiple fire crews from Spokane County and the Department of Natural Resources are working to mop up a series of fires that broke out along Interstate 90 west of Spokane. Crews on scene tell us that while they don't have an exact count, there were at least 3 different fires burning, all about 5-acres in size, along I-90 between exit 272 and 277.

>>