SEPT 11 TRIAL
Holder offers reassurances to skeptical senators on terror trials
WASHINGTON. - One Republican senator wants to know why it makes sense to have a civilian trial for the professed 9/11 mastermind when he's already tried to plead guilty before a military commission.

The question was put today to Attorney General Eric Holder at a Senate hearing.

Holder responded that the decision on where to try terror suspects won't be based on the "whims and desires" of Khalid Sheikh Mohammed.
Holder also told senators that even if one of the 9/11 suspects is acquitted, that doesn't mean he'll be released in the United States, though he is not expecting any other result.
"These are cases that have to be won," said Holder.

To those who fear that a federal civilian trial will give Mohamed a chance to spout hateful rhetoric, Holder says not to worry.

He told the panel Wednesday that any words from the professed 9/11 planner in court will just make him look worse.
Below: Obama predicts conviction of professed 9/11 mastermind...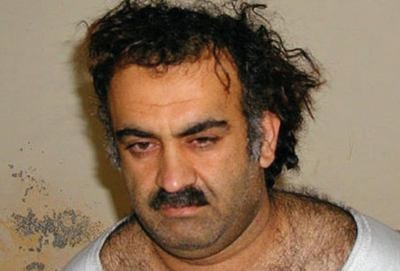 Khalid Shaikh Mohammed, the alleged Sept. 11 mastermind, seen shortly after his capture.
Obama predicts conviction of professed 9/11 mastermind
President Barack Obama is expressing confidence that the professed mastermind of the Sept. 11 attacks will be convicted when he's tried in civilian court.

In TV interviews as he wrapped up a trip to China, Obama said those who are offended by the legal privileges being given to Khalid Sheikh Mohammed will feel differently "when he's convicted and when the death penalty is applied to him."

Obama quickly added that he's not trying to prejudge the outcome of a trial, saying that's "the job of the prosecutors, the judge and the jury." But he said that the prosecutors in the case
specialize in terrorism and have offered assurances that Mohammed will be convicted based on the evidence that's been gathered.

On criticism that trying Mohammed and four other terror suspects in Manhattan would create a security threat, Obama called it a "fundamental mistake" to believe that "these terrorists possess some special powers" that would prevent prosecutors from presenting evidence against them and exacting swift justice.

Obama spoke about the matter in interviews with NBC News and CNN.
Most Popular Stories

Most Popular Stories

More>>

SPOKANE, Wash. - The State Department of Vocational Rehabilitation (DVR) is a life-changing resource for hundreds of disabled people in Spokane. Finding them jobs, counseling and places to live. A big part of the agency's mission is at a standstill after DVR cut ties with one of it's major contractors without warning. For twenty-seven years, Compass has been a one-stop shop for launching disabled and disadvantaged residents on a path to a better, independent life.

>>

SPOKANE, Wash. - The State Department of Vocational Rehabilitation (DVR) is a life-changing resource for hundreds of disabled people in Spokane. Finding them jobs, counseling and places to live. A big part of the agency's mission is at a standstill after DVR cut ties with one of it's major contractors without warning. For twenty-seven years, Compass has been a one-stop shop for launching disabled and disadvantaged residents on a path to a better, independent life.

>>

COEUR D'ALENE, Idaho - Surveillance video obtained by KHQ from the McDonald's in Spokane Valley shows an alleged thief who Krystalynn Tekancic says broke into her home while she was moving. "We're pretty sure that the person who broke in my house while I was home and they took my laptop and my phone and a few personal items," Tekancic said.

>>

COEUR D'ALENE, Idaho - Surveillance video obtained by KHQ from the McDonald's in Spokane Valley shows an alleged thief who Krystalynn Tekancic says broke into her home while she was moving. "We're pretty sure that the person who broke in my house while I was home and they took my laptop and my phone and a few personal items," Tekancic said.

>>

SACRAMENTO, Calif. (AP) - Sacramento police have arrested a married 58-year-old man in connection with at least 10 rapes across Northern California between 1991 and 2006. Sacramento police say they arrested Roy Charles Waller of Benicia on Thursday in the NorCal Rapist case. He was arrested at the University of California in Berkeley, where he worked as a safety specialist in the office of environment, health and safety.

>>

SACRAMENTO, Calif. (AP) - Sacramento police have arrested a married 58-year-old man in connection with at least 10 rapes across Northern California between 1991 and 2006. Sacramento police say they arrested Roy Charles Waller of Benicia on Thursday in the NorCal Rapist case. He was arrested at the University of California in Berkeley, where he worked as a safety specialist in the office of environment, health and safety.

>>

SPOKANE, Wash. (AP) - A new 100-bed psychiatric hospital is coming to Spokane. The Inland Northwest Behavioral Health hospital, which opens to patients in October, will have about 200 employees. The Spokesman-Review says the $33 million facility will be split into four units, each with 25 beds for inpatient services. One unit will be reserved for adolescent patients between the ages of 13 and 17.

>>

SPOKANE, Wash. (AP) - A new 100-bed psychiatric hospital is coming to Spokane. The Inland Northwest Behavioral Health hospital, which opens to patients in October, will have about 200 employees. The Spokesman-Review says the $33 million facility will be split into four units, each with 25 beds for inpatient services. One unit will be reserved for adolescent patients between the ages of 13 and 17.

>>

SPOKANE, Wash. - Update: Detectives have identified the woman found in the Spokane River September 15 just hours after releasing a rending of what she may have looked like. Detectives continue to work to determine what occurred prior to her death.

>>

SPOKANE, Wash. - Update: Detectives have identified the woman found in the Spokane River September 15 just hours after releasing a rending of what she may have looked like. Detectives continue to work to determine what occurred prior to her death.

>>