Inmate to be sentenced for prison rape
BOISE, Idaho. - For the first time in the history of the state of Idaho's 120-year-old correctional system, an inmate has been convicted of raping another inmate inside a prison.

An Ada County jury found 31-year-old Cody Thompson guilty of male rape and attempting to intimidate a witness on November 17 of this year.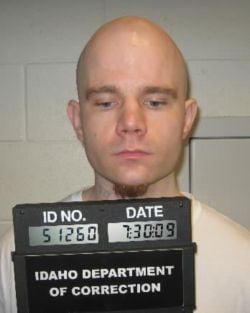 31-year-old Cody Thompson has been found guilty of male rape
Thompson has been convicted of more than two felonies and due to this, he has also been deemed a persistent violator. That means he now faces two possible life terms, one for being a persistent violator and the other for the male rape conviction, when he is sentenced on December 22, 2009.

"This case shows Idaho is serious about eliminating prison rape," said Idaho Department of Correction Director Brent Reinke. "We're committed to making sure our institutions are safe not just for staff but for offenders, as well."

Thompson raped his cell mate on September 15, 2008 at Idaho Maximum Security Institution.

Thompson has a lengthy criminal record that includes convictions for burglary, assault, escape, grand theft, aggravated DUI and eluding an officer.

He committed the crimes in Minidoka, Twin Falls, Bonneville and Cassia counties. Prior to his conviction on the male rape charge, Thompson was eligible to be considered for parole in March of 2017.

Idaho is one of the nation's leaders in the implementation of the Prison Rape Elimination Act (PREA). Correctional departments across the country look to Idaho for advice on how to investigate rape cases, train staff on how to eliminate sexual activity and teach inmates how to avoid becoming a rape victim.

President George W. Bush signed PREA into law in 2003. It mandates a "zero-tolerance" policy for prison rape, requires states to collect information on sexual assaults and gives inmates a variety of ways to report attacks.
Most Popular Stories

Most Popular Stories

More>>

SPOKANE, Wash. - A problem within a solution – it's a phrase so oxymoronic that it almost doesn't make sense, but it's crystal clear for a specific group of students at Lewis and Clark High School.

>>

SPOKANE, Wash. - A problem within a solution – it's a phrase so oxymoronic that it almost doesn't make sense, but it's crystal clear for a specific group of students at Lewis and Clark High School.

>>

COEUR D'ALENE, Idaho - Multiple crews responded to a report of a cougar in a tree in Coeur d'Alene Monday. "I think time is on our side," Coeur d'Alene Police Detective, Jay Wilhelm, said. Indeed, it was. Coeur d'Alene Police, Fire and members of the Idaho Fish and Game cornered the male mountain lion, which was nested up in a tree near Qualfon on Ironwood Drive.

>>

COEUR D'ALENE, Idaho - Multiple crews responded to a report of a cougar in a tree in Coeur d'Alene Monday. "I think time is on our side," Coeur d'Alene Police Detective, Jay Wilhelm, said. Indeed, it was. Coeur d'Alene Police, Fire and members of the Idaho Fish and Game cornered the male mountain lion, which was nested up in a tree near Qualfon on Ironwood Drive.

>>

SANDPOINT, Idaho. First - it was a robocall, now a threat, targetting a Sandpoint newspaper and one of its writers, has surfaced on YouTube. "Ben Olson is a cancer on wholesome North Idaho," the video states. "And cancers must be burned out." The 56-second video clip shows a picture of Co-owner and Publisher of the Sandpoint Reader, Ben Olson, next to a stack of the newspaper he writes for. The papers are doused in a clear liquid then lit on fire.

>>

SANDPOINT, Idaho. First - it was a robocall, now a threat, targetting a Sandpoint newspaper and one of its writers, has surfaced on YouTube. "Ben Olson is a cancer on wholesome North Idaho," the video states. "And cancers must be burned out." The 56-second video clip shows a picture of Co-owner and Publisher of the Sandpoint Reader, Ben Olson, next to a stack of the newspaper he writes for. The papers are doused in a clear liquid then lit on fire.

>>

PULLMAN, Wash. - A man accused of hitting his ex-girlfriend on a rural Whitman County road in his truck and leaving her for dead has been sentenced to 9 months in jail.

>>

COLFAX, Wash. – Richard Pasma, the man accused of leaving his former girlfriend for dead along the Pullman-Albion Road last November, has been sentenced to nine months in jail after entering an Alford plea earlier this month.

>>

SPOKANE, Wash. - Multiple fire crews from Spokane County and the Department of Natural Resources are working to mop up a series of fires that broke out along Interstate 90 west of Spokane. Crews on scene tell us that while they don't have an exact count, there were at least 3 different fires burning, all about 5-acres in size, along I-90 between exit 272 and 277.

>>

SPOKANE, Wash. - Multiple fire crews from Spokane County and the Department of Natural Resources are working to mop up a series of fires that broke out along Interstate 90 west of Spokane. Crews on scene tell us that while they don't have an exact count, there were at least 3 different fires burning, all about 5-acres in size, along I-90 between exit 272 and 277.

>>