NATIONAL NEWS
Smart phone application helps illegal immigrants navigate safely across border
SAN DIEGO. Calif. - A San Diego research team is close to releasing a smart phone application to help illegal immigrants navigate safely across the border.
The 'Transborder Immigrant tool' - once downloaded into Motorola phones equipped with GPS - is a humanitarian tool designed to save lives, according to the application's creators at the University of California San Diego.

"It's really just designed for you to turn it on and the compass would show you where the nearest safety site is, be that Border Patrol or highway or water, in case you're in an extreme emergency," said co-creator Micha Cardenas.

Critics, including the California Coalition for Immigration Reform, are outraged and think the application's creators should be arrested.
Story continues below...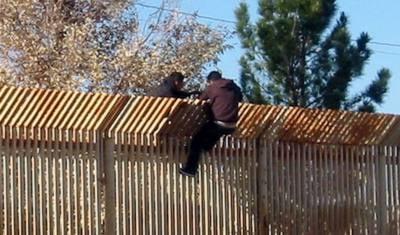 Two men scale the border fence from Mexico (File Photo: U.S. Navy)
The technology is nothing new, according to the Border Patrol, whose agents are prepared to counter the application with their own technology, including ground sensors, however the Border Patrol says phones with this new application are a potential threat.

"If they fall into the wrong people's hands, be it terrorists or gang members or people that are here to harm our country, they can also use this technology," said Border Patrol agent Julius Alatorre. "So while the intent may be good, in the wrong hands, it could turn out to be a bad thing."

Cardenas insists the application poses no threat to national security but does call it "electronic civil disobedience" and an art project, even.

"When it tells you where there's water, it also gives you a few lines of poetry to welcome you to the U.S.," Cardenas said.

The researchers hope to finish testing the application in the desert areas along the border and put it to use as soon as possible. Cardenas said the UCSD team is working with immigrants rights advocates and religious groups to distribute the phones in Mexico sometime next year.

So far, they have received at least some of the funding for the $30 phones from the Transborder Humanities Institute at UCSD.
Most Popular Stories

Most Popular Stories

More>>

SPOKANE, Wash. - Initiative-1639 has been the root of controversy ever since supporters began asking for signatures. It became even more complicated when the Washington Supreme Court overturned a Thurston County judges decision after the judge initially threw out over 300,000 signatures saying the petition didn't follow election law claiming it was unreadable.

>>

SPOKANE, Wash. - Initiative-1639 has been the root of controversy ever since supporters began asking for signatures. It became even more complicated when the Washington Supreme Court overturned a Thurston County judges decision after the judge initially threw out over 300,000 signatures saying the petition didn't follow election law claiming it was unreadable.

>>

SPOKANE, Wash. - Update: Detectives have identified the woman found in the Spokane River September 15 just hours after releasing a rending of what she may have looked like. Detectives continue to work to determine what occurred prior to her death.

>>

SPOKANE, Wash. - Update: Detectives have identified the woman found in the Spokane River September 15 just hours after releasing a rending of what she may have looked like. Detectives continue to work to determine what occurred prior to her death.

>>

HAYDEN, Idaho - Old Glory flies triumphantly above Hayden Meadows Elementary. But, every day at the end of school, three keepers of the flag make sure she's in safe hands. Fifth graders Naylan Tuttle, Jack LeBreck, and Casey Dolan go through the steps necessary to make sure the U.S. flag is properly folded and stored without it ever touching the ground.

>>

HAYDEN, Idaho - Old Glory flies triumphantly above Hayden Meadows Elementary. But, every day at the end of school, three keepers of the flag make sure she's in safe hands. Fifth graders Naylan Tuttle, Jack LeBreck, and Casey Dolan go through the steps necessary to make sure the U.S. flag is properly folded and stored without it ever touching the ground.

>>

KITTITAS COUNTY, Wash. - Authorities say four people were hospitalized after an armored vehicle went over a 25-foot cliff during a military exercise in central Washington state. The green and tan 2018 Military Stryker crashed about 4:30 a.m. Saturday on an unnamed dirt road near Kittitas. The driver, 22-year-old Chance Kennen of Lecompte, Louisiana, told Washington state troopers he didn't see the cliff's edge.

>>

KITTITAS COUNTY, Wash. - Authorities say four people were hospitalized after an armored vehicle went over a 25-foot cliff during a military exercise in central Washington state. The green and tan 2018 Military Stryker crashed about 4:30 a.m. Saturday on an unnamed dirt road near Kittitas. The driver, 22-year-old Chance Kennen of Lecompte, Louisiana, told Washington state troopers he didn't see the cliff's edge.

>>

SPOKANE, Wash. (AP) - A new 100-bed psychiatric hospital is coming to Spokane. The Inland Northwest Behavioral Health hospital, which opens to patients in October, will have about 200 employees. The Spokesman-Review says the $33 million facility will be split into four units, each with 25 beds for inpatient services. One unit will be reserved for adolescent patients between the ages of 13 and 17.

>>

SPOKANE, Wash. (AP) - A new 100-bed psychiatric hospital is coming to Spokane. The Inland Northwest Behavioral Health hospital, which opens to patients in October, will have about 200 employees. The Spokesman-Review says the $33 million facility will be split into four units, each with 25 beds for inpatient services. One unit will be reserved for adolescent patients between the ages of 13 and 17.

>>