Lawyer: 'caffeine psychosis' may have led to driver's strange behavior
COLFAX, Wash. - The Idaho motorist charged with striking down two pedestrians on the Washington State University campus may be suffering from "caffeine psychosis."

The lawyer for Dan Noble, 31, of Moscow, said his client was known to consume large amounts of energy drinks and Starbucks coffee.

Attorney Mark Moorer told Whitman County Superior Judge David Frazier on Tuesday that the caffeine could have accounted for Noble's strange behavior.

Frazier ordered Noble held without bail until his mental state can be evaluated.
Previous Coverage below...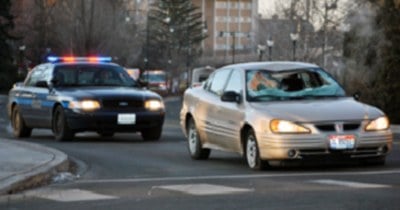 Two people were struck Monday before the driver stopped and tried to run on foot (Photo: WSU Today)
Previous Coverage
Pullman Fire Dept: Two pedestrians hit by car on WSU Campus

Two male students have been hospitalized and a suspect is in custody following an early morning traffic incident in which a vehicle entered the Washington State University campus and struck two pedestrians at separate locations along Stadium Way.
Bill Gardner, WSU Police chief, said the vehicle was reportedly operating "erratically" in the westbound lanes of SR 270 between Moscow and Pullman shortly before the entering campus. The driver apparently turned north on Stadium Way at about 7:30 a.m., and struck the first student in a crosswalk near Gannon and Goldsworthy dorms. Continuing on, the car hit the center median before striking the student on a sidewalk near Wegner Hall.
The vehicle then stopped at the corner of Grimes and Stadium Way, where the driver exited the car and fled before being apprehended by WSU Police in the vicinity of McCoy Hall, Gardner said.
The identities of the injured students and the driver have yet to be released, but Gardner said the parents of both students have been contacted. He said both students sustained multiple traumas, but that neither victim's injuries appeared to be life-threatening.
WSU Police, Whitman County Sheriff's officers, state and city police are working together on the investigation. The northbound lanes of Stadium Way are closed and expected to remain closed indefinitely pending completion of the on-scene investigation. Although one southbound lane of Stadium Way remains open, drivers are being asked avoid the portion of Stadium Way between Grimes to Nevada pending completion of the on-scene investigation.
Most Popular Stories

Most Popular Stories

More>>

PULLMAN, Wash. - Six-year-old Denny Curran should be enjoying his last few days of summer before first grade. He should be teasing his brother, splashing in the pool, giving his parents a hard time about vegetables. Instead, Denny is dead, the victim of a horrific, freak bicycle accident that could happen to your child too. "Denny was an extraordinary child," his father Keith Curran told KHQ.

>>

PULLMAN, Wash. - Six-year-old Denny Curran should be enjoying his last few days of summer before first grade. He should be teasing his brother, splashing in the pool, giving his parents a hard time about vegetables. Instead, Denny is dead, the victim of a horrific, freak bicycle accident that could happen to your child too. "Denny was an extraordinary child," his father Keith Curran told KHQ.

>>

SPOKANE, Wash. - Spokane Police say they saw a dramatic increase in drug related calls on Tuesday. Police say at least one person has died and officers responded to almost 20 other calls of people acting erratically. Police are looking into whether there is a drug on the street that is "creating adverse health effects." Reported behavior is consistent with a stimulant, causing people to hallucinate and act in an unpredictable and sometimes violent manner.

>>

SPOKANE, Wash. - Spokane Police say they saw a dramatic increase in drug related calls on Tuesday. Police say at least one person has died and officers responded to almost 20 other calls of people acting erratically. Police are looking into whether there is a drug on the street that is "creating adverse health effects." Reported behavior is consistent with a stimulant, causing people to hallucinate and act in an unpredictable and sometimes violent manner.

>>

STEVENS COUNTY, Wash. - The Department of Natural Resources reports that a FireBoss airplane has crashed in northeast Washington. There aren't a lot of details released right now, but we do know that the pilot did survive the crash. The pilot was working on the Horns Mountain fire, burning about 838 acres near Northport, close to the US/Canada border.

>>

STEVENS COUNTY, Wash. - The Department of Natural Resources reports that a FireBoss airplane has crashed in northeast Washington. There aren't a lot of details released right now, but we do know that the pilot did survive the crash. The pilot was working on the Horns Mountain fire, burning about 838 acres near Northport, close to the US/Canada border.

>>

CUSICK, Wash. - The Washington State Patrol says three people were killed in a car crash north of Cusick Wednesday morning. Trooper Jeff Sevigney tweeted out that the crash happened near the intersection of Leclerc Rd and Cee Cee Ah Creek Rd. Trooper Sevigney said the crash involved one car with five occupants.

>>

CUSICK, Wash. - The Washington State Patrol says three people were killed in a car crash north of Cusick Wednesday morning. Trooper Jeff Sevigney tweeted out that the crash happened near the intersection of Leclerc Rd and Cee Cee Ah Creek Rd. Trooper Sevigney said the crash involved one car with five occupants.

>>

VANCOUVER, Wash. (AP) - Police say they've finished an investigation into an incident in which a 16-year-old girl was hurt when she was pushed off a bridge and fell 60 feet into water in Washington state. The Columbian reported Tuesday that the Clark County Sheriff's Office Major Crimes Unit was forwarding the case to the prosecutor's office for possible charges.

>>

VANCOUVER, Wash. (AP) - Police say they've finished an investigation into an incident in which a 16-year-old girl was hurt when she was pushed off a bridge and fell 60 feet into water in Washington state. The Columbian reported Tuesday that the Clark County Sheriff's Office Major Crimes Unit was forwarding the case to the prosecutor's office for possible charges.

>>

SPOKANE, Wash. - Educators of Spokane rallied together for an increase in pay and fully funded education. Ever since the State Supreme Court ruled that Washington was underfunding schools, educators and administrators have been trying to negotiate finances. Some districts have reached deals, but many in Eastern Washington haven't. KHQ went to the rally for Spokane public schools Tuesday.

>>

SPOKANE, Wash. - Educators of Spokane rallied together for an increase in pay and fully funded education. Ever since the State Supreme Court ruled that Washington was underfunding schools, educators and administrators have been trying to negotiate finances. Some districts have reached deals, but many in Eastern Washington haven't. KHQ went to the rally for Spokane public schools Tuesday.

>>