Beer thief punches employee
SPOKANE VALLEY, Wash. - Spokane Valley detectives are asking for your help in identifying a suspected beer thief who punched a Safeway employee on his way out of the store.

On November 28, the man went to the back of the Safeway at 1441 N. Argonne and picked up a case of Busch brand beer and proceeded to walk past all checkout employees and out of the store.
Story continues below...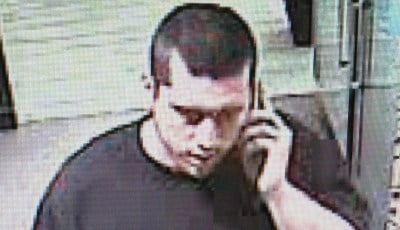 Detectives say this man punched a Safeway employee in the eye during a beer theft
Two Safeway employees confronted the man and the suspect hit one of them in the eye, knocking him to the ground. A second suspect then ran up and punched the other employee before the two fled in a Ford F-150 driven by another man.

The truck, said to be blue or purple in color, had a Washington license plate with a number similar to #B80473G.

Anyone with information is asked to call Crime Check at 509-456-2233.
Most Popular Stories

Most Popular Stories

More>>

KHQ.COM - Most mothers can only hope by the time their children grow up and move out of the house, they've learned all the necessary things to be a successful adult, including the basic knowledge that a turkey must be cooked in an oven, or perhaps in a smoker... NOT in a microwave. For this reason a new prank-challenge going around on Facebook is resulting in some hilarious text conversations between mothers and their grown children.

>>

KHQ.COM - Most mothers can only hope by the time their children grow up and move out of the house, they've learned all the necessary things to be a successful adult, including the basic knowledge that a turkey must be cooked in an oven, or perhaps in a smoker... NOT in a microwave. For this reason a new prank-challenge going around on Facebook is resulting in some hilarious text conversations between mothers and their grown children.

>>

LYNNWOOD, Wash. - A 20-year-old Washington state man has been sentenced to less than three years in prison for raping a high school student as she died from a drug overdose and texting semi-nude photos of her. The Daily Herald reports that Brian Varela pleaded guilty to second-degree manslaughter, third-degree rape, and unlawful disposal of remains as part of a plea deal in the February death of 18-year-old Alyssa Noceda.

>>

LYNNWOOD, Wash. - A 20-year-old Washington state man has been sentenced to less than three years in prison for raping a high school student as she died from a drug overdose and texting semi-nude photos of her. The Daily Herald reports that Brian Varela pleaded guilty to second-degree manslaughter, third-degree rape, and unlawful disposal of remains as part of a plea deal in the February death of 18-year-old Alyssa Noceda.

>>

SPOKANE, Wash. - Spokane Police are investigating the death of a man who reportedly shot himself in the head during sex. In a search warrant filed Nov. 8 in Spokane Superior Court, a detective wrote that around 2 a.m. on Nov. 4, police were called to a home in the 7800 block of North Morton Ave. after a woman said her partner shot himself in the head.

>>

SPOKANE, Wash. - Spokane Police are investigating the death of a man who reportedly shot himself in the head during sex. In a search warrant filed Nov. 8 in Spokane Superior Court, a detective wrote that around 2 a.m. on Nov. 4, police were called to a home in the 7800 block of North Morton Ave. after a woman said her partner shot himself in the head.

>>

PARADISE, Calif. - Much of the town of Paradise, California is in ruins after the Camp Fire, but a man who was evacuated shared a shred of good news on Facebook when he returned to his neighborhood. Jeff Hill said on Facebook he was checking on a neighbor's house when he came across a horse in a backyard swimming pool. The horse was in the water, but was caught in the pool cover.

>>

PARADISE, Calif. - Much of the town of Paradise, California is in ruins after the Camp Fire, but a man who was evacuated shared a shred of good news on Facebook when he returned to his neighborhood. Jeff Hill said on Facebook he was checking on a neighbor's house when he came across a horse in a backyard swimming pool. The horse was in the water, but was caught in the pool cover.

>>

A controversial tweet by WSU head football coach Mike Leach cost the University $1.6 million in pledged donations. The tweet, which was sent in June, depicted a doctored video of a speech by former President Barack Obama.

>>

A controversial tweet by WSU head football coach Mike Leach cost the University $1.6 million in pledged donations. The tweet, which was sent in June, depicted a doctored video of a speech by former President Barack Obama.

>>

WASHINGTON - The United State Department of Agriculture has issued a recall of more than 91,000 pounds of raw ground turkey due to a possible salmonella outbreak. Jennie-O Turkey is recalling the ground turkey products due to an illness outbreak. According to the federal recall from the USDA, the following Jennie-O Turkey products are subject to recall:

>>

WASHINGTON - The United State Department of Agriculture has issued a recall of more than 91,000 pounds of raw ground turkey due to a possible salmonella outbreak. Jennie-O Turkey is recalling the ground turkey products due to an illness outbreak. According to the federal recall from the USDA, the following Jennie-O Turkey products are subject to recall:

>>