Sponsor drops Woods as another alleged mistress comes forward
WASHINGTON. - As the Tiger Woods scandal continues to grow, the first sponsor has officially dropped the golf superstar.

Accenture announced it was cutting ties to Woods, but with the golfer now taking an indefinite hiatus from the game, this may only be the start of the financial fallout.

After years of building the worlds biggest one man brand the stories of multiple women are starting to take a toll on the business that is Tiger Woods.

Over the weekend, Accenture was the first to fully sever its relationship with Woods.
Story continues below...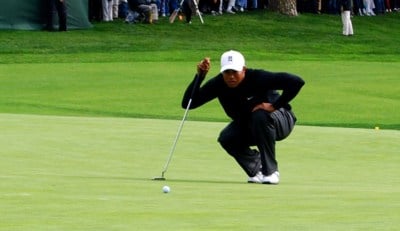 Tiger Woods at 2008 Buick Invitational lining up putting shot on 18th green South

"This isn't about Tiger being the perfect golfer, but in the way they were using him for advertising, it was Tiger being the perfect man," said CNBC analyst Darren Rovell.

Instead, it's been a perfect storm of scandal surrounding Woods.

A late night car crash, allegations of affairs with more than a dozen women and finally the worlds highest paid athlete announcing an indefinite leave from golf to work on his family after admitting infidelity

"He had two options: go to rehab or go away. I think going away was smart thing. He had to stop the bleeding," said New York Daily News columnist Mike Lupica.

It hasn't stopped the talk. Monday morning on the Today Show another alleged mistress told her Tiger tale and what Tiger told her.

"His marriage was on the rocks and that a baby was on the way and things weren't good at home," said Cori Rist. "He has a way of making you believe that he's an honest and good man. I'm not saying he's not a good man, I don't think he's an honest man."

It's a new image for Tiger, one that has other sponsors now evaluating what to do about the high priced pitchman and millions wondering what will happen next.

Gillette has said it would limit Tiger's role in its marketing for now.

AT&T is "evaluating," but Nike and EA Sports have both said they are standing by the golfer and look forward to his return as does the PGA tour.

In the past, ratings have fallen 50 percent when Woods wasn't playing.
Most Popular Stories

Most Popular Stories

More>>

SPOKANE, Wash. - From the outside, the Repeat Boutique looks like a lot of other thrift shops in Spokane. Inside, some might describe the stuff for sale as old, used, discarded garbage -- but store manager CJ Curtis sees its potential. And just like the goods in her shop, CJ is on her way to a new life, one far from the one she once lived.

>>

SPOKANE, Wash. - From the outside, the Repeat Boutique looks like a lot of other thrift shops in Spokane. Inside, some might describe the stuff for sale as old, used, discarded garbage -- but store manager CJ Curtis sees its potential. And just like the goods in her shop, CJ is on her way to a new life, one far from the one she once lived.

>>

SPOKANE, Wash. - "He told me to pull over, and my jaw just dropped," a Spokane woman, who says a fake police officer tried to pull her over, doesn't want to be named. In fear, this could happen again. "It really scared me and kind of threw me off that night. I don't even want to drive by myself anymore," she said. She tells me that she was driving around North Spokane at night on her way home from work.

>>

SPOKANE, Wash. - "He told me to pull over, and my jaw just dropped," a Spokane woman, who says a fake police officer tried to pull her over, doesn't want to be named. In fear, this could happen again. "It really scared me and kind of threw me off that night. I don't even want to drive by myself anymore," she said. She tells me that she was driving around North Spokane at night on her way home from work.

>>

Authorities in eastern Tennessee say a 12-year-old boy shot and killed his mother's husband during a domestic dispute. News outlets report 56-year-old Kevron Thomas "Tommy" Durham was shot twice with a rifle Saturday night. A release from District Attorney General Russell Johnson says authorities had received at least five previous calls from the home for domestic violence, although none resulted in criminal charges.

>>

Authorities in eastern Tennessee say a 12-year-old boy shot and killed his mother's husband during a domestic dispute. News outlets report 56-year-old Kevron Thomas "Tommy" Durham was shot twice with a rifle Saturday night. A release from District Attorney General Russell Johnson says authorities had received at least five previous calls from the home for domestic violence, although none resulted in criminal charges.

>>

SPOKANE, Wash. - Wednesday night KHQ and the Spokesman Review will host a town hall candidate forum with Rep. Cathy McMorris Rodgers, the top ranking female GOP member in the house, and her democratic rival, former state Sen. Lisa Brown. Live coverage of the event will begin at 6 p.m. on KHQ, KHQ.com, and the KHQ app for your phone and TV.

>>

SPOKANE, Wash. - Wednesday night KHQ and the Spokesman Review will host a town hall candidate forum with Rep. Cathy McMorris Rodgers, the top ranking female GOP member in the house, and her democratic rival, former state Sen. Lisa Brown. Live coverage of the event will begin at 6 p.m. on KHQ, KHQ.com, and the KHQ app for your phone and TV.

>>

A former volleyball player for Washington State University says Jason Gesser made sexual advances toward her during a charity event for the athletic department. "I thought I did something wrong, I thought that I could hurt their family," said Alyssa Wold-Bodeau. "So I chose to hide it, I chose to bury it, and I thought if it was just me and I only knew about it I could just deal with it and move on to protect them." Wold- Bodeau told the Spokesman-Review that Ges...

>>

A former volleyball player for Washington State University says Jason Gesser made sexual advances toward her during a charity event for the athletic department. "I thought I did something wrong, I thought that I could hurt their family," said Alyssa Wold-Bodeau. "So I chose to hide it, I chose to bury it, and I thought if it was just me and I only knew about it I could just deal with it and move on to protect them." Wold- Bodeau told the Spokesman-Review that Ges...

>>

SPOKANE, Wash. - Spokane County Sheriff's Major Crimes detectives continue to work on identifying the body of a woman found in the Spokane River on September 15. Detectives have received several tips, which they continue to follow up and investigate, but so far the woman has not been identified.

>>

SPOKANE, Wash. - Spokane County Sheriff's Major Crimes detectives continue to work on identifying the body of a woman found in the Spokane River on September 15. Detectives have received several tips, which they continue to follow up and investigate, but so far the woman has not been identified.

>>