Church trasher heads to court
SPOKANE, Wash. - A 56-year-old man suspected of trashing a North Spokane church Monday night over a $70 check made his first appearance in court Wednesday.

Mark Heitman is suspected of ramming his truck into Country Crossroads church, smashing the glass out of his pastor's car and breaking every window, television and computer monitor screen and lighting fixture in the building.

The rampage, it seems, was over a $70 electrical bill for work Heitman had performed at the church. He apparently wanted to be paid in cash and the treasurer wanted to pay with a check.

In court Wednesday, Heitman, being held on a $10,000 bond, expressed the need to speak with mental health professionals.
Story continues below...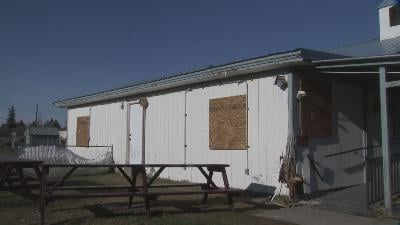 The church windows have been boarded up since Heitman went on his suspected rampage Monday
"I'm a disabled vet, I'd like to talk to my mental health people out there," said Heitman.

Back at the church, the situation was starting to look much better on Wednesday as the congregation is already moving forward, continuing to worship.

"From what I saw last night compared to tonight it's just amazing," said Country Crossroads Pastor Dale McKean.

McKean says he's impressed by the work Covington Construction has done to make the building usable for services.

Glass no longer covers the floor, broken light bulbs are replaced and windows are boarded up.

"The grinch tried to steal our Christmas... Satan didn't win this battle," said McKean.
Most Popular Stories

Most Popular Stories

More>>

SPOKANE VALLEY, Wash. - A 30-year-old male is facing attempted murder charges after stabbing an eight-year-old boy at a HiCo store in Spokane Valley Saturday night. Around 4:30 p.m, Spokane Valley Deputies responded to a call of two males fighting along with the reported stabbing.

>>

SPOKANE VALLEY, Wash. - A 30-year-old male is facing attempted murder charges after stabbing an eight-year-old boy at a HiCo store in Spokane Valley Saturday night. Around 4:30 p.m, Spokane Valley Deputies responded to a call of two males fighting along with the reported stabbing.

>>

Montana wildlife officials say three deer in Blaine County have tested positive for a brain wasting disease. The Great Falls Tribune reports that the deer found to have chronic wasting disease were all harvested within a priority surveillance area.

>>

Montana wildlife officials say three deer in Blaine County have tested positive for a brain wasting disease. The Great Falls Tribune reports that the deer found to have chronic wasting disease were all harvested within a priority surveillance area.

>>

All eastbound I-90 lanes near Evergreen in Spokane Valley were closed this morning after a semi flipped onto its side. It started with an erratic driver in a black pickup truck slamming into a passenger car.

>>

All eastbound I-90 lanes near Evergreen in Spokane Valley were closed this morning after a semi flipped onto its side. It started with an erratic driver in a black pickup truck slamming into a passenger car.

>>

SPOKANE, Wash. - Spokane Police are investigating the death of a man who reportedly shot himself in the head during sex. In a search warrant filed Nov. 8 in Spokane Superior Court, a detective wrote that around 2 a.m. on Nov. 4, police were called to a home in the 7800 block of North Morton Ave. after a woman said her partner shot himself in the head.

>>

SPOKANE, Wash. - Spokane Police are investigating the death of a man who reportedly shot himself in the head during sex. In a search warrant filed Nov. 8 in Spokane Superior Court, a detective wrote that around 2 a.m. on Nov. 4, police were called to a home in the 7800 block of North Morton Ave. after a woman said her partner shot himself in the head.

>>

Police are investigating a homicide in Bonner County. Early on November 12, police apprehended 71-year-old James Michael Costello Sr., after a vehicle pursuit.

>>

Police are investigating a homicide in Bonner County. Early on November 12, police apprehended 71-year-old James Michael Costello Sr., after a vehicle pursuit.

>>

A controversial tweet by WSU head football coach Mike Leach cost the University $1.6 million in pledged donations. The tweet, which was sent in June, depicted a doctored video of a speech by former President Barack Obama.

>>

A controversial tweet by WSU head football coach Mike Leach cost the University $1.6 million in pledged donations. The tweet, which was sent in June, depicted a doctored video of a speech by former President Barack Obama.

>>