Town in north-central Idaho floods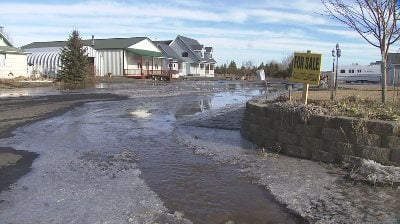 GENESEE, Idaho. - Residents in the north-central Idaho town of Genesee have been stacking sandbags and even digging up part of a city street in an effort to divert flood waters.

The Lewiston Tribune reports Cow Creek, which runs through the middle of Genesee, overflowed its banks on Tuesday, flooding much of the town.

City Maintenance Supervisor Robert Luedke says workers dug up part of Hazel Street in an effort to divert the water from nearby properties. Still, more than a foot of water still covered some of the city's streets on Wednesday.

Luedke said rain and snowmelt, combined with still-frozen soil, caused the creek to flood.

Luedke says the town's storm drain system should funnel the remaining water safely out of town.
Most Popular Stories

Most Popular Stories

More>>

Several locals are trying to help the family of an eight-year-old boy, who was randomly stabbed at a gas station Saturday. Rayel Von Quade said she and three others (Salem Rose Sovereign, Quincey Brooks and Dani Loup) have been in touch with the Bush family. (KHQ has reached out to the family and have not heard back.) "They're, of course, very overwhelmed and stressed out right now and she's been dealing with a lot of messages from a lot of people coming through. But she says t...

>>

Several locals are trying to help the family of an eight-year-old boy, who was randomly stabbed at a gas station Saturday. Rayel Von Quade said she and three others (Salem Rose Sovereign, Quincey Brooks and Dani Loup) have been in touch with the Bush family. (KHQ has reached out to the family and have not heard back.) "They're, of course, very overwhelmed and stressed out right now and she's been dealing with a lot of messages from a lot of people coming through. But she says t...

>>

JBS USA has recalled nearly 100,000 pounds of ground beef due to concerns about possible e-coli contamination. The products have the establishment number Est.628 and were produced on October 24th. Products that were recalled were shipped to distributors in retail locations in California, Nevada, Oregon, Utah and Washington.

>>

JBS USA has recalled nearly 100,000 pounds of ground beef due to concerns about possible e-coli contamination. The products have the establishment number Est.628 and were produced on October 24th. Products that were recalled were shipped to distributors in retail locations in California, Nevada, Oregon, Utah and Washington.

>>

SAN FRANCISCO (AP) - A federal judge has temporarily barred the Trump administration from refusing asylum to immigrants who cross the southern border illegally. U.S. District Judge Jon S. Tigar issued a temporary restraining order Monday after hearing arguments in San Francisco.

>>

SAN FRANCISCO (AP) - A federal judge has temporarily barred the Trump administration from refusing asylum to immigrants who cross the southern border illegally. U.S. District Judge Jon S. Tigar issued a temporary restraining order Monday after hearing arguments in San Francisco.

>>

FLATHEAD COUNTY, Mont. - It's been roughly 18 months since a 26-year-old Spokane Valley man traveled to Montana for work, never to be seen again. The many loved ones of Corey Flannigan try to stay optimistic that one day, answers about what happened to him, will come. "I hate to call it a cold case after 18 months," said Flathead County Sheriff's Office Detective Rich Schuster.

>>

FLATHEAD COUNTY, Mont. - It's been roughly 18 months since a 26-year-old Spokane Valley man traveled to Montana for work, never to be seen again. The many loved ones of Corey Flannigan try to stay optimistic that one day, answers about what happened to him, will come. "I hate to call it a cold case after 18 months," said Flathead County Sheriff's Office Detective Rich Schuster.

>>

A man, claiming to be "the spawn of Lucifer," said he stabbed an eight-year-old boy because he "felt like he had to kill a child" and that it was "almost like a sacrifice." 30-year-old Bruce Derek Landahl was arrested Saturday for allegedly entering the HiCo store on Sprague, walking up to an eight-year-old boy playing on an iPad and stabbing him multiple times before the boy's father was able to stop him.

>>

A man, claiming to be "the spawn of Lucifer," said he stabbed an eight-year-old boy because he "felt like he had to kill a child" and that it was "almost like a sacrifice." 30-year-old Bruce Derek Landahl was arrested Saturday for allegedly entering the HiCo store on Sprague, walking up to an eight-year-old boy playing on an iPad and stabbing him multiple times before the boy's father was able to stop him.

>>

An argument outside a Chicago hospital turned deadly when a man pulled out a gun and killed an emergency room doctor with whom he was having a domestic relationship, then ran into the hospital and fatally shot a pharmacy resident and a police officer.

>>

An argument outside a Chicago hospital turned deadly when a man pulled out a gun and killed an emergency room doctor with whom he was having a domestic relationship, then ran into the hospital and fatally shot a pharmacy resident and a police officer.

>>