Yakima barista faces indecent exposure charges
YAKIMA, Wash. - Some espresso stands are known for their coffee and some, like many in Yakima, are known for their baristas and the outfits they wear.
Police say 'Dream Girls' barista Alyssa Hernandez crossed the line, wearing an exposed thong to work.
Hernandez covered up in court Friday morning where she faced indecent exposure charges. Her boss says authorities are over-reacting.
"We are shocked that Yakima Police have chosen to focus on this issue instead of more important issues in the community," said Dream Girls owner, Cheryl Clark.
While the baristas are shocked, many community members aren't. The controversy comes down to what you can see inside of your car. While the owner says you can't see much, some people say you see too much.
Story continues below...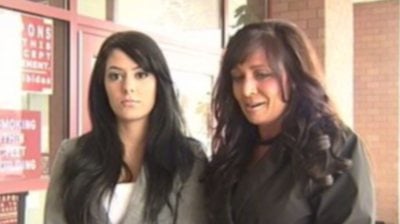 Barista Alyssa Hernandez and Dream Girls owner Cheryl Clark
"A g-string, pasties and a fishnet body suit," said a Yakima Resident.
'Dream Girls' isn't alone and some residents say all the so-called "bikini barista stands" are out of line.
"Bending over, sticking their behind up... ringing a bell toward the men, toward the public," said another resident.
Parents also have a problem with the baristas and say their children are exposed to their actions and outfits without even going to such a stand.
"It's not right. I don't want my daughter to think its okay to have a job like that," said a Yakima resident.
Baristas and owners say they follow the laws and don't step out of their stands wearing inappropriate clothing, but a group of Yakima residents aren't so sure.
The group plans to take this issue to council and force these girls to cover up.
The group is working on launching a web site with video they took which attempts to capture alleged indecent exposure.
Hernandez and the owner of Dream Girls will be in court for their next appearance in late February.
Most Popular Stories

Most Popular Stories

More>>

BOISE, Idaho - An Idaho Fish and Game Commissioner is facing calls to resign after sharing photos of a recent hunting trip. The photos show Blake Fischer and his wife posing with animals they killed in Africa. Fischer took the trip to Africa with his wife last month and when he returned emailed the photos of the animals he killed to about 100 people, according to KBOI.

>>

BOISE, Idaho - An Idaho Fish and Game Commissioner is facing calls to resign after sharing photos of a recent hunting trip. The photos show Blake Fischer and his wife posing with animals they killed in Africa. Fischer took the trip to Africa with his wife last month and when he returned emailed the photos of the animals he killed to about 100 people, according to KBOI.

>>

BOZEMAN, Mont. - A Facebook post by Bob Legasa of Hayden, Idaho is going viral after he survived a grizzly attack while bow hunting in Montana. Legasa says in the post: "My hunting partner Greg Gibson and I surprised a Sow grizzly and her cub as we were moving in on some Elk. We walked up to with in 12 yards when we all saw each other And before I could even reach for my bear spray she was at full charge.

>>

BOZEMAN, Mont. - A Facebook post by Bob Legasa of Hayden, Idaho is going viral after he survived a grizzly attack while bow hunting in Montana. Legasa says in the post: "My hunting partner Greg Gibson and I surprised a Sow grizzly and her cub as we were moving in on some Elk. We walked up to with in 12 yards when we all saw each other And before I could even reach for my bear spray she was at full charge.

>>

COLFAX, Wash. (AP) - A woman accused of fatally shooting a Coeur d'Alene, Idaho, man in Colfax, Washington, has pleaded innocent by reason of insanity. The Spokesman-Review reports Ashley Myers entered the plea to second-degree murder Friday in Whitman County Superior Court. Insanity pleas allow for the defense to argue for a potential commitment to a psychiatric facility instead of prison.

>>

COLFAX, Wash. (AP) - A woman accused of fatally shooting a Coeur d'Alene, Idaho, man in Colfax, Washington, has pleaded innocent by reason of insanity. The Spokesman-Review reports Ashley Myers entered the plea to second-degree murder Friday in Whitman County Superior Court. Insanity pleas allow for the defense to argue for a potential commitment to a psychiatric facility instead of prison.

>>

BREVARD COUNTY, Fla - As per usual, something crazy happened in Florida, but this time luckily no one was seriously hurt. A driver walked away with minor scrapes after an unsecured sheet of plywood impaled the windshield of their car. According to NBC-2, the car was traveling on I-95 when the sheet of plywood fell out of a pickup truck and pierced the windshield of the car traveling behind.

>>

BREVARD COUNTY, Fla - As per usual, something crazy happened in Florida, but this time luckily no one was seriously hurt. A driver walked away with minor scrapes after an unsecured sheet of plywood impaled the windshield of their car. According to NBC-2, the car was traveling on I-95 when the sheet of plywood fell out of a pickup truck and pierced the windshield of the car traveling behind.

>>

COLVILLE, Wash. - A three-vehicle crash on Highway 20 near Colville sent four people, including two young children, to the hospital Saturday afternoon. On Saturday around 12:41 p.m., a Nissan Pathfinder was traveling eastbound and crossed the center line, striking a Ford F-250 head on that was pulling a Jeep Cherokee around milepost 357 two miles east of Colville.

>>

COLVILLE, Wash. - A three-vehicle crash on Highway 20 near Colville sent four people, including two young children, to the hospital Saturday afternoon. On Saturday around 12:41 p.m., a Nissan Pathfinder was traveling eastbound and crossed the center line, striking a Ford F-250 head on that was pulling a Jeep Cherokee around milepost 357 two miles east of Colville.

>>

BOISE, Idaho (AP) - The judgment of an Idaho Fish and Game Commission member is being questioned after he shared photos of himself posing with a family of baboons, including young baboons, he killed while hunting in Africa. Gov. C.L. "Butch" Otter spokesman Jon Hanian tells The Idaho Statesman in a story on Friday that the governor's office is looking into the matter involving Commissioner Blake Fischer.

>>

BOISE, Idaho (AP) - The judgment of an Idaho Fish and Game Commission member is being questioned after he shared photos of himself posing with a family of baboons, including young baboons, he killed while hunting in Africa. Gov. C.L. "Butch" Otter spokesman Jon Hanian tells The Idaho Statesman in a story on Friday that the governor's office is looking into the matter involving Commissioner Blake Fischer.

>>