Memorial for Grant County deputy killed in crash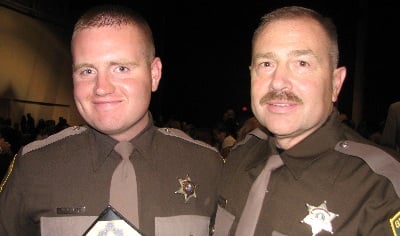 (Deputy John Bernard with his son Brandon who is also a also a Grant
County sheriff's deputy)
MOSES LAKE, Wash. - Gov. Chris Gregoire headed to the memorial service for a Grant County sheriff's deputy saying this has been one of the toughest two months for law enforcement officers in the history of Washington.

With Monday's service for Deputy John Bernard at Big Bend Community College in Moses Lake, the public remembers the seventh officer to die on duty since the end of October. They include a Seattle police officer, four Lakewood officers and a Pierce County deputy who were shot to death.

Bernard was killed in a Jan. 3 crash south of Ephrata.
Previous Coverage
Grant Co. deputy dies in crash

(January 4, 2009)
A Washington State Patrol major accident investigation team is trying to determine how a Grant County sheriff's deputy on routine patrol was killed in a one-car rollover
crash.
Sheriff Frank T. DeTrolio says 52-year-old John Bernard was on a routine patrol when his car left the roadway and rolled over at 7:20 p.m. Sunday night, nine miles south of Ephrata.

Undersheriff John Turley says the road was wet, but there was no snow or ice.

Bernard was wearing a seat belt, and was not on his way to an emergency, but had just cleared another call.

The 52-year-old Moses Lake man was a four-year veteran of the sheriff's office.

Bernard leaves a wife and two sons. One, Brandon Bernard, is also a Grant County sheriff's deputy.
DeTrolio praised the fallen deputy and said he was "a tireless public servant."
Most Popular Stories

Most Popular Stories

More>>

TUCSON, Ariz. - A man armed with a box cutter got more than he bargained for when he tried to rob a Tucson, Arizona, restaurant last week. Security shows the man, identified as 20-year-old Jerry Evans Madril, enter the Mi Nidito restaurant and demand money from employees. But the workers weren't having any of it. At least six workers attacked Madril.

>>

TUCSON, Ariz. - A man armed with a box cutter got more than he bargained for when he tried to rob a Tucson, Arizona, restaurant last week. Security shows the man, identified as 20-year-old Jerry Evans Madril, enter the Mi Nidito restaurant and demand money from employees. But the workers weren't having any of it. At least six workers attacked Madril.

>>

RATHDRUM, Idaho - Idaho State Police responded to a fatal crash involving a California man Sunday afternoon in Rathdrum. Around 2:46 p.m., 68-year-old Jesse Villa of Torrance, Calif., was traveling westbound on Hwy 53 approaching Ramsey Rd. in a Honda motorcycle when 22-year-old Joseph Bitner of Athol, Idaho, turned to go northbound on Ramsey and collided with Villa's motorcycle. She was thrown from the motorcycle and succumbed to her injuries.

>>

RATHDRUM, Idaho - Idaho State Police responded to a fatal crash involving a California man Sunday afternoon in Rathdrum. Around 2:46 p.m., 68-year-old Jesse Villa of Torrance, Calif., was traveling westbound on Hwy 53 approaching Ramsey Rd. in a Honda motorcycle when 22-year-old Joseph Bitner of Athol, Idaho, turned to go northbound on Ramsey and collided with Villa's motorcycle. She was thrown from the motorcycle and succumbed to her injuries.

>>

PARK CITY, Mont. (AP) - Montana authorities say a woman died and four other people were hurt when their SUV rolled over on a highway. The Billings Gazette reports that a 39-year-old woman from North Dakota was killed in Sunday morning's crash, which closed Interstate 90 near Park City for about an hour. Montana Highway Patrol Capt. Keith Edgell says a man driving eastbound apparently lost control of the Chevrolet SUV, swerving off the road.

>>

PARK CITY, Mont. (AP) - Montana authorities say a woman died and four other people were hurt when their SUV rolled over on a highway. The Billings Gazette reports that a 39-year-old woman from North Dakota was killed in Sunday morning's crash, which closed Interstate 90 near Park City for about an hour. Montana Highway Patrol Capt. Keith Edgell says a man driving eastbound apparently lost control of the Chevrolet SUV, swerving off the road.

>>

SPOKANE, Wash. - Now this is a situation that's perm pressed for pun material. A suspect was found hidden inside a dryer unit during a domestic violence call by the Spokane Police K-9 unit. Early Sunday morning, police were working on a tip from the Domestic Violence unit that an offender could return to the victim's house, which would be in violation of a protection order. After officers spotted the suspect, he ran inside and refused to come out.

>>

SPOKANE, Wash. - Now this is a situation that's perm pressed for pun material. A suspect was found hidden inside a dryer unit during a domestic violence call by the Spokane Police K-9 unit. Early Sunday morning, police were working on a tip from the Domestic Violence unit that an offender could return to the victim's house, which would be in violation of a protection order. After officers spotted the suspect, he ran inside and refused to come out.

>>

MOSES LAKE, Wash. - Last month a Moses Lake man was arrested for drug possession, and it turns out some of those drugs were more serious than originally expected. During the arrest, the man was in possession of what appeared to be oxycodone pills. The pills had markings on them consistent with actual oxycodone medication, but they seemed inconsistent in shape and color. Officers sent the pills to the Washington State Patrol crime lab for analysis.

>>

MOSES LAKE, Wash. - Last month a Moses Lake man was arrested for drug possession, and it turns out some of those drugs were more serious than originally expected. During the arrest, the man was in possession of what appeared to be oxycodone pills. The pills had markings on them consistent with actual oxycodone medication, but they seemed inconsistent in shape and color. Officers sent the pills to the Washington State Patrol crime lab for analysis.

>>

STEVENS COUNTY, Wash. - Washington State Patrols responded to a fatal crash in Stevens County Friday evening. On SR-395 in Clayton near Mile Post 185, a vehicle crossed the center line and crashed head on with another car, killing the driver. The causing driver who was transported to the hospital is in custody for vehicular homicide. There were no other occupants of either vehicle.

>>

STEVENS COUNTY, Wash. - Washington State Patrols responded to a fatal crash in Stevens County Friday evening. On SR-395 in Clayton near Mile Post 185, a vehicle crossed the center line and crashed head on with another car, killing the driver. The causing driver who was transported to the hospital is in custody for vehicular homicide. There were no other occupants of either vehicle.

>>