Alcoa can help Spokane couple's wedding plan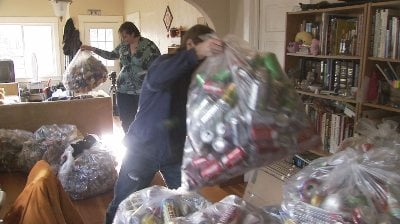 SPOKANE, Wash. - The Spokane couple trying to pay for their wedding by recycling 400,000 cans has found Alcoa can help.

The company says it will donate 150,000 cans to Peter Geyer and Andrea Parrish. The Spokesman-Review says that gives them about 260,000 cans, 65 percent of their goal.

Parrish says the worldwide response to their can-do wedding is better than they could have hoped for.

The couple plan to be married July 31.
Previous Coverage
Couple hopes to finance wedding with cans
The Northwest is known for it's natural beauty and support of the environment, so it shouldn't be a surprise that a Spokane couple is holding a recycling drive. What is surprising is what they plan to do with the proceeds.
Peter Geyer and Andrea Parrish plan to collect $4,000 dollars worth of aluminum cans to pay for the wedding. The couple got engaged in October.
Since then, they've collected 16,000 cans, about four percent of the total they need.
"It's one of those ideas that slaps you in the head at 1 in the morning," said Parrish.
Parrish's fiancé has been collecting aluminum for years. Peter Geyer melts the metal in his backyard and uses the material for sculptures. Using some of the material for their wedding will help clear some of the "clutter" from their garage and protect the planet.
"Yeah, I won't say I was sad to get rid of the 80 pounds of aluminum that was stored in our garage," said Parrish. "Our real focus is mother Earth. It's our mother earth, she's the only one we've got, she supports us we might as well support her." >>Continue reading
Most Popular Stories

Most Popular Stories

More>>

SPOKANE, Wash. - Update: Spokane Police Department SWAT Team officers took a homicide suspect into custody following an afternoon shooting in downtown Spokane. That suspect was identified as 27-year-old Joel C. Taitch. He was found blocks away from the crime scene and booked for 2nd degree murder.

>>

SPOKANE, Wash. - Update: Spokane Police Department SWAT Team officers took a homicide suspect into custody following an afternoon shooting in downtown Spokane. That suspect was identified as 27-year-old Joel C. Taitch. He was found blocks away from the crime scene and booked for 2nd degree murder.

>>

SPOKANE, Wash. - Feel like you have to keep swatting bugs away when you've been walking outside this week? What you might be calling gnats, are really blue ash aphids. And right now they are more active than ever, because it's mating season. KHQ met a couple who noticed the blue ash aphids right when they started their walk in the park.

>>

SPOKANE, Wash. - Feel like you have to keep swatting bugs away when you've been walking outside this week? What you might be calling gnats, are really blue ash aphids. And right now they are more active than ever, because it's mating season. KHQ met a couple who noticed the blue ash aphids right when they started their walk in the park.

>>

SPRING, Texas - Authorities near Houston are trying to identify a woman who abandoned a toddler on a stranger's doorstep. The Montgomery County Sheriff's Office says a video doorbell captured the woman running up to the door of the home in Spring dragging the boy by his arm, ringing the doorbell and knocking several times.

>>

SPRING, Texas - Authorities near Houston are trying to identify a woman who abandoned a toddler on a stranger's doorstep. The Montgomery County Sheriff's Office says a video doorbell captured the woman running up to the door of the home in Spring dragging the boy by his arm, ringing the doorbell and knocking several times.

>>

FORT HALL, Idaho (AP) - A trucker from Missouri who was beaten at an Idaho truck stop last month is still recovering from his injuries, and his employer has offered a $1,000 reward for information leading to the arrest and conviction of his attacker.

>>

FORT HALL, Idaho (AP) - A trucker from Missouri who was beaten at an Idaho truck stop last month is still recovering from his injuries, and his employer has offered a $1,000 reward for information leading to the arrest and conviction of his attacker.

>>

SPOKANE, Wash. - Spokane Police say a man has died outside the Spokane Public Library downtown. Officers were called to the scene at 906 W. Main Ave. around 2 p.m. Wednesday. Details about what happened are limited at the moment, but officers on the scene say they are investigating the death as a homicide until they can prove that it is not, as is protocol.

>>

SPOKANE, Wash. - Spokane Police say a man has died outside the Spokane Public Library downtown. Officers were called to the scene at 906 W. Main Ave. around 2 p.m. Wednesday. Details about what happened are limited at the moment, but officers on the scene say they are investigating the death as a homicide until they can prove that it is not, as is protocol.

>>

HAILEY, Idaho - Actor Bruce Willis has sold his 20-acre (8-hectare) ranch in central Idaho for $5.5 million. KTVB-TV reports in a story on Wednesday that's far below the original asking price of $15 million when the home was put up for sale in 2011. Travis Jones is a listing agent with Engel & Volkers Sun Valley who took over the job of selling the home in the small town of Hailey two years ago.

>>

HAILEY, Idaho - Actor Bruce Willis has sold his 20-acre (8-hectare) ranch in central Idaho for $5.5 million. KTVB-TV reports in a story on Wednesday that's far below the original asking price of $15 million when the home was put up for sale in 2011. Travis Jones is a listing agent with Engel & Volkers Sun Valley who took over the job of selling the home in the small town of Hailey two years ago.

>>