Original Tuskegee Airman laid to rest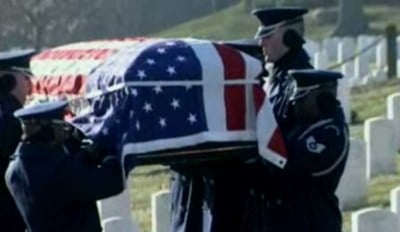 ARLINGTON, Va. - One of the original members of the famed Tuskegee Airmen was laid to rest Friday at Arlington National Cemetery.

Captain Luther Smith Junior was a World War II veteran who flew 133 combat missions and is credited with destroying two German enemy aircraft in aerial combat and ten German aircraft in ground missions.

The Des Moines, Iowa native was awarded many commendations including the Distinguished Flying Cross, Purple Heart and the Prisoner of War Medal after being permanently injured on his final combat mission.

Captain Smith parachuted while unconscious from his burning P-51 Mustang aircraft and was held as a prisoner for seven months until the war ended.

The term "Tuskegee Airmen" refers to those involved in the so-called "Tuskegee Experiment," the Army Air Corps program to train African Americans to fly and maintain combat aircraft.
Most Popular Stories

Most Popular Stories

More>>

PULLMAN, Wash. - Six-year-old Denny Curran should be enjoying his last few days of summer before first grade. He should be teasing his brother, splashing in the pool, giving his parents a hard time about vegetables. Instead, Denny is dead, the victim of a horrific, freak bicycle accident that could happen to your child too. "Denny was an extraordinary child," his father Keith Curran told KHQ.

>>

PULLMAN, Wash. - Six-year-old Denny Curran should be enjoying his last few days of summer before first grade. He should be teasing his brother, splashing in the pool, giving his parents a hard time about vegetables. Instead, Denny is dead, the victim of a horrific, freak bicycle accident that could happen to your child too. "Denny was an extraordinary child," his father Keith Curran told KHQ.

>>

SPOKANE, Wash. - Spokane Police say they saw a dramatic increase in drug related calls on Tuesday. Police say at least one person has died and officers responded to almost 20 other calls of people acting erratically. Police are looking into whether there is a drug on the street that is "creating adverse health effects." Reported behavior is consistent with a stimulant, causing people to hallucinate and act in an unpredictable and sometimes violent manner.

>>

SPOKANE, Wash. - Spokane Police say they saw a dramatic increase in drug related calls on Tuesday. Police say at least one person has died and officers responded to almost 20 other calls of people acting erratically. Police are looking into whether there is a drug on the street that is "creating adverse health effects." Reported behavior is consistent with a stimulant, causing people to hallucinate and act in an unpredictable and sometimes violent manner.

>>

STEVENS COUNTY, Wash. - The Department of Natural Resources reports that a FireBoss airplane has crashed in northeast Washington. There aren't a lot of details released right now, but we do know that the pilot did survive the crash. The pilot was working on the Horns Mountain fire, burning about 838 acres near Northport, close to the US/Canada border.

>>

STEVENS COUNTY, Wash. - The Department of Natural Resources reports that a FireBoss airplane has crashed in northeast Washington. There aren't a lot of details released right now, but we do know that the pilot did survive the crash. The pilot was working on the Horns Mountain fire, burning about 838 acres near Northport, close to the US/Canada border.

>>

CUSICK, Wash. - The Washington State Patrol says three people were killed in a car crash north of Cusick Wednesday morning. Trooper Jeff Sevigney tweeted out that the crash happened near the intersection of Leclerc Rd and Cee Cee Ah Creek Rd. Trooper Sevigney said the crash involved one car with five occupants.

>>

CUSICK, Wash. - The Washington State Patrol says three people were killed in a car crash north of Cusick Wednesday morning. Trooper Jeff Sevigney tweeted out that the crash happened near the intersection of Leclerc Rd and Cee Cee Ah Creek Rd. Trooper Sevigney said the crash involved one car with five occupants.

>>

VANCOUVER, Wash. (AP) - Police say they've finished an investigation into an incident in which a 16-year-old girl was hurt when she was pushed off a bridge and fell 60 feet into water in Washington state. The Columbian reported Tuesday that the Clark County Sheriff's Office Major Crimes Unit was forwarding the case to the prosecutor's office for possible charges.

>>

VANCOUVER, Wash. (AP) - Police say they've finished an investigation into an incident in which a 16-year-old girl was hurt when she was pushed off a bridge and fell 60 feet into water in Washington state. The Columbian reported Tuesday that the Clark County Sheriff's Office Major Crimes Unit was forwarding the case to the prosecutor's office for possible charges.

>>

SPOKANE, Wash. - Educators of Spokane rallied together for an increase in pay and fully funded education. Ever since the State Supreme Court ruled that Washington was underfunding schools, educators and administrators have been trying to negotiate finances. Some districts have reached deals, but many in Eastern Washington haven't. KHQ went to the rally for Spokane public schools Tuesday.

>>

SPOKANE, Wash. - Educators of Spokane rallied together for an increase in pay and fully funded education. Ever since the State Supreme Court ruled that Washington was underfunding schools, educators and administrators have been trying to negotiate finances. Some districts have reached deals, but many in Eastern Washington haven't. KHQ went to the rally for Spokane public schools Tuesday.

>>