Espresso stand robbery suspect arrested following stand-off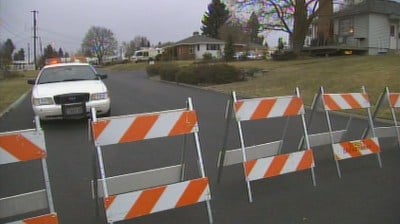 SPOKANE, Wash. - A stand-off in the area of Belt and Montgomery ended Friday evening with one suspect in custody and no one injured.
The stand-off started around 3:30 p.m. as police were investigating an armed robbery of a N. Division espresso stand that took place Wednesday. Their investigation led them to the Spokane home where the stand-off lasted for about 90 minutes before the robbery suspect surrendered.
Audubon Elementary is located about a block north of where the stand-off took place, but the school was not forced into lockdown as a result.
Police did serve a search warrant Friday but there's no word if that search turned up a weapon. Stay with KHQ.com for more information.
Most Popular Stories

Most Popular Stories

More>>

SPOKANE, Wash. - Windy conditions and wildfire smoke have hit the Inland Northwest hard as air quality levels rose throughout the day, ending up in the hazardous range Sunday evening. Changes in wind direction have brought over more smoke to the area from wildfires around northern and central Washington, as well as from British Columbia.

>>

SPOKANE, Wash. - Windy conditions and wildfire smoke have hit the Inland Northwest hard as air quality levels rose throughout the day, ending up in the hazardous range Sunday evening. Changes in wind direction have brought over more smoke to the area from wildfires around northern and central Washington, as well as from British Columbia.

>>

SPOKANE VALLEY, Wash. - A male suspect has died after being involved in a police shooting following a standoff situation in Spokane Valley Sunday morning. Police say the matter originated as a vandalism call after a man pulled into a gas station and began breaking windows in a vehicle. They later found the male to be armed and possibly suicidal, leading to a standoff at Trent and Evergreen where he was barricaded in the vehicle.

>>

SPOKANE VALLEY, Wash. - A male suspect has died after being involved in a police shooting following a standoff situation in Spokane Valley Sunday morning. Police say the matter originated as a vandalism call after a man pulled into a gas station and began breaking windows in a vehicle. They later found the male to be armed and possibly suicidal, leading to a standoff at Trent and Evergreen where he was barricaded in the vehicle.

>>

LEWISVILLE, Texas - Police in Texas say a man fatally stabbed his 16-month-old son and was shot in the leg by a neighbor who tried to stop the attack. The stabbing was reported Sunday afternoon in the courtyard of an apartment complex in Lewisville, about 20 miles northwest of Dallas. Lewisville Police Capt. Jesse Hunter says the toddler was rushed to a hospital but later died from his wounds.

>>

LEWISVILLE, Texas - Police in Texas say a man fatally stabbed his 16-month-old son and was shot in the leg by a neighbor who tried to stop the attack. The stabbing was reported Sunday afternoon in the courtyard of an apartment complex in Lewisville, about 20 miles northwest of Dallas. Lewisville Police Capt. Jesse Hunter says the toddler was rushed to a hospital but later died from his wounds.

>>

SPOKANE VALLEY, Wash.- The Spokane Valley Fire Department says one person died as a result of a fire at the Central Park Condominiums Sunday night. "SVFD investigators say it will likely take several days to complete the investigation into the cause of the fire that was reported shortly after 8:30 pm on August 19," Melanie Rose from the Spokane Valley Fire Department said.

>>

SPOKANE VALLEY, Wash.- The Spokane Valley Fire Department says one person died as a result of a fire at the Central Park Condominiums Sunday night. "SVFD investigators say it will likely take several days to complete the investigation into the cause of the fire that was reported shortly after 8:30 pm on August 19," Melanie Rose from the Spokane Valley Fire Department said.

>>

SEATTLE (AP) - Forecasters are warning of unhealthy air in parts of the Pacific Northwest as winds push smoke from surrounding wildfires into the region. The National Weather Service has issued air quality alerts for much of Washington state. The service says air quality in Western Washington is expected to worsen starting Sunday. Some improvement is expected by Wednesday. An air quality alert is also in place across Eastern Washington and North Idaho.

>>

SEATTLE (AP) - Forecasters are warning of unhealthy air in parts of the Pacific Northwest as winds push smoke from surrounding wildfires into the region. The National Weather Service has issued air quality alerts for much of Washington state. The service says air quality in Western Washington is expected to worsen starting Sunday. Some improvement is expected by Wednesday. An air quality alert is also in place across Eastern Washington and North Idaho.

>>

SPOKANE, Wash. - The hazardous air outside will impact garbage services on Monday in Spokane. The City says pickup done by automated trucks that allow employees to remain inside the truck will conduct their normal routes on Monday. However, locations that require the use of smaller, rear-loader trucks that require employees to load garbage into the truck manually may not receive service on Monday.

>>

SPOKANE, Wash. - The hazardous air outside will impact garbage services on Monday in Spokane. The City says pickup done by automated trucks that allow employees to remain inside the truck will conduct their normal routes on Monday. However, locations that require the use of smaller, rear-loader trucks that require employees to load garbage into the truck manually may not receive service on Monday.

>>