Vandal may have been trying to derail train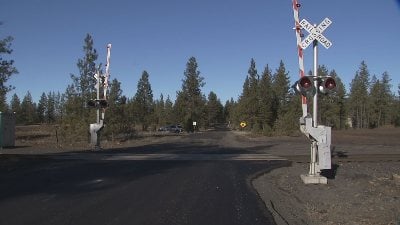 CHENEY, Wash. - A reward has been offered for information that leads to the arrest of a suspect who may have been trying to set up a car/train collision in the West Plains.
A railroad employee told a sheriff's deputy that he was called out to repair railroad crossing arms that were not working at the railroad crossing at Highway 904 and Ritchey Road.
The worker discovered that someone had disabled the signal's power cord and had tied the crossing arms so that they could not lower. The railroad company was alerted Saturday night after the arms did not lower as a train approached.
"We hope this wasn't done maliciously," said Sgt. Dave Reagan with the Spokane County Sheriff's Office. "It could be considered domestic terrorism depending on the motive."
The suspect also placed a steel fence post across the rail, possibly in an attempt to derail a train.
"We have freight trains that go through there, 20 to 25 trains a day," said Reagan. "Those trains are carrying hazardous materials. There could've been very serious consequences for this community had a train derailed."
Anyone with information is asked to call Crime Stoppers at 1-800-222-TIPS (8477).
Most Popular Stories

Most Popular Stories

More>>

PORTLAND, Ore. (AP) - Authorities say eight people were killed in a crash involving two vehicles in the high desert of eastern Oregon. The Oregonian/OregonLive reports the head-on collision happened after 10 a.m. Monday on Oregon Route 78 southeast of the small town of Burns. Oregon State Police Capt.

>>

PORTLAND, Ore. (AP) - Authorities say eight people were killed in a crash involving two vehicles in the high desert of eastern Oregon. The Oregonian/OregonLive reports the head-on collision happened after 10 a.m. Monday on Oregon Route 78 southeast of the small town of Burns. Oregon State Police Capt.

>>

KOOTENAI COUNTY, Idaho - The Idaho Department of Fish and Game wants to warn you about a grizzly bear that's been roaming around the Athol and Garwood area. Multiple people have reported seeing it, and wildlife officers have set up a trap to catch it, but so far they've been having trouble finding it. KHQ spoke with one woman who says the bear walked through her yard.

>>

KOOTENAI COUNTY, Idaho - The Idaho Department of Fish and Game wants to warn you about a grizzly bear that's been roaming around the Athol and Garwood area. Multiple people have reported seeing it, and wildlife officers have set up a trap to catch it, but so far they've been having trouble finding it. KHQ spoke with one woman who says the bear walked through her yard.

>>

SPOKANE VALLEY, Wash.- A flag football league in Spokane Valley is preparing for their first practice next week but organizers say they can't help but feel disappointed because someone suddenly vandalized the fields they have put so much work into. "We're pretty disappointed, a little beat up," said Jeff Miller, the Director for Upward Flag Football and Cheerleading.

>>

SPOKANE VALLEY, Wash.- A flag football league in Spokane Valley is preparing for their first practice next week but organizers say they can't help but feel disappointed because someone suddenly vandalized the fields they have put so much work into. "We're pretty disappointed, a little beat up," said Jeff Miller, the Director for Upward Flag Football and Cheerleading.

>>

PINEVILLE, N.C. - A pregnant woman shopping at Staples says she was confronted about what she was concealing beneath her shirt: "Twins," she said. Sherell Bates tells WSOC-TV she was at the register paying for back-to-school supplies Friday when a police officer had her step aside and explain what was under her shirt.

>>

PINEVILLE, N.C. - A pregnant woman shopping at Staples says she was confronted about what she was concealing beneath her shirt: "Twins," she said. Sherell Bates tells WSOC-TV she was at the register paying for back-to-school supplies Friday when a police officer had her step aside and explain what was under her shirt.

>>

SPOKANE, Wash. - If you left your windows to your house open, and now you can't seem to get rid of the smoke smell, The Cleaning Authority in Spokane gave KHQ some easy tips to get rid of that stench. I spoke with Shannon Oakley, the Director of Operations as The Cleaning Authority, and she told me the first thing you need to do is clean the top of your ceiling fans and door frames. When you do this, it stops the particles from falling back onto the countertops and furniture.

>>

SPOKANE, Wash. - If you left your windows to your house open, and now you can't seem to get rid of the smoke smell, The Cleaning Authority in Spokane gave KHQ some easy tips to get rid of that stench. I spoke with Shannon Oakley, the Director of Operations as The Cleaning Authority, and she told me the first thing you need to do is clean the top of your ceiling fans and door frames. When you do this, it stops the particles from falling back onto the countertops and furniture.

>>

DOUGLAS COUNTY, Wash. - The firefighter injured while fighting the Grass Valley Fire in Douglas County is in satisfactory condition. 38-year-old Omak County Fire District #8 firefighter Brett Read was and another firefighter were trying to leave their work area on Saturday when the fire unexpectedly intensified.

>>

DOUGLAS COUNTY, Wash. - The firefighter injured while fighting the Grass Valley Fire in Douglas County is in satisfactory condition. 38-year-old Omak County Fire District #8 firefighter Brett Read was and another firefighter were trying to leave their work area on Saturday when the fire unexpectedly intensified.

>>