Gonzaga University icon dies unexpectedly at 67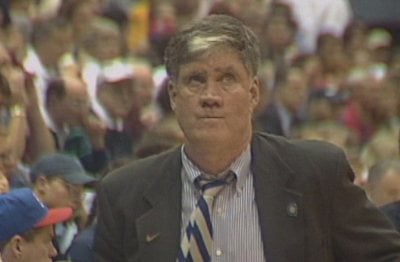 SPOKANE, Wash. - Former Gonzaga coach, and the man widely considered to be responsible for Gonzaga University's rise as a college basketball power, Dan Fitzgerald died Tuesday afternoon after collapsing in an Airway Heights restaurant.
Coach Fitzgerald, 67, was taken to Deaconess Medical Center but was pronounced dead about an hour after he arrived. His wife says she suspects it was a heart attack, though an official cause of death has not been confirmed.
Coach Fitzgerald recruited John Stockton to Gonzaga in 1980 and coached his first college season. After that first year, Coach Fitzgerald handed the program over to Jay Hillock to concentrate on his duties as the school's athletic director and to oversee renovation of Kennedy Pavilion into the Martin Centre, what many of us now know as "The Kennel."
In 1985 Coach Fitzgerald again started up as head coach and began the most successful run of basketball wins in the school's history. Before he stepped down as head coach in 1997, with a record of 252-171, he set in motion the plan for the Bulldogs' eventual, and current, rise to national prominence.
Most Popular Stories

Most Popular Stories

More>>

PINEVILLE, N.C. - A pregnant woman shopping at Staples says she was confronted about what she was concealing beneath her shirt: "Twins," she said. Sherell Bates tells WSOC-TV she was at the register paying for back-to-school supplies Friday when a police officer had her step aside and explain what was under her shirt.

>>

PINEVILLE, N.C. - A pregnant woman shopping at Staples says she was confronted about what she was concealing beneath her shirt: "Twins," she said. Sherell Bates tells WSOC-TV she was at the register paying for back-to-school supplies Friday when a police officer had her step aside and explain what was under her shirt.

>>

KAKTOVIK, Alaska (AP) - The U.S. Geological Survey says a magnitude 6.1 earthquake hit at 1:15 p.m. Sunday near the city of Kaktovik on Alaska's North Slope. The earthquake came several hours after the North Slope was struck by the most powerful earthquake ever recorded in the region, according to the state's seismologist.

>>

KAKTOVIK, Alaska (AP) - The U.S. Geological Survey says a magnitude 6.1 earthquake hit at 1:15 p.m. Sunday near the city of Kaktovik on Alaska's North Slope. The earthquake came several hours after the North Slope was struck by the most powerful earthquake ever recorded in the region, according to the state's seismologist.

>>

FERRY COUNTY, Wash. - Overnight, the Boyds Fire burning in Ferry County near Kettle Falls reached approximately 3,000 acres. Crews say by estimation the fire size tripled overnight to around 3,000 acres. Two residences and numerous outbuildings have been reported lost. In Sunday morning's update from the Incident Management Team, the fire has been listed as minimally contained at two percent.

>>

FERRY COUNTY, Wash. - Overnight, the Boyds Fire burning in Ferry County near Kettle Falls reached approximately 3,000 acres. Crews say by estimation the fire size tripled overnight to around 3,000 acres. Two residences and numerous outbuildings have been reported lost. In Sunday morning's update from the Incident Management Team, the fire has been listed as minimally contained at two percent.

>>

COEUR D'ALENE, Idaho - Coeur d'Alene Police say a suspect is dead after shots were fired following a robbery attempt at the Global Credit Union Saturday afternoon. Police say the armed suspect went into the bank and an armed security guard was on scene. The two exchanged gunfire at some point, but police are unsure of exactly when at this point.

>>

COEUR D'ALENE, Idaho - Coeur d'Alene Police say a suspect is dead after shots were fired following a robbery attempt at the Global Credit Union Saturday afternoon. Police say the armed suspect went into the bank and an armed security guard was on scene. The two exchanged gunfire at some point, but police are unsure of exactly when at this point.

>>

SPOKANE, Wash. - Spokane Police have made two arrests after a road rage incident led to a BB gun assault Sunday evening. Police say two men were driving and got into a road rage dispute with two other men. One man was shot in the face with a BB gun, bloodying his face and shirt and requiring to be transported to a hospital for medical attention. The pair who did the shooting were taken into custody.

>>

SPOKANE, Wash. - Spokane Police have made two arrests after a road rage incident led to a BB gun assault Sunday evening. Police say two men were driving and got into a road rage dispute with two other men. One man was shot in the face with a BB gun, bloodying his face and shirt and requiring to be transported to a hospital for medical attention. The pair who did the shooting were taken into custody.

>>

WEST GLACIER, Mont. - A wildfire is forcing evacuations in the most heavily-trafficked area of Glacier National Park and has destroyed an unknown number of structures around Lake McDonald. The National Park Service said the 25-site Sprague Creek campground was being evacuated Monday, a day after the fast-moving fire forced the evacuation of 82 rooms at the historic Lake McDonald Lodge.

>>

WEST GLACIER, Mont. - A wildfire is forcing evacuations in the most heavily-trafficked area of Glacier National Park and has destroyed an unknown number of structures around Lake McDonald. The National Park Service said the 25-site Sprague Creek campground was being evacuated Monday, a day after the fast-moving fire forced the evacuation of 82 rooms at the historic Lake McDonald Lodge.

>>
Gonzaga

Gonzaga

More>>

GU will open with an exhibition game against Carroll College on November 2. The regular-season opener is against Montana at home on November 7.

>>

GU will open with an exhibition game against Carroll College on November 2. The regular-season opener is against Montana at home on November 7.

>>

The Zags open West Coast Conference play at home against Santa Clara on Jan. 5. The Zags then welcome Pacific on Jan. 10.

>>

The Zags open West Coast Conference play at home against Santa Clara on Jan. 5. The Zags then welcome Pacific on Jan. 10.

>>

The Bulldogs swept the regular-season and conference tournament championships last season and have won 13 of the last 14 regular-season WCC Titles and seven of the last 10 tournament championships.

>>

The Bulldogs swept the regular-season and conference tournament championships last season and have won 13 of the last 14 regular-season WCC Titles and seven of the last 10 tournament championships.

>>

The Gonzaga men's basketball team will open the 2018 Maui Jim Maui Invitational against Illinois on Nov. 19, at 8:30 p.m. Pacific Time on ESPN2.

>>

The Gonzaga men's basketball team will open the 2018 Maui Jim Maui Invitational against Illinois on Nov. 19, at 8:30 p.m. Pacific Time on ESPN2.

>>

Los Angeles Lakers EL SEGUNDO – The Los Angeles Lakers have signed Johnathan Williams, it was announced today. Per team policy, terms of the deal were not released. Williams saw action in seven Las Vegas Summer League games, playing 24.6 minutes per game and tallying 4.4 points and 4.6 rebounds per contest. In 37 games (36 starts) for Gonzaga last season, the First Team All-WCC honoree averaged 13.4 points (.563 FG%), 8.5 rebounds, 1.6 assists and 1.1 blocks in 29.2 minutes...

>>

Los Angeles Lakers EL SEGUNDO – The Los Angeles Lakers have signed Johnathan Williams, it was announced today. Per team policy, terms of the deal were not released. Williams saw action in seven Las Vegas Summer League games, playing 24.6 minutes per game and tallying 4.4 points and 4.6 rebounds per contest. In 37 games (36 starts) for Gonzaga last season, the First Team All-WCC honoree averaged 13.4 points (.563 FG%), 8.5 rebounds, 1.6 assists and 1.1 blocks in 29.2 minutes...

>>

The Zags, led by first-year head coach Paul Meehan will play nine regular-season games at home and nine on the road, including one home and one away exhibition match.

>>

The Zags, led by first-year head coach Paul Meehan will play nine regular-season games at home and nine on the road, including one home and one away exhibition match.

>>

Two Bulldogs have opted to forgo professional baseball and play collegiately for Gonzaga in 2019 as both Casey Legumina and Nick Trogrlic-Iverson did not sign professional contracts despite being selected in June's MLB First Player Draft.

>>

Two Bulldogs have opted to forgo professional baseball and play collegiately for Gonzaga in 2019 as both Casey Legumina and Nick Trogrlic-Iverson did not sign professional contracts despite being selected in June's MLB First Player Draft.

>>

Former Gonzaga Bulldogs point guard Nigel Williams-Goss will be back in the Lilac City from Aug. 8-10 and Aug. 14-17 to host youth and elite high school basketball camps.

>>

Former Gonzaga Bulldogs point guard Nigel Williams-Goss will be back in the Lilac City from Aug. 8-10 and Aug. 14-17 to host youth and elite high school basketball camps.

>>

Gonzaga men's basketball head coach Mark Few was selected to assist USA National Team head coach and San Antonio Spurs mentor Gregg Popovich at the July 25-27 USA Basketball Men's National Team minicamp in Las Vegas.

>>

Gonzaga men's basketball head coach Mark Few was selected to assist USA National Team head coach and San Antonio Spurs mentor Gregg Popovich at the July 25-27 USA Basketball Men's National Team minicamp in Las Vegas.

>>

Crandall, a 6-4 180-pound guard, will graduate from North Dakota this summer. He will be immediately eligible to play as a graduate transfer.

>>

Crandall, a 6-4 180-pound guard, will graduate from North Dakota this summer. He will be immediately eligible to play as a graduate transfer.

>>