Lead from raids directs deputies to cache of stolen items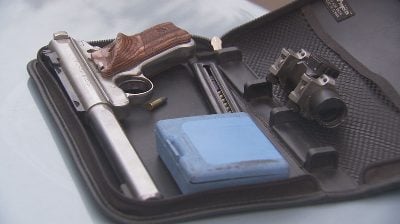 (Detectives found a stolen .22-caliber pistol and a firearm telescopic
sight)


SPOKANE COUNTY, Wash. - Raids early Thursday morning on two Spokane County homes led to the recovery of property stolen from a North Spokane County home over the Christmas holidays.
The raids, conducted by Spokane County Sheriff's detectives and agents with the Bureau of Alcohol, Tobacco and Firearms (ATF), were part of an ongoing investigation into a vehicle theft and burglary in December.
The burglary victim had been out of town from shortly before Christmas until after the new year. When he returned to his tome near Colbert on January 4, he discovered the break-in and that numerous firearms and other collectibles had been stolen. His van was missing as well.
ATF and SWAT conducted the first raid at 5 a.m. Thursday at a home in the 1300 block of W. Dalton. The Spokane County Sheriff's office says they received a tip that the homeowner had purchased guns from another party. In the raid six people were detained, but authorities did not find any stolen guns, though they did recover coins.
Later Thursday morning, SWAT and ATF conducted a second raid at a home off Deer Park-Milan Rd., during which three people were detained and one stolen gun was recovered.
ATF believes the burglars made several repeat trips to the victim's home to remove property.
In serving the search warrants and through interviews Thursday morning, sheriff's detectives were led to a pair of storage units atop the Sunset Hill where they recovered more stolen property, including a grandfather clock.
Story continues below...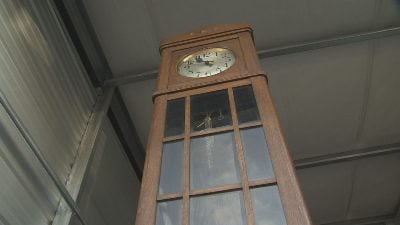 (Detectives discovered this grandfather clock, among other stolen
items, in a self-storage shed off Sunset Highway.)
---
No arrests have been made. The investigation is ongoing and sheriff's detectives are continuing to build their case.
Most Popular Stories

Most Popular Stories

More>>

SEATTLE (AP) - Police say a 78-year-old Renton man fatally shot and killed his grandson in what police believe was an act of self-defense. The Seattle Times reports police were called to a Renton home Saturday night, where a 26-year-old man had reportedly assaulted his mother, said Renton police Cmdr. Dave Leibman.

>>

SEATTLE (AP) - Police say a 78-year-old Renton man fatally shot and killed his grandson in what police believe was an act of self-defense. The Seattle Times reports police were called to a Renton home Saturday night, where a 26-year-old man had reportedly assaulted his mother, said Renton police Cmdr. Dave Leibman.

>>

SPOKANE, Wash. - A Spokane congressional candidate has petitioned the White House to abolish the recently passed Initiative 1639. The initiative, passed by voters last week, is a sweeping package of stricter gun regulations, particularly semiautomatic rifles.

>>

SPOKANE, Wash. - A Spokane congressional candidate has petitioned the White House to abolish the recently passed Initiative 1639. The initiative, passed by voters last week, is a sweeping package of stricter gun regulations, particularly semiautomatic rifles.

>>

SPOKANE, Wash. - Spokane Police say a truck passenger sustained broken bones while the driver is set to face vehicular assault charges in an apparent DUI collision on Upriver Drive Tuesday night. Tuesday around 5:30 p.m., a driver in a truck was traveling westbound on Upriver Drive when they crossed over the center line.

>>

SPOKANE, Wash. - Spokane Police say a truck passenger sustained broken bones while the driver is set to face vehicular assault charges in an apparent DUI collision on Upriver Drive Tuesday night. Tuesday around 5:30 p.m., a driver in a truck was traveling westbound on Upriver Drive when they crossed over the center line.

>>

KHQ.COM - Most mothers can only hope by the time their children grow up and move out of the house, they've learned all the necessary things to be a successful adult, including the basic knowledge that a turkey must be cooked in an oven, or perhaps in a smoker... NOT in a microwave. For this reason a new prank-challenge going around on Facebook is resulting in some hilarious text conversations between mothers and their grown children.

>>

KHQ.COM - Most mothers can only hope by the time their children grow up and move out of the house, they've learned all the necessary things to be a successful adult, including the basic knowledge that a turkey must be cooked in an oven, or perhaps in a smoker... NOT in a microwave. For this reason a new prank-challenge going around on Facebook is resulting in some hilarious text conversations between mothers and their grown children.

>>

SALT LAKE CITY (AP) - The mother of a University of Utah & former Pullman High School track athlete who was fatally shot by a sex offender parolee she had briefly dated says the person who loaned him the gun should be prosecuted. Jill McCluskey made the comment in a tweet Tuesday in which she said "it is a great responsibility to own a gun."

>>

SALT LAKE CITY (AP) - The mother of a University of Utah & former Pullman High School track athlete who was fatally shot by a sex offender parolee she had briefly dated says the person who loaned him the gun should be prosecuted. Jill McCluskey made the comment in a tweet Tuesday in which she said "it is a great responsibility to own a gun."

>>

SPOKANE, Wash. - The past 6 months have been difficult on the folks at the Greater Spokane County Meals on Wheels. Employees began noticing that the gas tanks in their vans they used to deliver 800 meals every day were empty. Gas was being siphoned out or fuel lines had been cut. Jerri Horton, the Food Services Director for GSC Meals on Wheels said it was becoming almost a daily occurrence.

>>

SPOKANE, Wash. - The past 6 months have been difficult on the folks at the Greater Spokane County Meals on Wheels. Employees began noticing that the gas tanks in their vans they used to deliver 800 meals every day were empty. Gas was being siphoned out or fuel lines had been cut. Jerri Horton, the Food Services Director for GSC Meals on Wheels said it was becoming almost a daily occurrence.

>>