TV bill could save Washington residents millions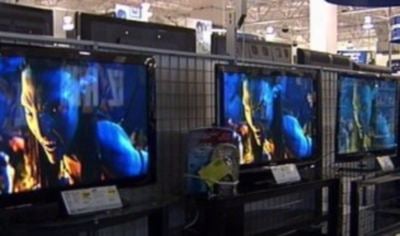 KENNEWICK, Wash. - The NW Energy Coalition is urging the state Senate to pass a bill that would save Washington residents millions of dollars on their electricity bills by requiring new TVs to be energy efficient.
The proposal would require TVs to use a third less energy by 2011 and half as much by 2013. Those requirements would save Washington residents more than $25 million dollars annually in electricity costs by 2020, according to the Independent Appliance Standards Awareness Project (ASAP).

The bill would also cut electricity waste by 45 annual average megawatts, according to ASAP, which is equal to the output of 60 wind turbines. The bill would also stop manufacturers from "dumping" inefficient models that cannot be sold in states with efficiency standards on unsuspecting Washington consumers.
Executive Director for the NW Energy Coalition, Sara Patton, says the new TVs are major energy hogs.

"They use about 43 percent more energy than the old tube TV and that's more than some refrigerators. The TV and the set top boxes account for as much as 10 percent of household energy use," said Patton.
Patton adds if you are looking to buy a TV be sure to look at the labeling. The most energy efficient TVs are labeled energy star and are generally LCD or LED televisions.
Most Popular Stories

Most Popular Stories

More>>

SPOKANE, Wash. - Initiative-1639 has been the root of controversy ever since supporters began asking for signatures. It became even more complicated when the Washington Supreme Court overturned a Thurston County judges decision after the judge initially threw out over 300,000 signatures saying the petition didn't follow election law claiming it was unreadable.

>>

SPOKANE, Wash. - Initiative-1639 has been the root of controversy ever since supporters began asking for signatures. It became even more complicated when the Washington Supreme Court overturned a Thurston County judges decision after the judge initially threw out over 300,000 signatures saying the petition didn't follow election law claiming it was unreadable.

>>

SPOKANE, Wash. - Update: Detectives have identified the woman found in the Spokane River September 15 just hours after releasing a rending of what she may have looked like. Detectives continue to work to determine what occurred prior to her death.

>>

SPOKANE, Wash. - Update: Detectives have identified the woman found in the Spokane River September 15 just hours after releasing a rending of what she may have looked like. Detectives continue to work to determine what occurred prior to her death.

>>

KITTITAS COUNTY, Wash. - Authorities say four people were hospitalized after an armored vehicle went over a 25-foot cliff during a military exercise in central Washington state. The green and tan 2018 Military Stryker crashed about 4:30 a.m. Saturday on an unnamed dirt road near Kittitas. The driver, 22-year-old Chance Kennen of Lecompte, Louisiana, told Washington state troopers he didn't see the cliff's edge.

>>

KITTITAS COUNTY, Wash. - Authorities say four people were hospitalized after an armored vehicle went over a 25-foot cliff during a military exercise in central Washington state. The green and tan 2018 Military Stryker crashed about 4:30 a.m. Saturday on an unnamed dirt road near Kittitas. The driver, 22-year-old Chance Kennen of Lecompte, Louisiana, told Washington state troopers he didn't see the cliff's edge.

>>

HAYDEN, Idaho - Old Glory flies triumphantly above Hayden Meadows Elementary. But, every day at the end of school, three keepers of the flag make sure she's in safe hands. Fifth graders Naylan Tuttle, Jack LeBreck, and Casey Dolan go through the steps necessary to make sure the U.S. flag is properly folded and stored without it ever touching the ground.

>>

HAYDEN, Idaho - Old Glory flies triumphantly above Hayden Meadows Elementary. But, every day at the end of school, three keepers of the flag make sure she's in safe hands. Fifth graders Naylan Tuttle, Jack LeBreck, and Casey Dolan go through the steps necessary to make sure the U.S. flag is properly folded and stored without it ever touching the ground.

>>

SPOKANE, Wash. (AP) - A new 100-bed psychiatric hospital is coming to Spokane. The Inland Northwest Behavioral Health hospital, which opens to patients in October, will have about 200 employees. The Spokesman-Review says the $33 million facility will be split into four units, each with 25 beds for inpatient services. One unit will be reserved for adolescent patients between the ages of 13 and 17.

>>

SPOKANE, Wash. (AP) - A new 100-bed psychiatric hospital is coming to Spokane. The Inland Northwest Behavioral Health hospital, which opens to patients in October, will have about 200 employees. The Spokesman-Review says the $33 million facility will be split into four units, each with 25 beds for inpatient services. One unit will be reserved for adolescent patients between the ages of 13 and 17.

>>