Arrests made in smash-and-grab burglaries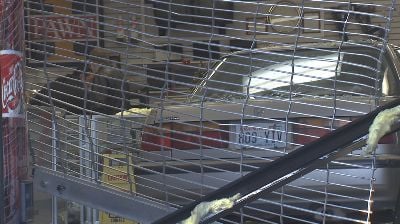 (The Honda Yefremov and Solodyankin are suspected to using to ram
the front doors of Pawn One.)

SPOKANE, Wash. - Two people have been arrested in connection with a pair of smash-and-grab burglaries in which police say the suspects used stolen cars to ram store fronts.

Police say on December 7, three cars were stolen from a locked storage area at Spokane Community College. The three vehicles were a 2001 Lexus, 2003 Toyota Sequoia and a 2008 Land Cruiser.

That same night, police believe Yan Yefremov and Aleksey Solodyankin used the Toyota Sequoia to ram the front of Pounder's Jewelry in an effort to get inside. The pair was unable to get into the store and abandoned the vehicle nearby.

A short time later, the pair drove a stolen Honda through the front doors of the Pawn One, in the 3700 block of N. Market. Yefremov and Solodyankin were able to get inside the building and made off with a good amount of merchandise.

Two days after the burglaries, Spokane County Sheriff's deputies recovered the Lexus stolen from SCC in the parking lot of a Motel 6 near I-90 and Argonne and took one suspect, Yefremov, into custody.

After Yefremov's arrest, detectives learned of Solodyankin's involvement in the burglaries. Solodyankin was later arrested on January 20.

Solodyankin is facing multiple charges for his involvement in the vehicle thefts and smash-and-grab burglaries.
Most Popular Stories

Most Popular Stories

More>>

KHQ.COM - Most mothers can only hope by the time their children grow up and move out of the house, they've learned all the necessary things to be a successful adult, including the basic knowledge that a turkey must be cooked in an oven, or perhaps in a smoker... NOT in a microwave. For this reason a new prank-challenge going around on Facebook is resulting in some hilarious text conversations between mothers and their grown children.

>>

KHQ.COM - Most mothers can only hope by the time their children grow up and move out of the house, they've learned all the necessary things to be a successful adult, including the basic knowledge that a turkey must be cooked in an oven, or perhaps in a smoker... NOT in a microwave. For this reason a new prank-challenge going around on Facebook is resulting in some hilarious text conversations between mothers and their grown children.

>>

LYNNWOOD, Wash. - A 20-year-old Washington state man has been sentenced to less than three years in prison for raping a high school student as she died from a drug overdose and texting semi-nude photos of her. The Daily Herald reports that Brian Varela pleaded guilty to second-degree manslaughter, third-degree rape, and unlawful disposal of remains as part of a plea deal in the February death of 18-year-old Alyssa Noceda.

>>

LYNNWOOD, Wash. - A 20-year-old Washington state man has been sentenced to less than three years in prison for raping a high school student as she died from a drug overdose and texting semi-nude photos of her. The Daily Herald reports that Brian Varela pleaded guilty to second-degree manslaughter, third-degree rape, and unlawful disposal of remains as part of a plea deal in the February death of 18-year-old Alyssa Noceda.

>>

SPOKANE, Wash. - Spokane Police are investigating the death of a man who reportedly shot himself in the head during sex. In a search warrant filed Nov. 8 in Spokane Superior Court, a detective wrote that around 2 a.m. on Nov. 4, police were called to a home in the 7800 block of North Morton Ave. after a woman said her partner shot himself in the head.

>>

SPOKANE, Wash. - Spokane Police are investigating the death of a man who reportedly shot himself in the head during sex. In a search warrant filed Nov. 8 in Spokane Superior Court, a detective wrote that around 2 a.m. on Nov. 4, police were called to a home in the 7800 block of North Morton Ave. after a woman said her partner shot himself in the head.

>>

PARADISE, Calif. - Much of the town of Paradise, California is in ruins after the Camp Fire, but a man who was evacuated shared a shred of good news on Facebook when he returned to his neighborhood. Jeff Hill said on Facebook he was checking on a neighbor's house when he came across a horse in a backyard swimming pool. The horse was in the water, but was caught in the pool cover.

>>

PARADISE, Calif. - Much of the town of Paradise, California is in ruins after the Camp Fire, but a man who was evacuated shared a shred of good news on Facebook when he returned to his neighborhood. Jeff Hill said on Facebook he was checking on a neighbor's house when he came across a horse in a backyard swimming pool. The horse was in the water, but was caught in the pool cover.

>>

A controversial tweet by WSU head football coach Mike Leach cost the University $1.6 million in pledged donations. The tweet, which was sent in June, depicted a doctored video of a speech by former President Barack Obama.

>>

A controversial tweet by WSU head football coach Mike Leach cost the University $1.6 million in pledged donations. The tweet, which was sent in June, depicted a doctored video of a speech by former President Barack Obama.

>>

WASHINGTON - The United State Department of Agriculture has issued a recall of more than 91,000 pounds of raw ground turkey due to a possible salmonella outbreak. Jennie-O Turkey is recalling the ground turkey products due to an illness outbreak. According to the federal recall from the USDA, the following Jennie-O Turkey products are subject to recall:

>>

WASHINGTON - The United State Department of Agriculture has issued a recall of more than 91,000 pounds of raw ground turkey due to a possible salmonella outbreak. Jennie-O Turkey is recalling the ground turkey products due to an illness outbreak. According to the federal recall from the USDA, the following Jennie-O Turkey products are subject to recall:

>>