5th grader, school raising money for Haiti earthquake victims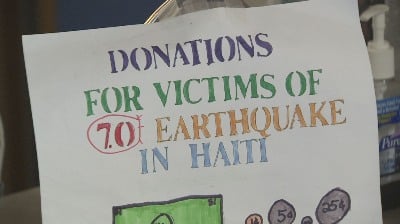 (Students at Ponderosa Elementary School hope their change adds
up so they can help those affected by the earthquake in Haiti)

POST FALLS, Idaho. - Every difference makes a difference. It is a simple idea which can make a big impact, and students at Ponderosa Elementary School hope their pennies and dimes can help Haitian earthquake victims thousands of miles away.

Fifth grader Timberlyn Short started a "spare change" drive this week. The school plans to donate money collected over the next week to the American Red Cross.

"If I were in that situation I would want someone to help me," she said.

Short watched images of collapsed buildings and destruction in the streets and wanted to help.

Timberlyn plans to ask students during class announcements to bring spare change through January 29.

Schools in the Lewiston area raised more than $12,000 in a similar drive after the 2004 tsunami, according a principal in the area.

Now, administrators in Post Falls are working with a principal in Lewiston to collaborate on this drive.
Most Popular Stories

Most Popular Stories

More>>

Spokane, Wash. Starting July 1st, 2018 all standard Washington State ID cards will be marked with "Federal Limits Apply" on the top right corner. The driver's license is still good for driving and standard identification but those three words indicate that the ID is not valid for federal identification purposes. The ID cannot be used to board a plane or enter federal buildings starting October 1st, 2020. The real id act is a federal law, which was passed by congress in 2005...

>>

Spokane, Wash. Starting July 1st, 2018 all standard Washington State ID cards will be marked with "Federal Limits Apply" on the top right corner. The driver's license is still good for driving and standard identification but those three words indicate that the ID is not valid for federal identification purposes. The ID cannot be used to board a plane or enter federal buildings starting October 1st, 2020. The real id act is a federal law, which was passed by congress in 2005...

>>

Spokane Police responded to a 911 call early Sunday morning after a woman near the TJ Meenach Bridge defended herself from a male attacker. Around 2:30 a.m., the woman reported that 28-year-old Atif Ado accosted her as she walked home. Despite her protests, Ado continued following her and ultimately held her at gunpoint while trying to drag her to a secluded location.

>>

Spokane Police responded to a 911 call early Sunday morning after a woman near the TJ Meenach Bridge defended herself from a male attacker. Around 2:30 a.m., the woman reported that 28-year-old Atif Ado accosted her as she walked home. Despite her protests, Ado continued following her and ultimately held her at gunpoint while trying to drag her to a secluded location.

>>

Idaho State Police arrested a man for felony DUI and possession of methamphetamine after responding to an injury crash Saturday morning. The rollover crash happened around 10 a.m. on US-95 near Kathleen Ave. in Coeur d'Alene, with authorities tweeting out a picture of the rollover crash.

>>

Idaho State Police arrested a man for felony DUI and possession of methamphetamine after responding to an injury crash Saturday morning. The rollover crash happened around 10 a.m. on US-95 near Kathleen Ave. in Coeur d'Alene, with authorities tweeting out a picture of the rollover crash.

>>

UPDATE: Investigators have spent the past couple of days scouring the area near the Coeur d'Alene River, south of Rose Lake where human bones were found over the weekend.

>>

UPDATE: Investigators from the Kootenai County Sheriff's Office along with volunteers from the Kootenai County Search and Rescue have spent the past couple of days scouring the area near the Coeur d'Alene River, south of Rose Lake where human bones were found over the weekend.

>>

SHOSHONE, Idaho (AP) - Idaho State Police are investigating after a motorcycle driver crashed on Highway 24 and died. Law enforcement officials say that 56-year-old Frankie Bennett Jr. of Burley was ride a 2000 Kawasaki motorcycle on Saturday just east of the Shoshone city limits when he lost control and crashed.

>>

SHOSHONE, Idaho (AP) - Idaho State Police are investigating after a motorcycle driver crashed on Highway 24 and died. Law enforcement officials say that 56-year-old Frankie Bennett Jr. of Burley was ride a 2000 Kawasaki motorcycle on Saturday just east of the Shoshone city limits when he lost control and crashed.

>>

KALISPELL, Mont. (AP) - The scenic Going-to-the-Sun Road in Glacier National Park in northwest Montana is now completely open to motorized vehicles. The entire 50-mile (80-kilometer) length of the road was opened Saturday morning after crews cleared the last remnants of the winter snow. ...

>>

KALISPELL, Mont. (AP) - The scenic Going-to-the-Sun Road in Glacier National Park in northwest Montana is now completely open to motorized vehicles. The entire 50-mile (80-kilometer) length of the road was opened Saturday morning after crews cleared the last remnants of the winter snow.

>>