Flatt edges Nagasu for title; Cohen collapses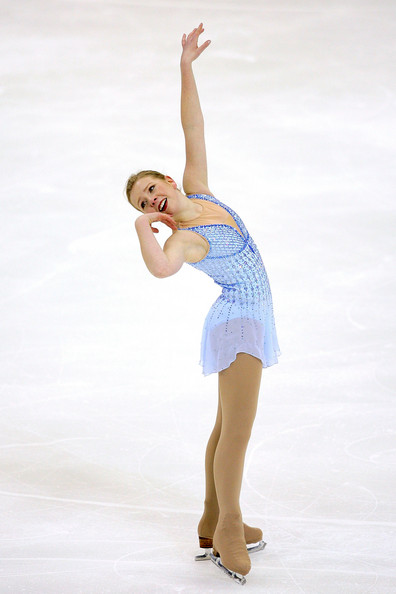 SPOKANE, Wash. - Her Olympic dreams over, Sasha Cohen stuck around to watch Mirai Nagasu and Rachael Flatt.
"They're great," Cohen said. "They're cute, they're excited."
That they most definitely are.
Flatt and Nagasu earned trips to the Olympics with their 1-2 finish at the U.S. Figure Skating Championships on Saturday night, and the folks in Vancouver should consider themselves warned. The rest of the world might not know who they are - heck, folks in America will brush up on their bios - and they might not wind up on the medals stand.
But they sure will put on a show. And that's just at the news conferences.
"I'm just excited about all the free stuff we're going to get," the delightfully filterless Nagasu said. "I hope a medal will come, too."
Despite all the wailing about the sad state of the U.S. women these last few years, don't count them out. Flatt entered Kim Yu-na and Mao Asada territory with her final score of 200.11 points, and the high school senior is one of the few people who's beaten Kim in the last two years. Sure, it was in the free skate at Skate America, but she's shown it can be done.
Nagasu has that beautiful performance style that made skaters millionaires in the sport's heyday, and she backs it up with the tough tricks. Best of all, she'll say whatever's on her mind. Think Charles Barkley and Shaquille O'Neal are entertaining? They meet their match with this 5-foot-4 high school junior.
"We need to embrace the challenge, and I'm sure we're both up for it," Flatt said. "We're young and spirited and have lots of enthusiasm, so I think that will bode well for the Olympics."
Earlier Saturday, Meryl Davis and Charlie White won their second straight ice dance title, beating Olympic and world silver medalists Tanith Belbin and Ben Agosto for the first time in their careers. Long overshadowed by Belbin and Agosto - at home and internationally - Davis and White left little doubt they are now equal to their friends and former training partners, as well as the other top teams in the world.
Their score of 222.29 was almost four points ahead of Belbin and Agosto. The two teams, along with bronze medalists Emily Samuelson and Evan Bates, were named to the Olympic team.
These national championships were Cohen's show. The Olympic silver medalist was competing for the first time since the 2006 worlds, and she brought back the good old days when skating had rock-star status, the ladies ruled and Tonya, Nancy, Michelle and Tara were so big they needed only one name.
When she rocked her short program, she almost seemed destined to be on her way to Vancouver. But as gifted as Cohen is, the knock on her has always been her ability - or lack thereof - to deliver when it matters most. She has never done clean short and long programs in the same major competition, and that dubious streak continued here with four significant errors.
She wound up a distant fourth.
"It wasn't the skate that I wanted or the skate that I trained for, but I could still really appreciate the challenge I embraced and the obstacles I overcame," Cohen said. "There wasn't any regret or wishing I could do it again. I was just really proud to be back after four years."
And proud to see the next generation grab hold of their opportunity.
Flatt showed the same kind of mettle Saturday as she did in that free skate victory over Kim at Skate America. In third after the short program - though not by much - Flatt put on a jumping clinic. She did seven triples, most of them in combination including a triple flip-triple toe loop combo.
She doesn't have Nagasu or Cohen's polish, but you could almost see her shoulders relax and her smile widen with each trick she finished. By the time her "Rhapsody on the Theme of Paganini" was done, her grin was so bright it lit up the entire arena.
Even she was stunned by her marks, though, her jaw dropping when she saw a 200 flash.
"I certainly have things to improve on. My performances were not perfect, but it certainly has given me a lot of confidence," Flatt said. "I'm going to use that as fuel to motivate me and just improve my training leading into the Olympics."
Nagasu skated last, and many assumed she had won after her sassy, saucy and powerful "Carmen," a number that would be a hit at any ice show, in any era.
She started with a seductive little dance and flew from there. Her jumps were huge, her double axel-triple toe combination so massive it would have gone from blue to blue line had this been a hockey rink. Her spins are fantastic, filled with so many positions and edge changes that she must have cartilage - or rubber - where everyone else has bone.
Unlike most skaters, she fills every second of her program, doing intricate and challenging steps into her jumps.
"I skated last and had a lot of time to think and sometimes thinking isn't good for me because I overthink and get nervous," said Nagasu, the 2008 national champion. "I was glad I was able to overcome that."
Fans were clapping in time to her music not even a third of the way through the program, and were giving her a standing ovation with about 30 seconds left. Even Nagasu was blown away, clapping her hands to her head and shaking it.
But as electric as the program was, it wasn't as technically difficult as Flatt's. It didn't help that three of Nagasu's jumps were downgraded, making them worth far less than they could have been.
"I blew it. I thought she won," said 1984 Olympic champion Scott Hamilton, who was doing the commentary on NBC. "I got caught up in the performance, caught up in the story."
That's been part of the criticism of the new judging system, a complicated jumble of rules and numbers and formulas. What looks like a great program isn't always so, leaving fans frustrated. But Hamilton said that's really no different than life under the 6.0 system.
"Enjoy the skating," he said. "Like figure skating has always been, there's going to be debate."
There was no debate about Cohen's performance, just disappointment.
She was beautiful when she stepped on the ice, the shades of grey in her dress lightening from the bottom of the skirt until it became almost smoky blue around her neck, which was trimmed in sparkly silver-trimmed cutouts. Unfortunately, her program didn't match the luster of her costume.
Cohen had only two triple jumps that were obviously clean, appearing to two-foot the first jump in her opening triple lutz-double toe combination and then step out of the second jump. She also looked as if she slightly two-footed the first jump in her triple flip-double toe combo.
There was no question that she botched the triple loop, landing with her skates crossed on the ice, and she fell on her triple flip. It was so awkward the audience began clapping after the fall on the triple flip, as if to buck up the star. Her spins were short, and her footwork was more simple than you'd expect of someone of her caliber.
"I don't know, a vacation would be nice," Cohen said when asked what she'll do next. "The only thing I know for sure is everything always changes."
Four years after she walked away the first time, another generation has finally taken charge.
"I've always said I was trying not to think about the Olympics, but it was always in the back of my mind," Nagasu said. "We don't have a strong Michelle Kwan or Kristi Yamaguchi to lead us on, but I feel that even though we're young, we have big dreams to lead us on."
© 2010 The Associated Press. All rights reserved.