3 girls injured in Stevens County rollover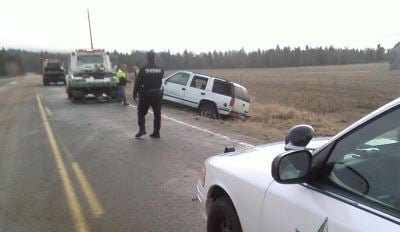 STEVENS COUNTY, Wash. - Three girls on their way to school in Deer Park were taken to the hospital Tuesday morning after the Suburban they were in rolled on Garden Spot road.
The girls, ages 11, 16 and 18-years-old were all said to have non life-threatening injuries, though one of the girls was ejected as the Suburban rolled.
The 16-year-old was said to be driving when the car rolled on Garden Spot Rd. just east of Spotted Rd.
Stevens County deputies say speed was not a factor and believe weather and road conditions may have caused the wreck.
Most Popular Stories

Most Popular Stories

More>>

SEATTLE (AP) - Police say a 78-year-old Renton man fatally shot and killed his grandson in what police believe was an act of self-defense. The Seattle Times reports police were called to a Renton home Saturday night, where a 26-year-old man had reportedly assaulted his mother, said Renton police Cmdr. Dave Leibman.

>>

SEATTLE (AP) - Police say a 78-year-old Renton man fatally shot and killed his grandson in what police believe was an act of self-defense. The Seattle Times reports police were called to a Renton home Saturday night, where a 26-year-old man had reportedly assaulted his mother, said Renton police Cmdr. Dave Leibman.

>>

SPOKANE, Wash. - A Spokane congressional candidate has petitioned the White House to abolish the recently passed Initiative 1639. The initiative, passed by voters last week, is a sweeping package of stricter gun regulations, particularly semiautomatic rifles.

>>

SPOKANE, Wash. - A Spokane congressional candidate has petitioned the White House to abolish the recently passed Initiative 1639. The initiative, passed by voters last week, is a sweeping package of stricter gun regulations, particularly semiautomatic rifles.

>>

SPOKANE, Wash. - Spokane Police say a truck passenger sustained broken bones while the driver is set to face vehicular assault charges in an apparent DUI collision on Upriver Drive Tuesday night. Tuesday around 5:30 p.m., a driver in a truck was traveling westbound on Upriver Drive when they crossed over the center line.

>>

SPOKANE, Wash. - Spokane Police say a truck passenger sustained broken bones while the driver is set to face vehicular assault charges in an apparent DUI collision on Upriver Drive Tuesday night. Tuesday around 5:30 p.m., a driver in a truck was traveling westbound on Upriver Drive when they crossed over the center line.

>>

SALT LAKE CITY (AP) - The mother of a University of Utah & former Pullman High School track athlete who was fatally shot by a sex offender parolee she had briefly dated says the person who loaned him the gun should be prosecuted. Jill McCluskey made the comment in a tweet Tuesday in which she said "it is a great responsibility to own a gun."

>>

SALT LAKE CITY (AP) - The mother of a University of Utah & former Pullman High School track athlete who was fatally shot by a sex offender parolee she had briefly dated says the person who loaned him the gun should be prosecuted. Jill McCluskey made the comment in a tweet Tuesday in which she said "it is a great responsibility to own a gun."

>>

SPOKANE, Wash. - The past 6 months have been difficult on the folks at the Greater Spokane County Meals on Wheels. Employees began noticing that the gas tanks in their vans they used to deliver 800 meals every day were empty. Gas was being siphoned out or fuel lines had been cut. Jerri Horton, the Food Services Director for GSC Meals on Wheels said it was becoming almost a daily occurrence.

>>

SPOKANE, Wash. - The past 6 months have been difficult on the folks at the Greater Spokane County Meals on Wheels. Employees began noticing that the gas tanks in their vans they used to deliver 800 meals every day were empty. Gas was being siphoned out or fuel lines had been cut. Jerri Horton, the Food Services Director for GSC Meals on Wheels said it was becoming almost a daily occurrence.

>>

COEUR D'ALENE, Idaho - At the corner of Sherman Avenue and 11th Street sits Spartacus Coins Bullion Collectibles. "If they come right off the freeway, we're the first ones they are going to run into," Elaine Price said. But, if you would've asked Elaine Price, the co-owner, if she would've thought they would've fallen victim to thieves involved in a multi-state theft ring, she would have called you crazy.

>>

COEUR D'ALENE, Idaho - At the corner of Sherman Avenue and 11th Street sits Spartacus Coins Bullion Collectibles. "If they come right off the freeway, we're the first ones they are going to run into," Elaine Price said. But, if you would've asked Elaine Price, the co-owner, if she would've thought they would've fallen victim to thieves involved in a multi-state theft ring, she would have called you crazy.

>>