Gregoire breaking state campaign finance laws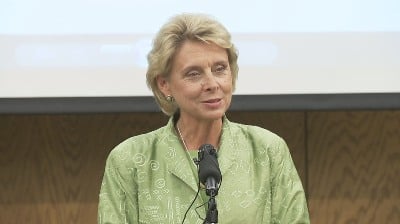 OLYMPIA, Wash. - State regulators say Gov. Chris Gregoire is violating campaign finance law by raising money for a congressional candidate.

Gregoire's campaign committee sent out an e-mail Wednesday afternoon endorsing Democrat Denny Heck for Congress in southwest Washington's 3rd District.

The e-mail encourages donations to Heck, and includes links to the donation page on his Web site.

State regulators say that's not allowed under state law, which bans state elected officials from most political fundraising for candidates during the legislative session.

Gregoire's campaign could not immediately be reached for comment. Heck's campaign didn't immediately return messages seeking comment.

Related Coverage
Obama blasts court decision on campaign finance

(January 21, 2010)

Businesses will now be able to spend millions of dollars to support or oppose candidates for president and for Congress.

Today's ruling from the Supreme Court tosses out parts of a law that's been on the books for more than 60 years. The justices say the restrictions amounted to censorship.

President Barack Obama is denouncing the ruling as a victory for powerful interests like Wall Street firms oil and health insurance companies.

Obama declared that his administration will work with Democratic and Republican leaders in Congress to come up with a "forceful response" to the high court's action.

Washington State not likely affected by Supreme Court ruling

(January 21, 2010)

The U.S. Supreme Court's landmark campaign finance decision might not have much effect in Washington state.

Under state law, there's no prohibition on corporate or union contributions, according to the state Public Disclosure Commission.

Any spending from general treasury funds has to be reported when a political committee is formed, but the PDC is still reviewing a portion of the ruling that overturned a ban on union- and corporate-paid issue ads in the closing days of election campaigns.

Washington state has a disclosure requirement on ads that air near an election, and PDC Assistant Director Doug Ellis says the agency isn't yet sure how that could affect Washington's rule.


Most Popular Stories

Most Popular Stories

More>>

SPOKANE VALLEY, Wash. - Washington State Patrol reports one man has died and a woman is in the hospital after a crash at Trent and Barker in Spokane Valley Tuesday night. Investigators say 26-year-old John L. Scott of Lancaster, Pennsylvania, was headed westbound on SR 290 east of Flora in a 2012 Toyota Tacoma pickup when he crossed the center line into the oncoming lanes of traffic.

>>

SPOKANE VALLEY, Wash. - Washington State Patrol reports one man has died and a woman is in the hospital after a crash at Trent and Barker in Spokane Valley Tuesday night. Investigators say 26-year-old John L. Scott of Lancaster, Pennsylvania, was headed westbound on SR 290 east of Flora in a 2012 Toyota Tacoma pickup when he crossed the center line into the oncoming lanes of traffic.

>>

RATHDRUM, Idaho - Idaho State Police have identified the man killed in a crash near Rathdrum Tuesday. Troopers responded to Chase Road, west of Rathdrum, around 1:15 p.m. Investigators say 20-year-old Brady Robert McPhail of Osburn, Idaho, was traveling eastbound in a white 2010 Buick Lucerne when he went into the westbound lane of traffic.

>>

RATHDRUM, Idaho - Idaho State Police have identified the man killed in a crash near Rathdrum Tuesday. Troopers responded to Chase Road, west of Rathdrum, around 1:15 p.m. Investigators say 20-year-old Brady Robert McPhail of Osburn, Idaho, was traveling eastbound in a white 2010 Buick Lucerne when he went into the westbound lane of traffic.

>>

A man was arrested on two warrants, including a felony charge for allegedly dealing drugs, on Tuesday. John C. Buchanan was arrested after a brief standoff with SPD's Patrol Anti-Crime Team (PACT). Police said he refused to come out of his home on Broad Avenue and North Haven Street. Police said Buchanan attempted to flee through a window, but shortly ran back into his building. Buchanan faces two charges: a felony charge for possession of narcotics with intent to dis...

>>

A man was arrested on two warrants, including a felony charge for allegedly dealing drugs, on Tuesday. John C. Buchanan was arrested after a brief standoff with SPD's Patrol Anti-Crime Team (PACT). Police said he refused to come out of his home on Broad Avenue and North Haven Street. Police said Buchanan attempted to flee through a window, but shortly ran back into his building. Buchanan faces two charges: a felony charge for possession of narcotics with intent to dis...

>>

An Idaho man is in the hospital after being shot while elk hunting near Harrison, Idaho. On October 15, Kootenai County Sheriff's deputies received a call from a 31-year-old man who said he'd accidentally shot his hunting partner, 20-year-old Nicholas Christensen of Potlach, Idaho. The caller said Christensen had shot a bull elk and the pair separated to look for it. The older man shot at another elk, but instead hit his partner.

>>

An Idaho man is in the hospital after being shot while elk hunting near Harrison, Idaho. On October 15, Kootenai County Sheriff's deputies received a call from a 31-year-old man who said he'd accidentally shot his hunting partner, 20-year-old Nicholas Christensen of Potlach, Idaho. The caller said Christensen had shot a bull elk and the pair separated to look for it. The older man shot at another elk, but instead hit his partner.

>>

DES MOINES, Iowa (AP) - The already-giant Mega Millions prize is now at $868 million after a drawing Tuesday night turned up no winners. Lottery officials raised the estimated jackpot, which had been $667 million. The next drawing will be Friday. If someone wins the jackpot, it would mark the second-largest lottery grand prize in U.S. history.

>>

DES MOINES, Iowa (AP) - The already-giant Mega Millions prize is now at $868 million after a drawing Tuesday night turned up no winners. Lottery officials raised the estimated jackpot, which had been $667 million. The next drawing will be Friday. If someone wins the jackpot, it would mark the second-largest lottery grand prize in U.S. history.

>>

SPOKANE, Wash. - The Spokane County Sheriff's Office says they have arrested a 39-year-old man for sexually assaulting a 12-year-old girl. Last month, detectives received information from the Post Falls Police Department naming Jeffrey A. Christenot as a suspect in the sexual assault of a 12-year-old girl in 2015-2016. The information stated Christenot confessed to the crimes in a video that had been posted to Facebook.

>>

SPOKANE, Wash. - The Spokane County Sheriff's Office says they have arrested a 39-year-old man for sexually assaulting a 12-year-old girl. Last month, detectives received information from the Post Falls Police Department naming Jeffrey A. Christenot as a suspect in the sexual assault of a 12-year-old girl in 2015-2016. The information stated Christenot confessed to the crimes in a video that had been posted to Facebook.

>>