Collision investigation to close stretch of Wellesley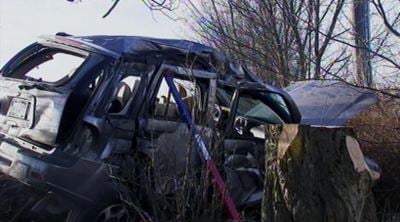 SPOKANE VALLEY, Wash. - A stretch of Wellesley Ave. near the Trent Ave. intersection will be closed Friday morning at 8 a.m. while collision reconstructionists investigate a late December collision that left two teens seriously injured.

The closure will last about 90 minutes and shut down the stretch of Wellesley Ave just east of Barker Rd.

Reconstructionists will be investigating a December 29 collision in which two teens were injured after losing control of their 2005 Chevrolet Trailblazer and striking a large metal power pole.

According to the Spokane County Sheriff's Office, de-icer had been put down on the roadway about 35 minutes before the collision.

Collision reconstructionists need to determine vehicle speed and to do that, they need to determine the 'coefficient of friction' of the roadway, in other words, what the friction of the roadway is after an application of de-icer (magnesium chloride).

A detour route is available. The Spokane County Sheriff's office recommends taking Barker Rd. to Euclid Rd. then to Harvard Rd. or vice-versa depending on which way you are traveling.
Most Popular Stories

Most Popular Stories

More>>

COEUR D'ALENE, Idaho - Coeur d'Alene Police are investigating a reported school shooting threat at Coeur d'Alene High School. A spokesperson for the district said that the threat was written on a napkin and shared on Snapchat. It says: "CHS school shooting 10-19-18. Be ready." Police tell us that while they are still investigating whether the threat is credible, they do not believe the CHS that the note mentions is referring to Coeur d'Alene High School.

>>

COEUR D'ALENE, Idaho - Coeur d'Alene Police are investigating a reported school shooting threat at Coeur d'Alene High School. A spokesperson for the district said that the threat was written on a napkin and shared on Snapchat. It says: "CHS school shooting 10-19-18. Be ready." Police tell us that while they are still investigating whether the threat is credible, they do not believe the CHS that the note mentions is referring to Coeur d'Alene High School.

>>

A vigil is scheduled for Eddie Daniels, a 15-year-old shot and killed in downtown Spokane on Wednesday. The memorial will be at 115 E. Pacific Avenue in Spokane. It's open to the public and free to attend. Donations will be collected for Daniel's family to help with funeral costs. "All donations are going to the family, to mom, to help for any need acquired through this tragedy," Chris Hart, an organizer, said. The vigil is also organized by Jeff Ross, the City Life..

>>

A vigil is scheduled for Eddie Daniels, a 15-year-old shot and killed in downtown Spokane on Wednesday. The memorial will be at 115 E. Pacific Avenue in Spokane. It's open to the public and free to attend. Donations will be collected for Daniel's family to help with funeral costs. "All donations are going to the family, to mom, to help for any need acquired through this tragedy," Chris Hart, an organizer, said. The vigil is also organized by Jeff Ross, the City Life..

>>

SPRING, Texas - Authorities in Texas say a woman who left a toddler alone on a stranger's doorstep could face charges of felony child endangerment.

>>

SPRING, Texas - Authorities in Texas say a woman who left a toddler alone on a stranger's doorstep could face charges of felony child endangerment.

>>

SPOKANE, Wash. - Update: Spokane Police Department SWAT Team officers took a homicide suspect into custody following an afternoon shooting in downtown Spokane. That suspect was identified as 27-year-old Joel C. Taitch. He was found blocks away from the crime scene and booked for 2nd degree murder.

>>

SPOKANE, Wash. - Update: Spokane Police Department SWAT Team officers took a homicide suspect into custody following an afternoon shooting in downtown Spokane. That suspect was identified as 27-year-old Joel C. Taitch. He was found blocks away from the crime scene and booked for 2nd degree murder.

>>

SPOKANE, Wash. - The man suspected of shooting a 15-year-old boy in downtown Spokane made his first appearance in court Thursday. 27-year-old Joel C. Taitch's bond was set at $200,000 during a hearing in Spokane. Newly released court documents are giving a better idea of what exactly led up to the shooting at Washington and Main.

>>

SPOKANE, Wash. - The man suspected of shooting a 15-year-old boy in downtown Spokane made his first appearance in court Thursday. 27-year-old Joel C. Taitch's bond was set at $200,000 during a hearing in Spokane. Newly released court documents are giving a better idea of what exactly led up to the shooting at Washington and Main.

>>

LIBERTY LAKE, Wash. - Liberty Lake Police are searching for a suspect in a fatal hit and run crash that happened Thursday morning and are asking the public for help. At around 8:15 a.m., Liberty Lake Police and Spokane Valley Fire Department responded to Country Vista Drive and East Mission Avenue for a reported hit and run crash involving a pedestrian.

>>

LIBERTY LAKE, Wash. - Liberty Lake Police are searching for a suspect in a fatal hit and run crash that happened Thursday morning and are asking the public for help. At around 8:15 a.m., Liberty Lake Police and Spokane Valley Fire Department responded to Country Vista Drive and East Mission Avenue for a reported hit and run crash involving a pedestrian.

>>