Masked man attempts to lure child to truck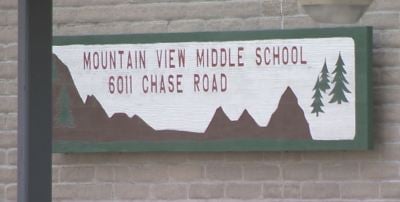 SPOKANE VALLEY, Wash. - East Valley School Resource Deputy Scott Streltzoff issued a warning Thursday for parents of younger students after a masked man confronted a boy walking home in the dark Wednesday.

According to Streltzoff, a 13-year-old Mountain View Elementary School student was headed home on foot about 5 p.m. Wednesday when he was approached by a man in a newer dark green, full-sized Ford pickup. The truck had four doors and a canopy of unknown color.

The driver was wearing a dark ski mask that had holes for the wearer's eyes and mouth. The man had a deep voice leading the student to think he was an adult.

The suspect told the boy to come to the truck, but the student ran instead. The driver chased him a short distance with the truck and then left the area. The incident occurred in the 6000 block of North Chase Road.

Although the man's motive is unknown, the incident is being treated as a child luring event. Parents should discuss with their school-age children what actions to take if they are confronted in a similar manner.

School district officials have been advised of the incident. Anyone with information is asked to call Crime Check at 456-2233.
- Sgt. Dave Reagan
Spokane County Sheriff's Office
Most Popular Stories

Most Popular Stories

More>>

SEATTLE (AP) - Police say a 78-year-old Renton man fatally shot and killed his grandson in what police believe was an act of self-defense. The Seattle Times reports police were called to a Renton home Saturday night, where a 26-year-old man had reportedly assaulted his mother, said Renton police Cmdr. Dave Leibman.

>>

SEATTLE (AP) - Police say a 78-year-old Renton man fatally shot and killed his grandson in what police believe was an act of self-defense. The Seattle Times reports police were called to a Renton home Saturday night, where a 26-year-old man had reportedly assaulted his mother, said Renton police Cmdr. Dave Leibman.

>>

SPOKANE, Wash. - A Spokane congressional candidate has petitioned the White House to abolish the recently passed Initiative 1639. The initiative, passed by voters last week, is a sweeping package of stricter gun regulations, particularly semiautomatic rifles.

>>

SPOKANE, Wash. - A Spokane congressional candidate has petitioned the White House to abolish the recently passed Initiative 1639. The initiative, passed by voters last week, is a sweeping package of stricter gun regulations, particularly semiautomatic rifles.

>>

SPOKANE, Wash. - Spokane Police say a truck passenger sustained broken bones while the driver is set to face vehicular assault charges in an apparent DUI collision on Upriver Drive Tuesday night. Tuesday around 5:30 p.m., a driver in a truck was traveling westbound on Upriver Drive when they crossed over the center line.

>>

SPOKANE, Wash. - Spokane Police say a truck passenger sustained broken bones while the driver is set to face vehicular assault charges in an apparent DUI collision on Upriver Drive Tuesday night. Tuesday around 5:30 p.m., a driver in a truck was traveling westbound on Upriver Drive when they crossed over the center line.

>>

KHQ.COM - Most mothers can only hope by the time their children grow up and move out of the house, they've learned all the necessary things to be a successful adult, including the basic knowledge that a turkey must be cooked in an oven, or perhaps in a smoker... NOT in a microwave. For this reason a new prank-challenge going around on Facebook is resulting in some hilarious text conversations between mothers and their grown children.

>>

KHQ.COM - Most mothers can only hope by the time their children grow up and move out of the house, they've learned all the necessary things to be a successful adult, including the basic knowledge that a turkey must be cooked in an oven, or perhaps in a smoker... NOT in a microwave. For this reason a new prank-challenge going around on Facebook is resulting in some hilarious text conversations between mothers and their grown children.

>>

SALT LAKE CITY (AP) - The mother of a University of Utah & former Pullman High School track athlete who was fatally shot by a sex offender parolee she had briefly dated says the person who loaned him the gun should be prosecuted. Jill McCluskey made the comment in a tweet Tuesday in which she said "it is a great responsibility to own a gun."

>>

SALT LAKE CITY (AP) - The mother of a University of Utah & former Pullman High School track athlete who was fatally shot by a sex offender parolee she had briefly dated says the person who loaned him the gun should be prosecuted. Jill McCluskey made the comment in a tweet Tuesday in which she said "it is a great responsibility to own a gun."

>>

SPOKANE, Wash. - The past 6 months have been difficult on the folks at the Greater Spokane County Meals on Wheels. Employees began noticing that the gas tanks in their vans they used to deliver 800 meals every day were empty. Gas was being siphoned out or fuel lines had been cut. Jerri Horton, the Food Services Director for GSC Meals on Wheels said it was becoming almost a daily occurrence.

>>

SPOKANE, Wash. - The past 6 months have been difficult on the folks at the Greater Spokane County Meals on Wheels. Employees began noticing that the gas tanks in their vans they used to deliver 800 meals every day were empty. Gas was being siphoned out or fuel lines had been cut. Jerri Horton, the Food Services Director for GSC Meals on Wheels said it was becoming almost a daily occurrence.

>>