Whitworth Women Move into Third Place Tie in NWC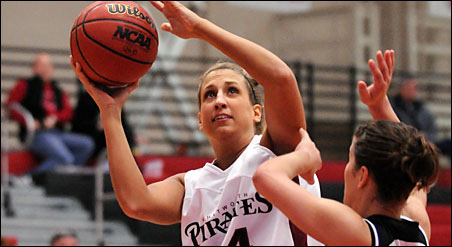 SPOKANE, Wash. - Whitworth University moved into a tie for third place in the Northwest Conference women's basketball standings with Lewis & Clark College after defeating the visiting Pioneers 75-65 on Saturday night in the Whitworth Fieldhouse.
By winning their fourth straight game the Pirates improved to 10-9 overall and 6-4 in the NWC. The Pioneers fell to 12-7, 6-4 after dropping their fourth consecutive game.
Lewis & Clark was the team that jumped out first. The Pioneers took a 15-8 lead after a three-pointer by Megan Spence. After Whitworth fought back to tie the game at 18-18 on a basket by Kim Bluff, L&C forged back to a 24-18 lead following a three-point play by Neva Hauser.
Trailing 27-22, Whitworth went on the key run of the second half by outscoring the Pioneers 11-0 over the next five minutes to grab a 33-27 lead with two minutes to play in the period. Leah Pomante hit two free throws with four seconds left in the half to give Whitworth a 38-33 lead at the break.
Lewis & Clark made several runs at Whitworth in the second half, pulling into a 45-45 tie on a free throw by Sara Villanueava. But each time the Pioneers got close, the Pirates had an answer. Pomante followed the tie with a driving lay up and Keilah Fanene scored inside to extend the lead back to four. After L&C got back within 54-53, Whitworth went on a 9-0 run to open the first double-digit lead of the game for either team. Natalie Orrell scored six of those points. The Bucs would eventually stretch the lead to as many as 13 points in the final minute.
Orrell led four Pirates in double figures with 14 points. Pomante scored 13 points and grabbed six rebounds. Liz Horiatis had 10 of her 12 points in the first half and also had six boards. Cassie Pilkinton scored all 10 of her points in the second half and led the Bucs with six assists.
Villanueava had 13 points to lead L&C, while Kristina Williams and Megan Spence scored a dozen points each. Spence and Talerra Rich each had seven rebounds, while Christina Herring dished five assists.
Whitworth will hit the road next week to play at Pacific University (Friday) and George Fox University (Saturday) hoping to extend the four-game winning streak.
(Courtesy Whitworth Athletic Dept.)