Haiti PM: US Baptists knew removing kids was wrong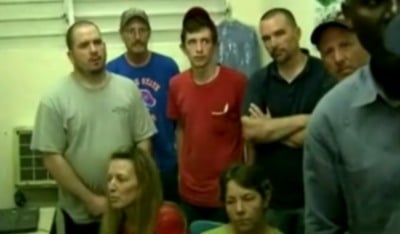 PORT-AU-PRINCE, Haiti. - Haiti's prime minister says it's clear to him that the 10 U.S. Baptists who tried to take 33 Haitian children out of the quake-ravaged country "knew what they were doing was wrong."

Prime Minister Max Bellerive also tells The Associated Press his country is open to having the Americans tried in the United States.

Bellerive says some of the children have parents who are alive. The government is attempting to locate them.

He says a judicial system needs to determine whether the Americans were acting in good faith, as they claim, or are child traffickers. Bellerive told The AP yesterday he was outraged by the group's "illegal trafficking of children" in a country long afflicted by the scourge.

The Americans are mostly from Idaho. They have been held since being arrested Friday trying to enter the Dominican Republic with the children.

Haiti: Arrested Baptists may be sent to US

Haitian officials say they are talking with U.S. diplomats about whether 10 American Baptists arrested trying to take children out of the country should be sent to the United States for prosecution.

A lawyer representing the Americans says the nine are being treated poorly and one of them, a diabetic, fainted and has been hospitalized.

Haiti's communications minister says the Americans might have to face justice in the United States because Haiti's court system has been crippled by the Jan. 12 earthquake.
Lawyer Jorge Puello in the Dominican Republic says the Americans are crammed in a small room at Haiti's judicial police headquarters. He claims they have not been given adequate medical care and food.
Most Popular Stories

Most Popular Stories

More>>

PINEVILLE, N.C. - A pregnant woman shopping at Staples says she was confronted about what she was concealing beneath her shirt: "Twins," she said. Sherell Bates tells WSOC-TV she was at the register paying for back-to-school supplies Friday when a police officer had her step aside and explain what was under her shirt.

>>

PINEVILLE, N.C. - A pregnant woman shopping at Staples says she was confronted about what she was concealing beneath her shirt: "Twins," she said. Sherell Bates tells WSOC-TV she was at the register paying for back-to-school supplies Friday when a police officer had her step aside and explain what was under her shirt.

>>

KAKTOVIK, Alaska (AP) - The U.S. Geological Survey says a magnitude 6.1 earthquake hit at 1:15 p.m. Sunday near the city of Kaktovik on Alaska's North Slope. The earthquake came several hours after the North Slope was struck by the most powerful earthquake ever recorded in the region, according to the state's seismologist.

>>

KAKTOVIK, Alaska (AP) - The U.S. Geological Survey says a magnitude 6.1 earthquake hit at 1:15 p.m. Sunday near the city of Kaktovik on Alaska's North Slope. The earthquake came several hours after the North Slope was struck by the most powerful earthquake ever recorded in the region, according to the state's seismologist.

>>

FERRY COUNTY, Wash. - Overnight, the Boyds Fire burning in Ferry County near Kettle Falls reached approximately 3,000 acres. Crews say by estimation the fire size tripled overnight to around 3,000 acres. Two residences and numerous outbuildings have been reported lost. In Sunday morning's update from the Incident Management Team, the fire has been listed as minimally contained at two percent.

>>

FERRY COUNTY, Wash. - Overnight, the Boyds Fire burning in Ferry County near Kettle Falls reached approximately 3,000 acres. Crews say by estimation the fire size tripled overnight to around 3,000 acres. Two residences and numerous outbuildings have been reported lost. In Sunday morning's update from the Incident Management Team, the fire has been listed as minimally contained at two percent.

>>

COEUR D'ALENE, Idaho - Coeur d'Alene Police say a suspect is dead after shots were fired following a robbery attempt at the Global Credit Union Saturday afternoon. Police say the armed suspect went into the bank and an armed security guard was on scene. The two exchanged gunfire at some point, but police are unsure of exactly when at this point.

>>

COEUR D'ALENE, Idaho - Coeur d'Alene Police say a suspect is dead after shots were fired following a robbery attempt at the Global Credit Union Saturday afternoon. Police say the armed suspect went into the bank and an armed security guard was on scene. The two exchanged gunfire at some point, but police are unsure of exactly when at this point.

>>

SPOKANE, Wash. - Spokane Police have made two arrests after a road rage incident led to a BB gun assault Sunday evening. Police say two men were driving and got into a road rage dispute with two other men. One man was shot in the face with a BB gun, bloodying his face and shirt and requiring to be transported to a hospital for medical attention. The pair who did the shooting were taken into custody.

>>

SPOKANE, Wash. - Spokane Police have made two arrests after a road rage incident led to a BB gun assault Sunday evening. Police say two men were driving and got into a road rage dispute with two other men. One man was shot in the face with a BB gun, bloodying his face and shirt and requiring to be transported to a hospital for medical attention. The pair who did the shooting were taken into custody.

>>

WEST GLACIER, Mont. - A wildfire is forcing evacuations in the most heavily-trafficked area of Glacier National Park and has destroyed an unknown number of structures around Lake McDonald. The National Park Service said the 25-site Sprague Creek campground was being evacuated Monday, a day after the fast-moving fire forced the evacuation of 82 rooms at the historic Lake McDonald Lodge.

>>

WEST GLACIER, Mont. - A wildfire is forcing evacuations in the most heavily-trafficked area of Glacier National Park and has destroyed an unknown number of structures around Lake McDonald. The National Park Service said the 25-site Sprague Creek campground was being evacuated Monday, a day after the fast-moving fire forced the evacuation of 82 rooms at the historic Lake McDonald Lodge.

>>