Police searching for arcade burglar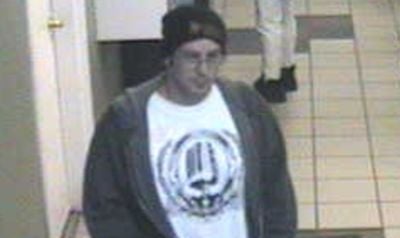 SPOKANE VALLEY, Wash. - Spokane Valley detectives are hoping you recognize a man who is responsible for rifling through numerous arcade machines at a Hico Village convenience store on January 24.

The white male suspect entered the business about 4:30 p.m. and broke into several gaming machines. He was captured on security video at the time of the theft, but the best images were taken as he walked out of the store.

Anyone with information is asked to call the Crime Stoppers at 1-800-222-TIPS.
Most Popular Stories

Most Popular Stories

More>>

SPOKANE, Wash. - Court documents are offering more details about a disturbing case of child abuse in Spokane. Investigators arrested 33-year-old Erik Sherman in the death of his baby Thursday. One doctor who witnessed the abuse told investigators in court documents it was "one of the worst cases of child abuse he had seen in 23 years of practice."

>>

SPOKANE, Wash. - Court documents are offering more details about a disturbing case of child abuse in Spokane. Investigators arrested 33-year-old Erik Sherman in the death of his baby Thursday. One doctor who witnessed the abuse told investigators in court documents it was "one of the worst cases of child abuse he had seen in 23 years of practice."

>>

COEUR D'ALENE, Idaho - 13 years ago Shasta Groene lived through unimaginable horror. In mid-May, 2005, her mother, her mother's boyfriend, and her oldest brother were murdered in front of her. 8-year-old Shasta was kidnapped and, along with her 9-year-old brother Dylan, tortured and sexually abused for weeks.

>>

COEUR D'ALENE, Idaho - 13 years ago Shasta Groene lived through unimaginable horror. In mid-May, 2005, her mother, her mother's boyfriend, and her oldest brother were murdered in front of her. 8-year-old Shasta was kidnapped and, along with her 9-year-old brother Dylan, tortured and sexually abused for weeks.

>>

FREDERICK, Colo. (AP) - A lawyer for a Colorado man suspected in the deaths of his pregnant wife and two young daughters says the daughters' bodies were submerged in crude oil for four days before they were found. Defense attorney James Merson made the statement in a court motion Friday. The motion asks a judge to order that DNA samples be taken from the children's throats.

>>

FREDERICK, Colo. (AP) - A lawyer for a Colorado man suspected in the deaths of his pregnant wife and two young daughters says the daughters' bodies were submerged in crude oil for four days before they were found. Defense attorney James Merson made the statement in a court motion Friday. The motion asks a judge to order that DNA samples be taken from the children's throats.

>>

PULLMAN, Wash. - Six-year-old Denny Curran should be enjoying his last few days of summer before first grade. He should be teasing his brother, splashing in the pool, giving his parents a hard time about vegetables. Instead, Denny is dead, the victim of a horrific, freak bicycle accident that could happen to your child too. "Denny was an extraordinary child," his father Keith Curran told KHQ.

>>

PULLMAN, Wash. - Six-year-old Denny Curran should be enjoying his last few days of summer before first grade. He should be teasing his brother, splashing in the pool, giving his parents a hard time about vegetables. Instead, Denny is dead, the victim of a horrific, freak bicycle accident that could happen to your child too. "Denny was an extraordinary child," his father Keith Curran told KHQ.

>>

FOREST CITY, N.C. (AP) - North Carolina authorities say a man fatally shot by a teenager while strangling the girl's mother had faced domestic violence accusations in multiple states. The Rutherford County Sheriff's Office said 46-year-old Steven Kelley assaulted the mother at least one other time before the Aug. 8 attack that ended with his death.

>>

FOREST CITY, N.C. (AP) - North Carolina authorities say a man fatally shot by a teenager while strangling the girl's mother had faced domestic violence accusations in multiple states. The Rutherford County Sheriff's Office said 46-year-old Steven Kelley assaulted the mother at least one other time before the Aug. 8 attack that ended with his death.

>>

VANCOUVER, Wash. (AP) - The teen accused of pushing her 16-year-old friend off a bridge at Moulton Falls earlier this month has been charged with reckless endangerment. The Clark County Attorney's Office said Friday that Tay'lor Smith is facing one count of reckless endangerment for the bridge push, which was caught on cell phone video. It sent Jordan Holgerson to the hospital with multiple injuries.

>>

VANCOUVER, Wash. (AP) - The teen accused of pushing her 16-year-old friend off a bridge at Moulton Falls earlier this month has been charged with reckless endangerment. The Clark County Attorney's Office said Friday that Tay'lor Smith is facing one count of reckless endangerment for the bridge push, which was caught on cell phone video. It sent Jordan Holgerson to the hospital with multiple injuries.

>>