Pastor: Arrest of missionaries a misunderstanding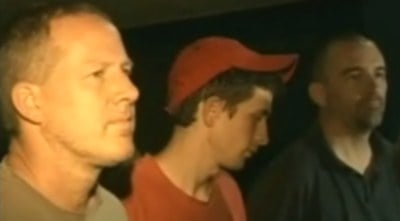 (A judge is said to be questioning the men in the group
(above) on Wednesday)

ATLANTA, Ga. - A pastor who says he gave 10 U.S. Baptist missionaries permission to move a busload of Haitian children to the Dominican Republic says the group acted "with a good heart."

However, he says they didn't complete the required paperwork.

The missionaries were later arrested after Haitian authorities said they tried crossing the border without documents.

Pastor Jean Sainvil told The Associated Press on Wednesday that the missionaries had approval from the parents of children who were not orphaned. He called the arrests a misunderstanding.

Sainvil says he was an adviser to the Idaho-based New Life Children's Refuge because he spoke fluent French Creole and Spanish and had knowledge of Haiti.

The pastor says he was not with the missionaries when they were arrested because he was ill.

Previous Coverage
Detained Americans questioned by Haitian judge

(February 2, 2010)

Ten Americans arrested in Haiti while trying to bring a busload of children across the border are being questioned by a judge.

The investigating magistrate queried the women for several hours Tuesday and will follow up with the men on Wednesday, according to the Haiti's communications minister. No lawyers were present, and the Americans have yet to be charged.

Minister Marie-Laurence Jocelyn Lassegue says the evidence will be presented to a Haitian district attorney to decide whether to file charges.

The Baptists from Idaho say they were only trying to help orphans survive the earthquake. But legal experts say taking children across a border without documents or government permission can be considered child trafficking.

Most Popular Stories

Most Popular Stories

More>>

SPOKANE VALLEY, Wash. - A 30-year-old male is facing attempted murder charges after stabbing an eight-year-old boy at a HiCo store in Spokane Valley Saturday night. Around 4:30 p.m, Spokane Valley Deputies responded to a call of two males fighting along with the reported stabbing.

>>

SPOKANE VALLEY, Wash. - A 30-year-old male is facing attempted murder charges after stabbing an eight-year-old boy at a HiCo store in Spokane Valley Saturday night. Around 4:30 p.m, Spokane Valley Deputies responded to a call of two males fighting along with the reported stabbing.

>>

Montana wildlife officials say three deer in Blaine County have tested positive for a brain wasting disease. The Great Falls Tribune reports that the deer found to have chronic wasting disease were all harvested within a priority surveillance area.

>>

Montana wildlife officials say three deer in Blaine County have tested positive for a brain wasting disease. The Great Falls Tribune reports that the deer found to have chronic wasting disease were all harvested within a priority surveillance area.

>>

All eastbound I-90 lanes near Evergreen in Spokane Valley were closed this morning after a semi flipped onto its side. It started with an erratic driver in a black pickup truck slamming into a passenger car.

>>

All eastbound I-90 lanes near Evergreen in Spokane Valley were closed this morning after a semi flipped onto its side. It started with an erratic driver in a black pickup truck slamming into a passenger car.

>>

SPOKANE, Wash. - Spokane Police are investigating the death of a man who reportedly shot himself in the head during sex. In a search warrant filed Nov. 8 in Spokane Superior Court, a detective wrote that around 2 a.m. on Nov. 4, police were called to a home in the 7800 block of North Morton Ave. after a woman said her partner shot himself in the head.

>>

SPOKANE, Wash. - Spokane Police are investigating the death of a man who reportedly shot himself in the head during sex. In a search warrant filed Nov. 8 in Spokane Superior Court, a detective wrote that around 2 a.m. on Nov. 4, police were called to a home in the 7800 block of North Morton Ave. after a woman said her partner shot himself in the head.

>>

Police are investigating a homicide in Bonner County. Early on November 12, police apprehended 71-year-old James Michael Costello Sr., after a vehicle pursuit.

>>

Police are investigating a homicide in Bonner County. Early on November 12, police apprehended 71-year-old James Michael Costello Sr., after a vehicle pursuit.

>>

A controversial tweet by WSU head football coach Mike Leach cost the University $1.6 million in pledged donations. The tweet, which was sent in June, depicted a doctored video of a speech by former President Barack Obama.

>>

A controversial tweet by WSU head football coach Mike Leach cost the University $1.6 million in pledged donations. The tweet, which was sent in June, depicted a doctored video of a speech by former President Barack Obama.

>>