4 patrol cars crash after Everett chase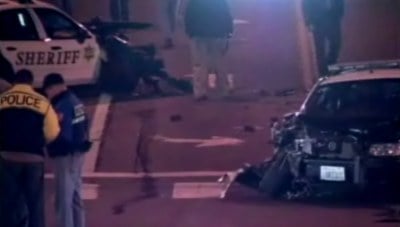 EVERETT, Wash. - Four patrol cars, two Everett city police and two Snohomish County, were involved in crashes after a stolen car chase in Everett.

Sgt. Robert Goetz says four officers were taken to a hospital. One city officer suffered two broken wrists and a broken knee. Another city officer suffered broken fingers. Two deputies were evaluated and released.

The incident began with a deputy chasing a stolen car. The stolen car crashed about 2:20 a.m. Wednesday, and the driver tried to flee on foot.

Officers were responding to the scene when one struck two patrol cars parked at a downtown intersection. A fourth car veered into a planter.

Other officers caught the fleeing driver, 32-year-old Andrew Holden, a suspect in multiple car thefts.
Most Popular Stories

Most Popular Stories

More>>

SPOKANE VALLEY, Wash. - A 30-year-old male is facing attempted murder charges after stabbing an eight-year-old boy at a HiCo store in Spokane Valley Saturday night. Around 4:30 p.m, Spokane Valley Deputies responded to a call of two males fighting along with the reported stabbing.

>>

SPOKANE VALLEY, Wash. - A 30-year-old male is facing attempted murder charges after stabbing an eight-year-old boy at a HiCo store in Spokane Valley Saturday night. Around 4:30 p.m, Spokane Valley Deputies responded to a call of two males fighting along with the reported stabbing.

>>

Montana wildlife officials say three deer in Blaine County have tested positive for a brain wasting disease. The Great Falls Tribune reports that the deer found to have chronic wasting disease were all harvested within a priority surveillance area.

>>

Montana wildlife officials say three deer in Blaine County have tested positive for a brain wasting disease. The Great Falls Tribune reports that the deer found to have chronic wasting disease were all harvested within a priority surveillance area.

>>

All eastbound I-90 lanes near Evergreen in Spokane Valley were closed this morning after a semi flipped onto its side. It started with an erratic driver in a black pickup truck slamming into a passenger car.

>>

All eastbound I-90 lanes near Evergreen in Spokane Valley were closed this morning after a semi flipped onto its side. It started with an erratic driver in a black pickup truck slamming into a passenger car.

>>

SPOKANE, Wash. - Spokane Police are investigating the death of a man who reportedly shot himself in the head during sex. In a search warrant filed Nov. 8 in Spokane Superior Court, a detective wrote that around 2 a.m. on Nov. 4, police were called to a home in the 7800 block of North Morton Ave. after a woman said her partner shot himself in the head.

>>

SPOKANE, Wash. - Spokane Police are investigating the death of a man who reportedly shot himself in the head during sex. In a search warrant filed Nov. 8 in Spokane Superior Court, a detective wrote that around 2 a.m. on Nov. 4, police were called to a home in the 7800 block of North Morton Ave. after a woman said her partner shot himself in the head.

>>

Police are investigating a homicide in Bonner County. Early on November 12, police apprehended 71-year-old James Michael Costello Sr., after a vehicle pursuit.

>>

Police are investigating a homicide in Bonner County. Early on November 12, police apprehended 71-year-old James Michael Costello Sr., after a vehicle pursuit.

>>

A controversial tweet by WSU head football coach Mike Leach cost the University $1.6 million in pledged donations. The tweet, which was sent in June, depicted a doctored video of a speech by former President Barack Obama.

>>

A controversial tweet by WSU head football coach Mike Leach cost the University $1.6 million in pledged donations. The tweet, which was sent in June, depicted a doctored video of a speech by former President Barack Obama.

>>