Seven weeks later, woman still waiting for car repair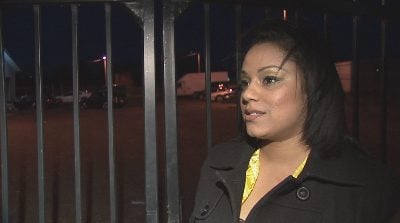 (Alexis Bowen stands outside of Melkonyan Auto Repair Monday
night hopeful that her car will be repaired soon.)

SPOKANE, Wash. - Leaving your car in the shop for a day can be a inconvenience to anyone, but what happens when repairs, that should have taken an afternoon, turn into seven weeks of waiting?
Alexis Bowen took her car to Melkonyan Auto Repair on E. Trent to have blown tire fixed nearly two months ago and that's when her minor inconvenience turned into a world of problems.
A mechanic first told Bowen that on top of repairing her blown tire, the car would need new parts. New parts turned into an engine rattle that would require repair and when Bowen returned to the business days later, she found the gate locked and her car stuck inside.
When Bowen called the owner, he said he had broken his wrist and was in the hospital - unable to complete the work on the car.
Another week would go by and Bowen would hear nothing from the owner.
After days of waiting, and begging for rides from friends, Bowen thought the business had closed and considered getting the police involved, but to no avail. Officers told her it was a civil matter and that to get her car back she would have to get a court order.
"I want my car back, I just want normal service. I work in the service field. I work in sales and service and you don't do that," said Bowen. "If there's something wrong, if he's truly in the hospital and he's truly hurt, somebody has to be taking care of his business or calling the customers he has."
Monday, Bowen's luck seemed to change. When contacted by KHQ, the owner of the business said Bowen would have her car on Wednesday. Bowen said she'll believe it when she sees it as this is not the first time in nearly two months she's been told the same.
Most Popular Stories

Most Popular Stories

More>>

SPOKANE, Wash. - Court documents are offering more details about a disturbing case of child abuse in Spokane. Investigators arrested 33-year-old Erik Sherman in the death of his baby Thursday. One doctor who witnessed the abuse told investigators in court documents it was "one of the worst cases of child abuse he had seen in 23 years of practice."

>>

SPOKANE, Wash. - Court documents are offering more details about a disturbing case of child abuse in Spokane. Investigators arrested 33-year-old Erik Sherman in the death of his baby Thursday. One doctor who witnessed the abuse told investigators in court documents it was "one of the worst cases of child abuse he had seen in 23 years of practice."

>>

COEUR D'ALENE, Idaho - 13 years ago Shasta Groene lived through unimaginable horror. In mid-May, 2005, her mother, her mother's boyfriend, and her oldest brother were murdered in front of her. 8-year-old Shasta was kidnapped and, along with her 9-year-old brother Dylan, tortured and sexually abused for weeks.

>>

COEUR D'ALENE, Idaho - 13 years ago Shasta Groene lived through unimaginable horror. In mid-May, 2005, her mother, her mother's boyfriend, and her oldest brother were murdered in front of her. 8-year-old Shasta was kidnapped and, along with her 9-year-old brother Dylan, tortured and sexually abused for weeks.

>>

FREDERICK, Colo. (AP) - A lawyer for a Colorado man suspected in the deaths of his pregnant wife and two young daughters says the daughters' bodies were submerged in crude oil for four days before they were found. Defense attorney James Merson made the statement in a court motion Friday. The motion asks a judge to order that DNA samples be taken from the children's throats.

>>

FREDERICK, Colo. (AP) - A lawyer for a Colorado man suspected in the deaths of his pregnant wife and two young daughters says the daughters' bodies were submerged in crude oil for four days before they were found. Defense attorney James Merson made the statement in a court motion Friday. The motion asks a judge to order that DNA samples be taken from the children's throats.

>>

PULLMAN, Wash. - Six-year-old Denny Curran should be enjoying his last few days of summer before first grade. He should be teasing his brother, splashing in the pool, giving his parents a hard time about vegetables. Instead, Denny is dead, the victim of a horrific, freak bicycle accident that could happen to your child too. "Denny was an extraordinary child," his father Keith Curran told KHQ.

>>

PULLMAN, Wash. - Six-year-old Denny Curran should be enjoying his last few days of summer before first grade. He should be teasing his brother, splashing in the pool, giving his parents a hard time about vegetables. Instead, Denny is dead, the victim of a horrific, freak bicycle accident that could happen to your child too. "Denny was an extraordinary child," his father Keith Curran told KHQ.

>>

FOREST CITY, N.C. (AP) - North Carolina authorities say a man fatally shot by a teenager while strangling the girl's mother had faced domestic violence accusations in multiple states. The Rutherford County Sheriff's Office said 46-year-old Steven Kelley assaulted the mother at least one other time before the Aug. 8 attack that ended with his death.

>>

FOREST CITY, N.C. (AP) - North Carolina authorities say a man fatally shot by a teenager while strangling the girl's mother had faced domestic violence accusations in multiple states. The Rutherford County Sheriff's Office said 46-year-old Steven Kelley assaulted the mother at least one other time before the Aug. 8 attack that ended with his death.

>>

VANCOUVER, Wash. (AP) - The teen accused of pushing her 16-year-old friend off a bridge at Moulton Falls earlier this month has been charged with reckless endangerment. The Clark County Attorney's Office said Friday that Tay'lor Smith is facing one count of reckless endangerment for the bridge push, which was caught on cell phone video. It sent Jordan Holgerson to the hospital with multiple injuries.

>>

VANCOUVER, Wash. (AP) - The teen accused of pushing her 16-year-old friend off a bridge at Moulton Falls earlier this month has been charged with reckless endangerment. The Clark County Attorney's Office said Friday that Tay'lor Smith is facing one count of reckless endangerment for the bridge push, which was caught on cell phone video. It sent Jordan Holgerson to the hospital with multiple injuries.

>>