Budget cuts worry Washington child care providers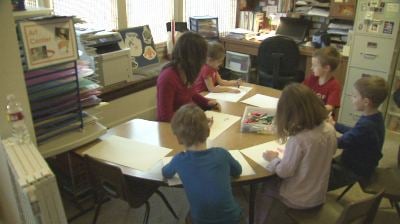 SEATTLE, Wash. - A coalition of child care advocates warns that proposed state spending cuts will hurt families and small businesses that depend on state subsidies to care for children.

The Rebuilding Our Economic Future Coalition, which is made up of more than 115 organizations, scheduled news conferences Thursday in Seattle, Yakima, Kennewick and Spokane to call attention to the families and child care providers that depend on the state's Working Connections program.

The coalition says a proposed cut in the program's spending would affect 20,000 children in more than 10,000 families and could force the closure of hundreds of child care providers.

"If we lose a third of the kids who are on Working Connections, we will be forced to close down my childcare business," said Tamra Dschaak, who provides in-home childcare with her husband in Spokane. "This means the loss of my small business to this community and our state and the loss of jobs for both me and my husband."
The Working Connections program helps approximately 36,000 families each month pay for childcare while they work. The Governor's budget proposes cutting this critical program by $88 million. That would be a one-third cut to all childcare subsidies in the state.
Most Popular Stories

Most Popular Stories

More>>

SPOKANE, Wash. - "He told me to pull over, and my jaw just dropped," a Spokane woman, who says a fake police officer tried to pull her over, doesn't want to be named. In fear, this could happen again. "It really scared me and kind of threw me off that night. I don't even want to drive by myself anymore," she said. She tells me that she was driving around North Spokane at night on her way home from work.

>>

SPOKANE, Wash. - "He told me to pull over, and my jaw just dropped," a Spokane woman, who says a fake police officer tried to pull her over, doesn't want to be named. In fear, this could happen again. "It really scared me and kind of threw me off that night. I don't even want to drive by myself anymore," she said. She tells me that she was driving around North Spokane at night on her way home from work.

>>

MARYSVILLE, Wash. - An Olympia woman wouldn't pull over for a Washington State Patrol trooper because she drives a Prius, according to an arrest report.

>>

MARYSVILLE, Wash. - An Olympia woman wouldn't pull over for a Washington State Patrol trooper because she drives a Prius, according to an arrest report.

>>

A Maryland man is facing a simple assault charge after using a dog leash to lead his wife around a Pennsylvania fair because she has late-stage dementia. West Manchester police say Walter Wolford yanked the 8-inch long red nylon leash, causing his wife's head to jerk back and leave red marks around her throat. But the 66-year-old Hagerstown man says he only gently tugged on the leash, which he uses to keep his wife from getting lost.

>>

A Maryland man is facing a simple assault charge after using a dog leash to lead his wife around a Pennsylvania fair because she has late-stage dementia. West Manchester police say Walter Wolford yanked the 8-inch long red nylon leash, causing his wife's head to jerk back and leave red marks around her throat. But the 66-year-old Hagerstown man says he only gently tugged on the leash, which he uses to keep his wife from getting lost.

>>

SPOKANE, Wash. (AP) - Court documents indicate that a man who was killed by Cheney police officers earlier this month had reported himself to police the evening of the shooting. The Spokesman-Review reports 40-year-old Steve Anderson was shot by three officers in a grocery store parking lot after police say he was wielding a knife and moved toward officers.

>>

SPOKANE, Wash. (AP) - Court documents indicate that a man who was killed by Cheney police officers earlier this month had reported himself to police the evening of the shooting. The Spokesman-Review reports 40-year-old Steve Anderson was shot by three officers in a grocery store parking lot after police say he was wielding a knife and moved toward officers.

>>

COEUR D'ALENE, Idaho - As she gets ready for her maiden voyage, the "White House" is already off its foundation. The 115-year old home, located on the Orchard Ridge property, was home to the Coeur d'Alene College president. In 1903, the college opened up and by 1917 it folded when college co-eds went to serve their country in World War I.

>>

COEUR D'ALENE, Idaho - As she gets ready for her maiden voyage, the "White House" is already off its foundation. The 115-year old home, located on the Orchard Ridge property, was home to the Coeur d'Alene College president. In 1903, the college opened up and by 1917 it folded when college co-eds went to serve their country in World War I.

>>

Police in Wisconsin say they pulled a 15-year-old boy over for reckless driving and discovered the teen was drunk and had a baby in the back seat. Mount Pleasant police say the baby's mother and another teen in the car were also intoxicated. Sgt. Eric Relich says police responded to a report of a reckless driver about 10:30 p.m. Sunday. Relich says someone saw the driver swerving and driving into oncoming traffic.

>>

Police in Wisconsin say they pulled a 15-year-old boy over for reckless driving and discovered the teen was drunk and had a baby in the back seat. Mount Pleasant police say the baby's mother and another teen in the car were also intoxicated. Sgt. Eric Relich says police responded to a report of a reckless driver about 10:30 p.m. Sunday. Relich says someone saw the driver swerving and driving into oncoming traffic.

>>